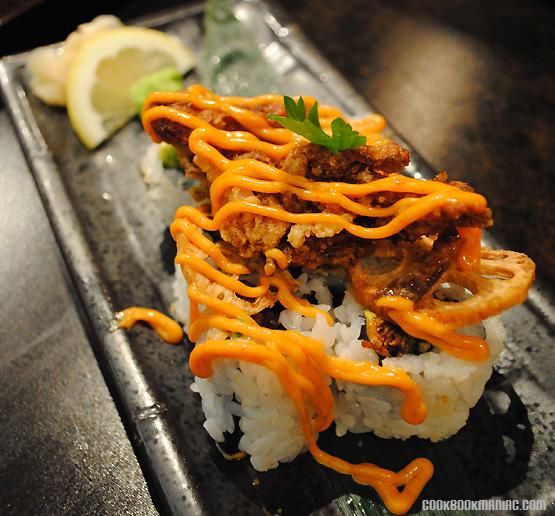 Wagaya – Modern Japanese Izakaya
I am part of a food-obsessed family. My father is a former Yum Cha Chef. My mother is an amazing home cook. All my sisters and I think nothing of opening the fridge at midnight to fry up a meal from scratch. We do not hesitate spending an entire day making dumplings in the kitchen. When I decided to start a food blog, it seemed like I had just announced I was slicing an apple.
Gastronmic connoisseurs? Nope, we are foodlovers. We travel far and wide looking for a great bowl of noodles, we pay no attention to the time of day when we are hungry, we bicker about who-ate-what and didn't share it, we gossip about who-went-where and didn't get to go, we fly across the world just to eat and shop, we each have a friend that thinks we are crazy food geeks.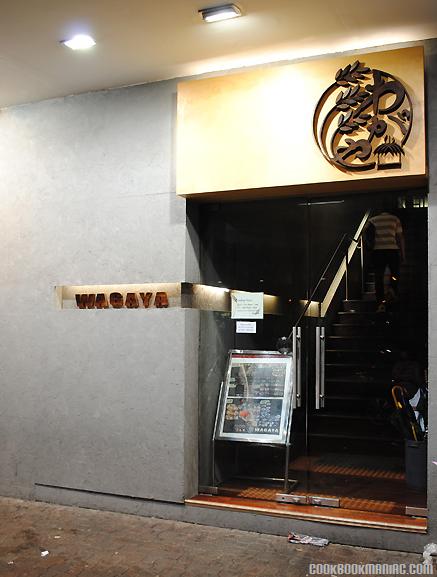 Its Chinese New Year and we decide to have lunch at a restaurant my father once worked at. They must've had an off-day, because the food was bland, ordinary or overcooked. We were all seriously disappointed and it was the least that we had spent at Yum Cha.
"Dad, is it the Head Chef's day off?"
"He would rather be dead than not be in the kitchen. This is terrible."
I am not satisfied. There is nothing like a disappointing meal to increase my appetite for the next one.
"Hey, let's go out for dinner tonight to make up for this crap."
"Where you wanna go?"
"Dunno, maybe Wagaya."
"Is it Japanese?"
"Yeah."
"Its Chinese New Year."
"Yeah… I feel like eating japanese food."
"Alright. Let's go. Make the reservation."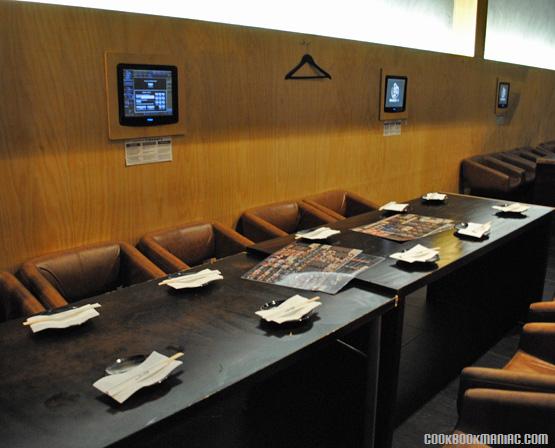 Last minute reservations rarely come through at Wagaya, they are always booked out. Walk ins… don't bother. We had 10 people, I didn't like my chances. I am the hopeful one and I call anyways, what have I got to lose?
It is 3.30pm and I call, the phone rings out. I try again, it rings out again. I try again, it goes to a fax machine…? I try again and it rings out again. I check their phone number on their website and eatability, I have the right number. I try again and it rings out again. It is now 4.30pm and no one is picking up the phone, surely they can't be busy now? I must have tried to call them more than 6 times. Finally, a young man picks up and welcomes me to Wagaya in in the most soothing and pleasant Japanese accent. They are able to accommodate our party but only at 8.30pm. No problems.
This will be my fifth visit to Wagaya. Yes, I am counting. I love this place. I love it for its gimmicky touch screen ordering, speedy service, sweet japanese hospitality, delectable dishes and it is always reliably great.
This will be the first visit for my family. They are quite skeptical about the touch-screen thing. But once we get to the restaurant and receive the first order, all hesitations were put to one side and the fun began.

Not everyone had settled into their seats yet, Toiletbrush and I rushed to the screen and started ordering straight away. Like two children with free reign at McDonalds, we tapped at the touch screen like we were popping bubble wrap.
POW! POW! POW! We go nuts!
It was very tempting to order the 3 course lobster special. However at $128, I think it will be better suited for another time.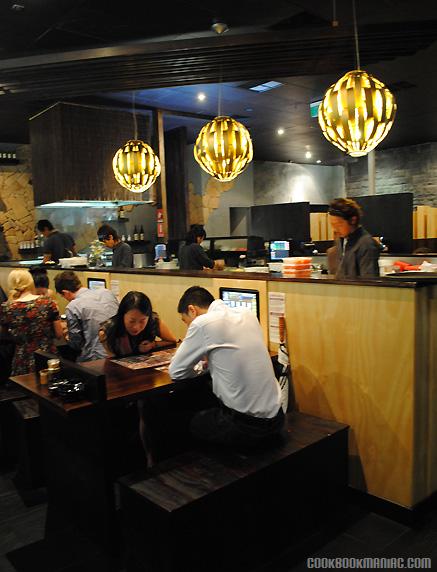 The dishes arrive at our table at a rate I cannot keep up with. There is a table full of angry, hungry foodies waiting for me to hurry up and take the photos so they can eat. The dim lighting and my reluctance to use flash only added to the frustration.
Mentai Potato Salad $7.20
This is a very unusual version of potato salad. Upon first sight I questioned whether we received the correct dish. Wrong dish or not, this salad puts every other potato salad on earth to shame. The potato is whipped with parmesan cheese and fish roe until it is super-fluffy and light. The leaf salad is drizzled with a tangy vinegar dressing. It is a dish that perfectly exemplifies, yoshuku.
Tuna & Avocado Yukke $10.40
Pizzaboy requests that we order this dish, he adores all things yukke. The entire table becomes curious when this dish arrives. Pizzaboy proudly picks up the dish and demonstrates its many wonders. He breaks the egg yolk and mixes it about with the tuna, lettuce and sesame seeds. He takes the first bite and everyone is enticed. Not bad for a white boy eating among a bunch of asians.
Tofu Seaweed Salad $7.20
Bunnifar asks for us to order the Tofu Seaweed Salad. She visited previously with a vegetarian friend and they both raved about this salad. It is indeed very delightful. The tofu is silky, cool and very fresh. It breaks easily in the mouth and leaves a sweet aftertaste. The seaweed tastes of the sea but is not overwhelming unlike other fresh seaweed I have eaten elsewhere. I will definitely order this again on my next visit.
Cold Chicken Ramen $9.50
Phannyface studies the plastic menu cards and asks for us to order the Cold Chicken Ramen. She is also obsessed with finding the perfect ramen and it doesn't surprise me that some type of ramen is ordered during this meal. The dish arrives slathered with what appears to be a sesame miso dressing. It is quite unusual, but not a big standout amongst other dishes devoured this evening.
Spider Roll $9.40
My young nephew, Hello Boston, tells me that he really likes soft shell crab and to order something with it, no chili please. Toiletbrush and I scour the entire menu, we think he may like the spider roll best. It is sushi rolls topped with extra deep fried soft shell crab. Hello Boston likes it so much, everyone else gives it a try and we end up ordering two more by the nights end.
Assorted Sashimi and Sushi – Small $21.50
This being my fifth visit, I was pretty sure that sashimi was not Wagaya's strongest point. Toiletbrush wanted to order the large version, but I convinced her that we were better off ordering the small one and eat up on the cooked dishes instead. That said, the scallop sashimi was surprisingly fresh and tasty.
Agedashi Tofu $5.80
This is one of my all-time favourite dishes. I have yet to visit a place that made bad agedashi tofu. In fact, I make a pretty good version of this myself. Wagaya's version is nice and crunchy, the bonito flakes add a nice punch of saltiness to the tofu. Pizzaboy and I end up drinking the broth after everyone had finished taking their share of the tofu.
Deep Fried Cheese $6.90
This is the highlight of the evening. Just looking at it, it appears to be exactly what is described as on the menu. However, with the first bite, it is like a volcano with its hot lava flowing out into a molten cheesy mess. We order two rounds of these tasty little treats.
Grilled Eel, 2 skewers for $6.20
I am not particularly fond of eel. Its tough and boney flesh doesn't really excite my palate. I know there are some die hard fans of these snake-like fish, but I have given these a go some many times and it has always disappointed me. I pass on these and leave some room for other things worth my while.
Yakitori, 2 skewers for $5.40
We order one stick for every person at the table. Sweet and slightly crunchy is how I can best describe these. They are reliably good and you can really taste a breath of the charcoal from the grill on them. They were everyone's favourite grilled item and towards the end of the night we had to order more.
Grilled Chicken Gizzards, 2 skewers for $4.80
I think the most endearing thing about these is the texture more than the taste. They are naturally crunchy and the sweet sticky sauce adds to the unique texture of these often misunderstood organs.
Grilled Ox Tongue, 2 skewers for $5.50
Grilled Ox Tongue is also my all-time favourite dish. They are best eaten hot off the grill and sprinkled with sea salt. In fact, it is so high on my list of favourite things that I didn't realise until I got home that I totally overlooked taking a photo of them. My greed got in the way of the blog! Ha!
Beef Tataki $7.90
No matter where I go, if these are on the menu, I will order it. They are lightly seared beef eye fillets, topped with onion and splashed with a soy rice vinegar sauce. Unfortunately the beef is quite bland and tough. It needed extra dunking in the sauce to take it up a notch.
Scallop and Garlic Fried Rice $10.90
This dish arrives in a hot ceramic bowl. Looking at it, it doesn't appear to be very special. But if you are not the type to judge a book by its cover, then you will be rewarded with a beautifully fragrant, salty, garlicky, seafoody, wokky, rice. If you toss the rice before scooping out your share, you will get the crunchy bits at the bottom. They are the best bits too. Everyone at the table concurs that the rice is surprisingly very delicious. Hello Boston asks his mother everyday if we can visit Wagaya so that he could eat the yummy rice again.
Tonkatsu Tamago Toji $8.90
Unfortunately, I don't remember if I ate this or not. I asked everybody in attendance whether they remember what it tastes like, and nobody remembers exactly… what does that say about it?
Ox Tongue Nikomi $8.90
I ordered this on a whim. It was coming towards the end of evening and not everyone is full to brim. So, I played with the menu and started ordering things I'd never really choose. This was ox tongue braised in a light curry sauce. It was also a nice surprise. my parents really liked this and Toiletbrush and I pick at the leftovers.
Grilled Potato and Corn Butter $7.30
Pizzaboy loves potato, I love corn, and we love butter. When we saw this on our first visit we had to order it. It comes in a hot sizzling bowl and (like the Scallop and Garlic Fried Rice) cannot be taken at face value. The entire table was under the impression that we had ordered these for the youngsters, but we had to claim our stake and fight for our share. They are buttery and salty and a good item to order if you are not entirely full towards the end of the meal. Yummy.
Deep Fried Chicken Karaage $7.30
It is very hard to mess up karaage chicken. If an establishment can't get it right then its probably not worth visiting. In this case, Wagaya makes one of the tastiest and crunchiest. It is an ear shattering crunch too. The little salad that it comes with gives a nice fresh vs fried combination.
Deep Fried Chicken Karaage with Tartare Sauce
I also ordered this during my whim phase, although it is not much different to the plain karaage chicken, the tartare sauce adds a new dimension. It is quite tangy and cheesy.
Chicken Katsu
This was also ordered during my whim phase. It is my absolute favourite dish at Wagaya, and I am glad that I ordered it. Chicken katsu appears on every japanese menu. It can be quite pedestrian in its make, therefore I was surprised I wanted to order it. I am very glad that I did. The chicken was incredibly moist and the crust satisfyingly crunchy. The winning element to it all is the radish, soy, rice vinegar it is topped with. It gives the chicken that fresh vs fried texture that I had mentioned before. Did I mention this is delicious and it is my favourite dish at Wagaya? If they ever take it off the menu, I will cry.
Sushi Roulette $9.90
We have now come to the end of the meal and everyone is happy. The memories of our earlier lunch have been erased and we are winding down to leave. Hello Boston's elder brother, Mr Hairflip catches wind that there is a dish called Sushi Roulette. We explain to him the concept of the dish.
"There is one sushi piece that has copious amounts of wasabi hidden in it. All the others are normal."
He pesters us throughout the evening to order it. By the end of the night he is still mentioning that he wants to play. A few of us agree to it. But there are rules that need to be abided by:
1/ Each participant must grab a piece at the same time, at the count of three.
2/ They must eat the piece at once
3/ It can only be eaten in one whole mouthful.
There are six pieces. The contestants are:
* Phannyface – Sister #1
* Toiletbrush – Sister #3
* Tomatogal – Sister #4
* Amy – Me
* Pizzaboy – Fiancee
* Mr Hairflip – 15 year old son of Sister #1
"Ready? One, Two, Three."
We all grab a piece at the same time. I stuff mine into my mouth straight away. Pizzaboy, Mr Hairflip and Toiletbrush have theirs in their mouths. Phannyface is searching for some soy sauce to dip her piece in and Tomatogal takes a tiny bite out of her piece. I want to tell them they are disqualified, but I have too much food in my mouth to say anything.
Mr Hairflip looks like he is choking and laughing. Toiletbrush smacks him in the back and yells, "Is it you!" Everyone is looking at each other and then at Mr Hairflip.
Bunnifar points at Pizzaboy and gives out the shriek of the century. "IT'S HIM!!"
Pizzaboys face has suddenly turned bright red, he has beads of sweat dripping down his forehead and his nose is at the most peculiar shape. He gestures with his hand that he has it. Everyone bursts out in a roar of laughter. He takes a sip of water, and yells that it has made it worse. He then drinks someones last bit of Coke and at last he finds some relief.
He explains later that the burning sensation of the wasabi came very late. He had almost swallowed it before the heat rose into his brain. He also mentions that his piece of sushi did not have the smear of wasabi on the outside, therefore leading him to believe he was safe.
I demanded for Mr Hairflip to explain his actions. It stole Pizzaboys thunder.
"I thought it was me. I have never eaten wasabi before. I couldn't handle the little bit on the side."
Oh well, it ended the evening a humourous high note and was the cherry on the cake.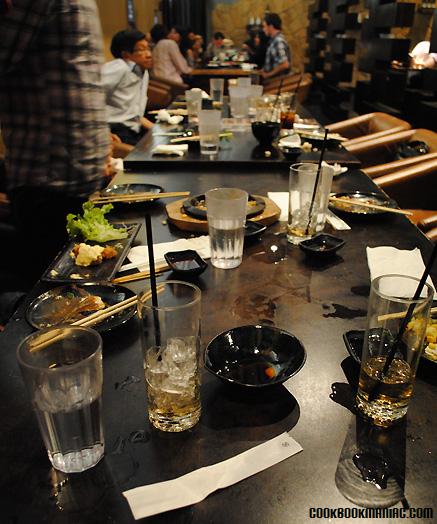 Wagaya
Level 1, 78 Harbour St
Haymarket, NSW, 2000
Phone: (02) 9212 6068
www.yesfood.biz
Please share this: