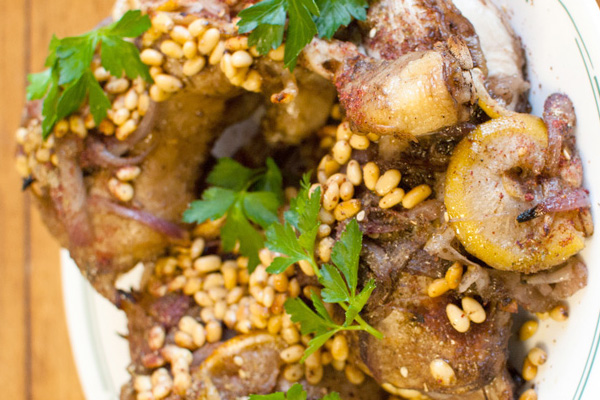 Roast Chicken with Sumac, Za'atar and Lemon by Ottolenghi
I recently went on a tour of Newtown with some lovely bloggers and was asked how many cookbooks I actually owned. Well, I never really counted them, but I think its safe to say that I have around 200. I regret purchasing quite a few of them, they are usually the ones that are generically strung together by book publishers to raise revenue. Most of the time I only end up buying the junk because I've had a bad day and needed something new to cheer me up or there was one lone recipe that looked very enticing. Needless to say I don't really cook from them.
I am often pulled towards cookbooks written by one or two people that are driven by their love for food. It isn't just about the recipe (yes, a good set of recipes is important) but it is also about the produce, technique, history and most importantly passion.
Ottolenghi is certainly one of these cookbooks that I classify as a keeper. A cookbook that I see myself using for a very long time. Healthy recipes never looked so delicious, accessible and so darn sexy. In fact, healthy isn't the first word that pops into one's mind when looking at the recipe.
After the success of the Roasted Eggplant Salad and this Roasted Chicken I jumped online and purchased their followup cookbook Plenty. No doubt my blog will be flooded with their recipes in the days to come.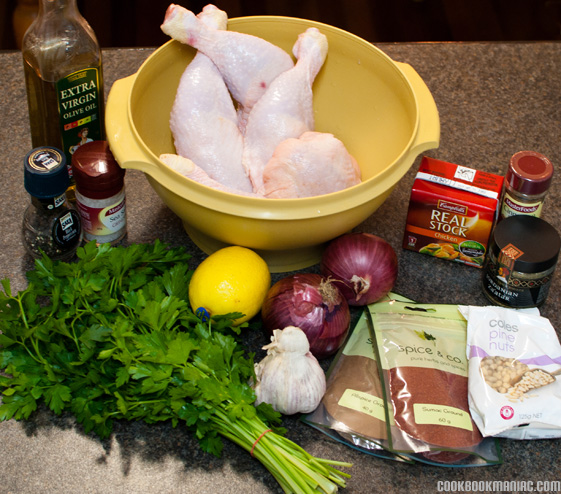 Recipe by Ottolenghi – The Cookbook by Yotam Ottolenghi
Ingredients
1 large free-range chicken, divied into quarters
2 red onions, thinly sliced
2 garlic cloves, crushed
4 tablespoons olive oil, plus extra for drizzling
1 1/2 teaspoons ground allspice
1 teaspoon ground cinnamon
1 tablespoon sumac
1 lemon, thinly sliced
200ml chicken stock
1 1/2 teaspoons salt
1 teaspoon ground black pepper
2 tablespoons za'atar
20g butter
50g pine nuts
4 tablespoons chopped flat leaf parsley
1/ Place the chicken, garlic, spices, olive oil, onions, stock, lemon, salt and pepper in a large bowl and mix. Allow it to marinate in the fridge overnight or for at least 4 hours.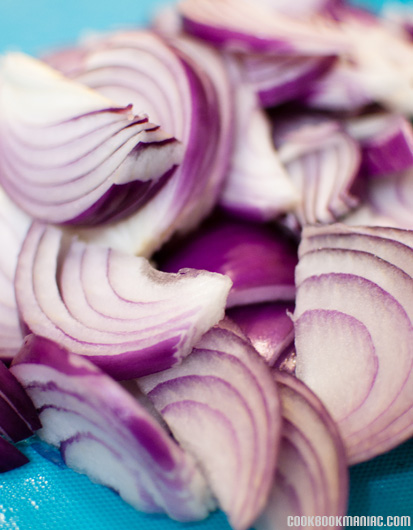 2/ Preheat the oven to 200 degrees. Place the chicken and the marinade into a large baking tray. Allow the chicken pieces to lie flat and be approximately an inch apart.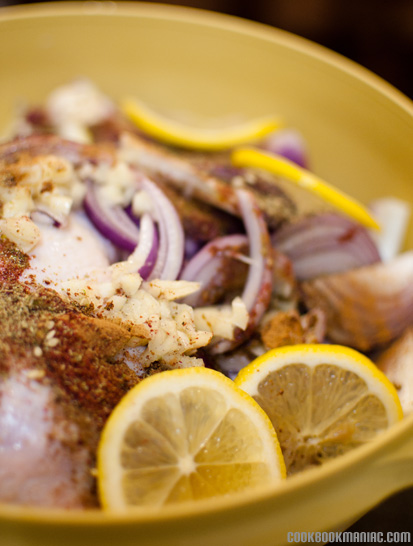 3/ Whilst the chicken are cooking in the oven, melt the butter in a small frying pan, add the pine nuts and a pinch of salt and cook over medium heat, stirring constantly, until they turn golden. Transfer them to plate lined with a paper towel to absorb the fat.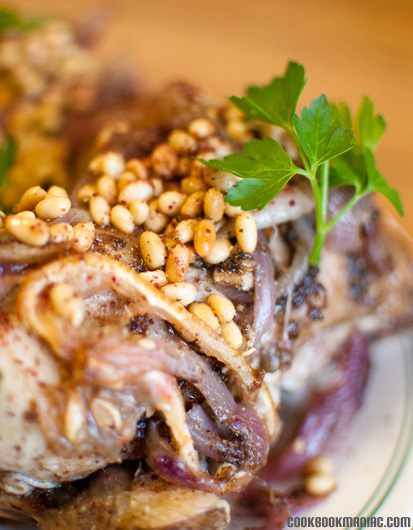 4/ When the chicken is done transfer it with the onions to a serving plate and garnish with the chopped parsley, pine nuts and a drizzle of olive oil. You can sprinkle on more za'atar and sumac to your tastes.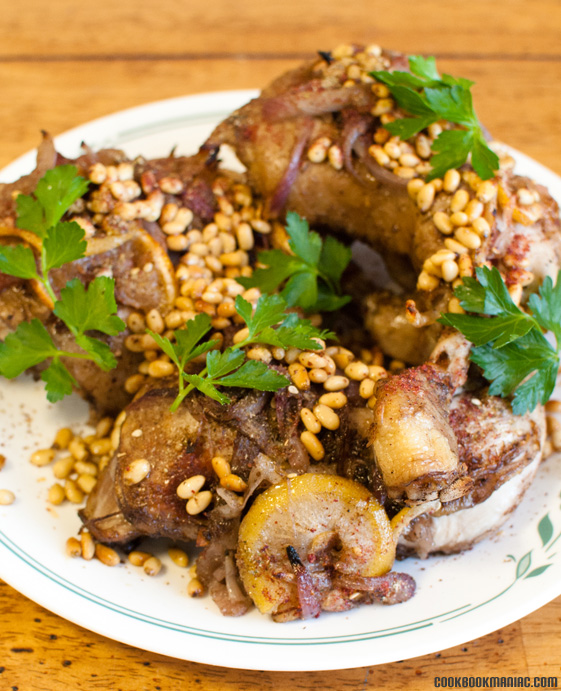 Tips from the cookbookmaniac.com
* The lemon slices are best removed after being roasted. They taste severely bitter if you accidentally bite into one of them.
* The pan-fried pine nuts with butter were delicious. I could snack on these all day!
* Sprinkle on a little more of za'atar and sumac just before serving. It smells amazing!
Please share this: