Homemade Udon Noodles by Harumi Kurihara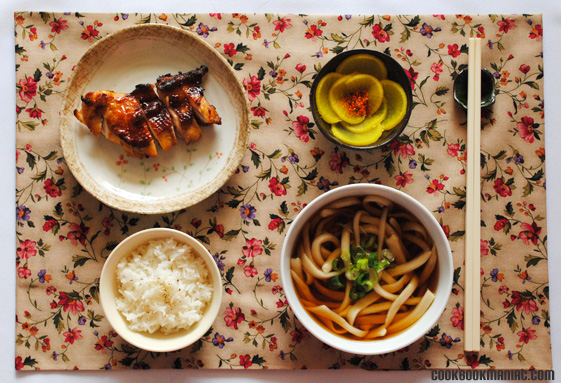 Regret.
There is a popular saying that goes, "Live your life with no regrets." This saying does not ring true to me. I am not a perfect person. I have made mistakes that I wish I could undo. For example:
* I started to learn how to drive in high school over 10 years ago, but I never went for my P's. I am now a sardine in the can that we call Cityrail. I went to get my L's again a year ago but I still have not had one driving lesson since.
* My ability to save money did not start until a few years ago. I wish I had started earlier, my bounty would have been a lot more voluptuous today. However, that Alannah Hill dress that I bought many years ago and still have not worn was worth every cent.
* I wasted many years pining after an ex-boyfriend who suddenly dumped me by disappearing, after many months of dating. I regret not contacting him and telling him "You are spineless" or "You have no balls" (Perhaps it is better that I didn't). I also regret not getting over him sooner than I did.
* I regret telling people that I am engaged. My tolerance is at its lowest point when it comes to answering questions such as, "When are you getting married?" "Why get engaged if your not getting married soon?" "How hard is it to organise a wedding?" I secretly imagine poking a stick in their eye.
* I regret making these udon noodles. I went through hell trying to make it and they weren't as delicious as I had hoped them to be. It took me two days to produce. It created a mountain of dirty dishes. There was flour all over the kitchen bench and floor. I also tried to use my expensive pasta machine to roll out the dough. It broke mid-way through and cannot be fixed. These are many hours of hard labour that I can never take back.
So, my point is. I believe that life may be full of regrets. However, a wholesome, well-rounded, down-to-earth person would learn from their mistakes and never repeat it.
I am never making these homemade udon noodles again.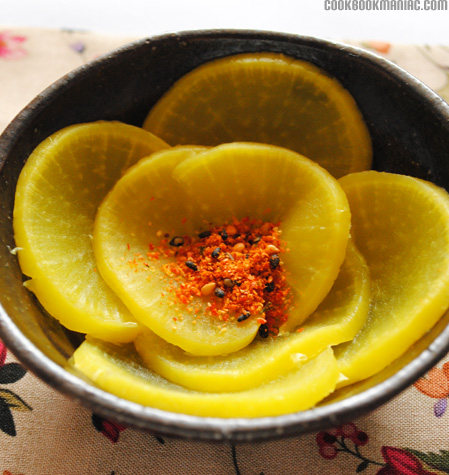 Recipe adapted from Harumi's Japanese Home Cooking by Harumi Kurihara
Ingredients for the Udon Noodles
1 cup water
5 teaspoons salt
3 1/2 cups bread flour
1 1/2 cups plain flour
extra flour for dusting
Ingredients for the Dashi Stock
1 litre of water
10cm piece of dried kombu seaweed
30g dried bonito flakes
Ingredients for the Mentsuyu Sauce
10cm piece of dried kombu seaweed
1 cup water
1 3/4 cups japanese soy sauce
1 1/4 cups mirin
2 tablespoons caster sugar
4 1/2 tablespoons dried bonito flakes
Ingredients for the Hot Udon Broth
2 cups homemade udon noodles
1 cup dashi stock
1/3 cup Mentsuyu Sauce
finely chopped spring onion to taste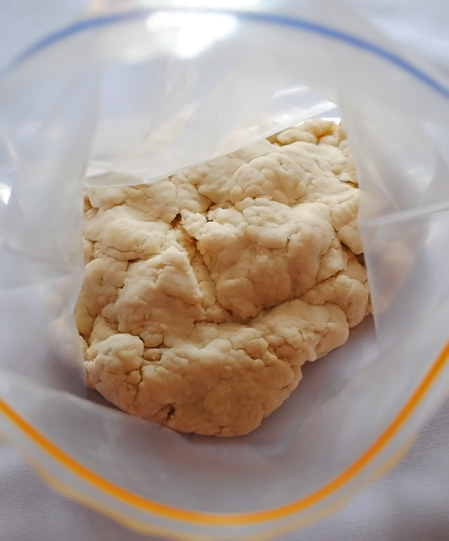 1/ Place all the ingredients for the udon noodles in a bread machine and set it on the dough cycle. If the dough appears too crumbly add more water, a tablespoon at a time.
2/ After approximately 30 minutes of kneading in the bread machine. Turn it off and take the dough out of the pan. Knead it it on a board as hard as you can for 5-10 minutes.
3/ Transfer it to a big plastic bag and wrap it with a towel. Put it on the floor, take your shoes off and walk on it (see photo below). This helps to bind it all together and give the final noodles a good chewy texture.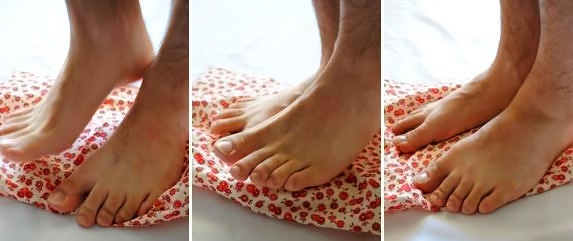 4/ Remove the flattened dough from the bag and roll it out. Then fold it up, put it back in the bag and walk on it again. Repeat this a number of times over a 15-20 minute period, until the dough becomes really smooth. Then leave the dough to rest for 3-4 hours, still in the bag.
5/ Take the dough out of the bag, shape it into a ball again, then return it to the bag and walk on it. Try to spread the dough with the pressure of your feet – try turning 360 degrees on your heels – it helps to spread the dough efficiently.
6/ Dust your work surface with flour, place the flattened dough on top and roll out from the middle. Rotate the dough and continue rolling until it is 1/2 centimetre thick and roughly square in shape.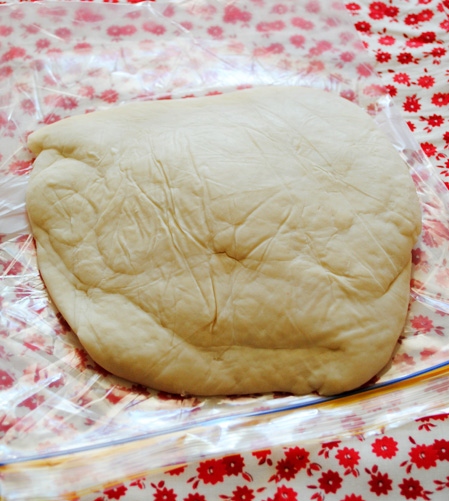 7/ Dust the work surface and the dough again then fold into three. Slice the dough into 1/2-centimetre-width lengths. You will find this easier if you use a large wide knife not just to cut but also to push the noodle strips away from the remaining dough. The dough gets very sticky so keep dusting with flour as you cut.
9/ Fill a large saucepan with plenty of water and bring to a boil. Dust the noodles with flour again, if necessary, before adding to the boiling water.
10/ Using chopsticks, lightly stir the noodles to prevent them from sticking together.
11/ As the water boils, add a small cupful of cold water to reduce temperature. Repeat this when necessary and continue to cook for 6-7 minutes. Once cooked, drain the noodles in a seive and rinse under cold running water so they cool rapidly.
12/ Once cool enough to handle, seperate out the noodles with your hands and carry on rinsing to ensure all the starch is removed.
13/ The udon are now ready. You can serve them cold but they are more traditionally served hot.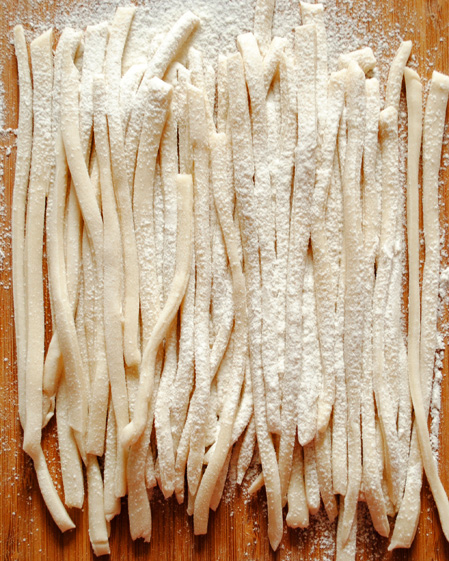 To make the Dashi Stock
1/ Lightly wipe the dried kombu seaweed with a damp cloth and then soak it in a pan with 1 litre water for 15-20 mintues.
2/ Heat the water and when it is getting warm take out the piece fo kombu seaweed. As the water comes to the boil add the fish flakes and cook for one or two minutes on medium heat, then turn it off. It is ready to be strained when the flakes have sunk tot he bottom of the pan.
To make the Mentsuyu Sauce
1/ Lightly wipe the dried kombu seaweed to remove any excess saltiness. Put into a pan with the water and soak for 2-3 hours.
2/ Add the soy sauce, mirin and sugar over medium heat. Just before it comes to a boil, remove the kombu seaweed and add the dried bonito flakes.
3/ Boil for about 30 seconds then turn off the heat. Cool and strain.
To make the Hot Udon Broth
1/ Heat the noodles in the microwave on high for 90 seconds.
2/ Mix three parts dashi stock with one part Mentsuyu Sauce and heat in a pan. As it comes to a boil, turn the heat off and pour over the udon. Sprinkle with chopped spring onions.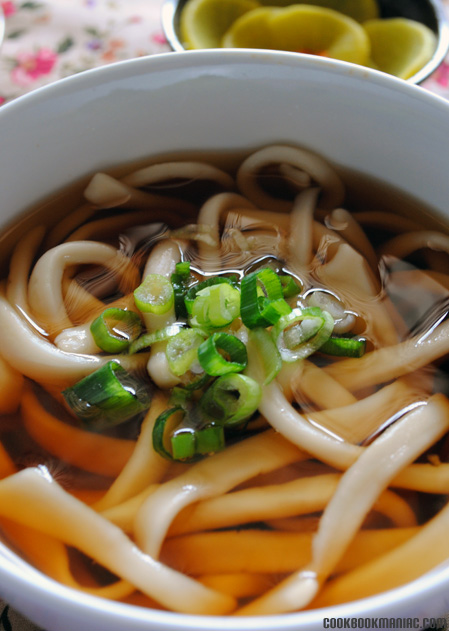 Tips from the cookbookmaniac
* This took a lot more effort than I thought. Although the noodles were okay, I would stick to the storebought stuff.
* Stomping on the dough is good exercise. After a few minutes I was worn out! Pizzaboy had to take over and he was over it soon after.
* The time it took to make these noodles was the same amount of time to cleanup. It was not worth the effort.
Please share this: