Thai Kangaroo Salad – What is Australia's national dish?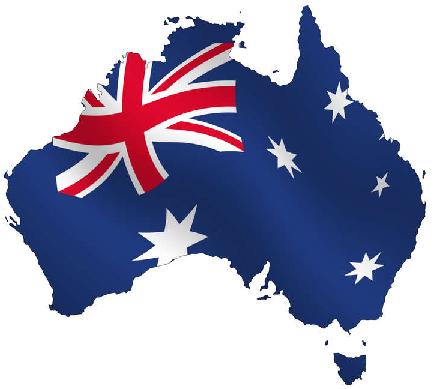 It was Australia Day a week ago. For a longtime I'd been wanting to cook and present one of Australia's National Dishes to the blog. However, I was having a hard time selecting one, or actually, I don't know if I had even found one that didn't have its origins from elsewhere.
Pizzaboy and I came up with a few possiblities:
Meat Pie & Sauce
Shepherds Pie
Fish'n'Chips
Pavlova
Sticky Date Pudding
Lamingtons
Masterchef runner-up Poh Ling Yeow suggests that it may be Salt & Pepper Squid. I don't think she was too far off. You see, Australia is culturally multi-layered, built by many years of immigration from around the world. Almost all of the world's cuisines are represented here, we are very lucky in that respect.
With all this in mind. I do believe that we show our "Australianess" by throwing together a barbeque. Everyone can bring whatever they want and "chuck it on the barbie". It is an opportunity to take advantage of the fresh produce that is available to us, soak up the warm climate and relax. What can be more Australian than that?
I received my copy of Delicious magazine in the mail and my decision was made when I came across a recipe for Thai Kangaroo Salad. Jill Dupleix makes the following observation, "It makes sense that if we are to produce our food from animals, that we do it from those that belong here. I bet if Thailand had kangaroo, they'd cook it like this, too." I agree.
350g kangaroo fillets
1 tablespoon hoisin sauce
1 tablespoon soy sauce
1 teaspoon sesame oil
6 cherry tomatoes
2 eschallots, thinly sliced
1 small red chilli, thinly sliced on an angle
1 spring onion, thinly sliced on an angle
2 large handfuls of your favourite salad leaves
Dressing
1 tablespoon lime juice, plus lime wedges to serve
1 tablespoon fish sauce
1 tablespoon olive oil
1 teaspoon sugar
1/ Combine kangaroo, soy sauce and sesame oil in a bowl, stirring to coat. Stand at room temperature for 30 minutes to marinate.
2/ Heat olive oil over medium heat, sear the kangaroo for 4-5 minutes on each side for medium-rare. Transfer to a plate, cover loosely with foil and rest for 15 minutes.
3/ Meanwhile, mix together the ingredients for the dressing. Stir the sugar until it dissolves. Set aside.
4/ Place tomatoes, eschallot, spring onion and lettuce leaves in a bowl. Thinly slice the kangaroo and add to the bowl with some dressing to taste, then toss to combine.
5/ Divide among plates, and serve with remaining dressing and lime wedges, if desired.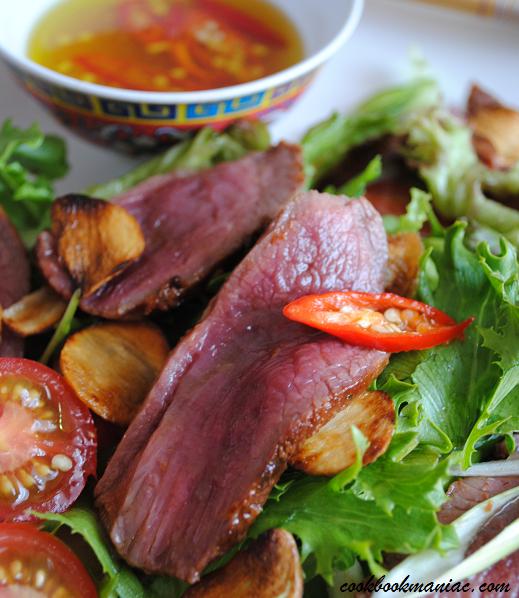 Tips from the cookbookmaniac
* Kangaroo can get tough when overcooked. Try not to cook it pass medium, otherwise it can be very chewy.
* The original recipe include 1/2 cup each of basil, coriander and mint leaves. I found it to more cost-effective and less wasteful but using ready made salad leaves by the local green grocer.
* The dressing is very good! You don't have to include the chilli if you are not a fan.
So tell me, have you eaten kangaroo meat? If yes, what did you eat it with?
Leave a comment and let me know!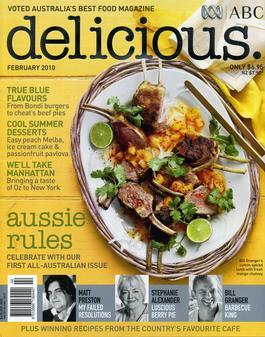 Please share this: