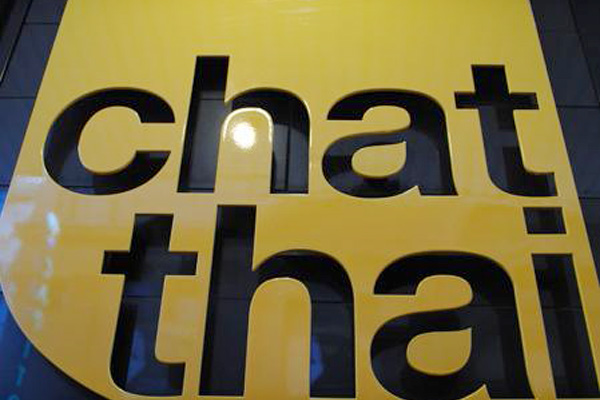 Chat Thai – Street Food in a Little Shop
"Amy, where are you going to eat this Friday?"
"Dunno… you wanna come?"
"Yeah. Do I have to pay?"
"Errr. I have a bottomless stomach. Not a bottomless wallet!"
Bunnifar is my younger sister, by nine years. I hate to admit that she has me wrapped around her little finger. I cannot bear to see her sad, and will do anything to see her happy. Spoilt, she is not. Well looked after by 5 big sisters, yes she is. When she doesn't get what she wants from one sister, she moves on to the next. Sometimes she'll get what she wants, five times over! All of this done with the innocence of a youngest sister, despite being 21 years of age.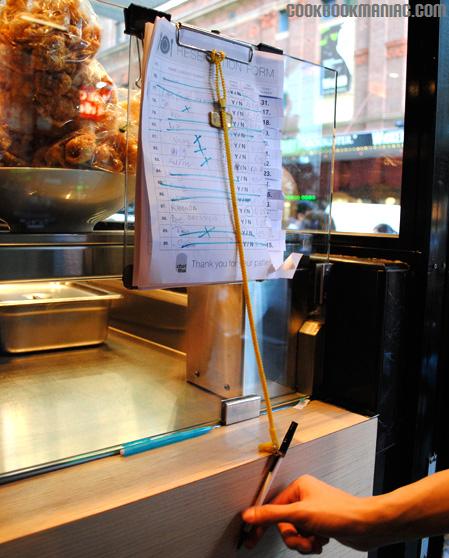 We both decide to visit Chat Thai. It resembles a well-dressed hole-in-the-wall. Like many super busy asian eateries, they do not take reservations. You simply turn up, write your name, take a number and wait.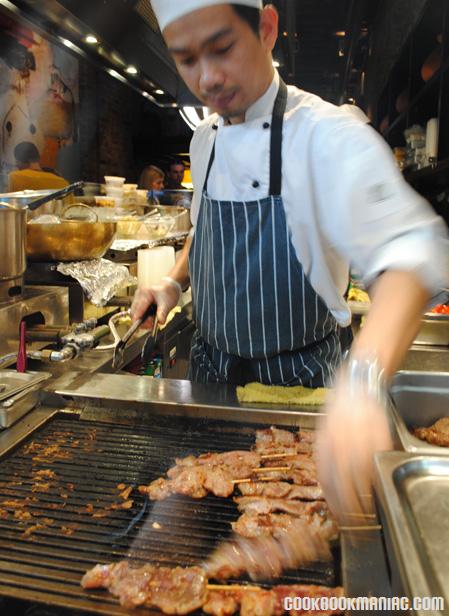 Bunnifar is running late, so I write down my name and hope that she arrives before our number is called. I guesstimate that there are 20 names before mine… *curse*! The wait is made a lot easier with an open front kitchen. It looks like this is where most of the grilling and desserts are made. I start snapping away at the chef turning the grilled sticks, he smiles at me – amused.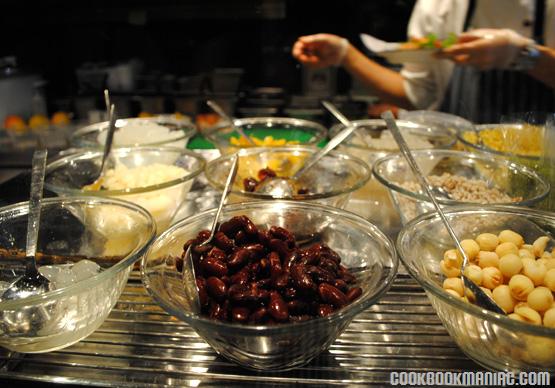 There are heaps of people waiting just outside the doorway and along the walkway to the main dining area. I walk up and down the walkway, it runs parallel to the open kitchen where the desserts are made. The stacking of the desserts in the window remind me of the street-food carts I use to visit during my 5 week stay in Thailand.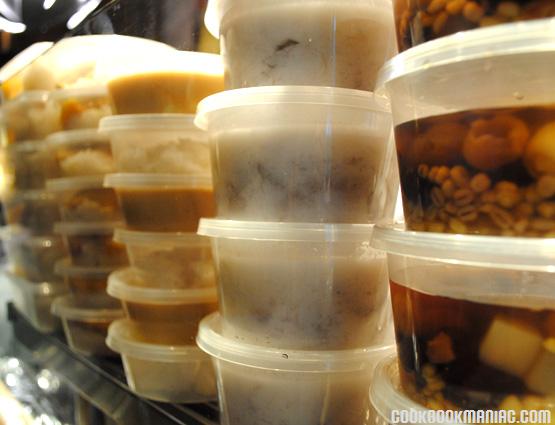 Bunnifar arrives, huffing and puffing.
"What's wrong with you?"
"I got lost. I've been walking up and down George St."
"What? I said it was on Campbell St"
"I know. I don't know. Leave me alone".
We stand by the door in awkward silence. My stomach grumbles. We both start cracking into laughter. You see, there is always some crazy, messed up story when you go out with Bunnifar, she is a walking "Jerry Lewis Show" without even trying. It turns out that at the time when I was explaining to her that it was near the Starbucks at the Capital Theatre in George St, Bunnifar had selective hearing and only remembered, Starbucks and George St and went to wrong Starbucks. Oh dear.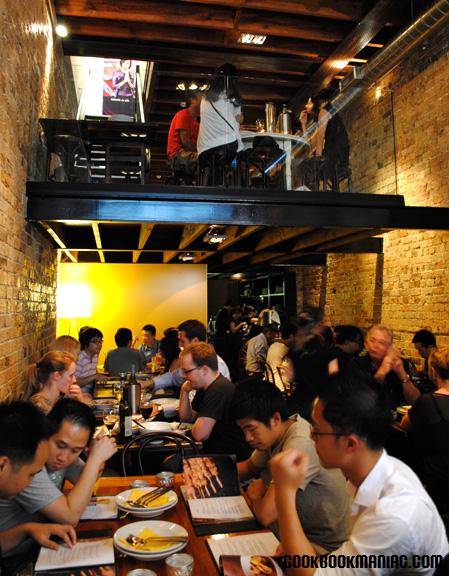 There is a little Thai waiter with a big voice, hollering out numbers from the Wait List. We watch her as she calls out number after number, it appears that some of the people who have written their names down, have now disappeared. In no time, Bunnifar and I are seated and promptly handed the menu.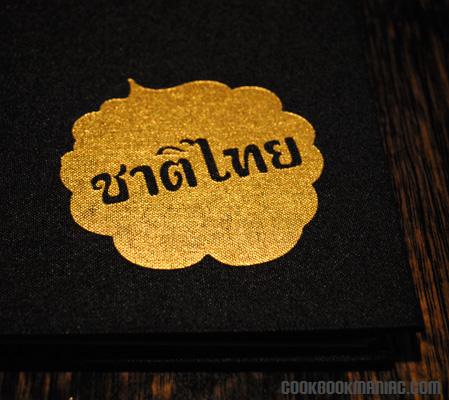 There is too much to select from. We did not even had our noses in the dinner menu for more than one minute when a waiter comes up to us and asks if we've decided on drinks. We tell her we need more time. The items in the menu are listed in English and Thai. There are also well written descriptions of each dish. I think we need A LOT more time.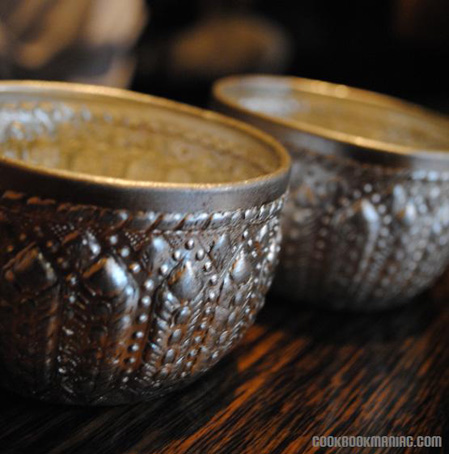 I notice the aluminium cups sitting on the table. The waiter fills it up with water. It is very cool in temperature and aesthetic.
We manage to pull ourselves together and order our drinks, a grilled dish, an entree, a main meal to share and a salad. We plan to order dessert later.
I could not resist the Yakult shake. I am a huge yakult fan and when I spotted it on the menu I had to order it. I was concerned that it would be a watered down version of my beloved little friend. I sighed with utter relief when I took my first sip. It was like a blast of Yakult, it was heaven sent to apologise for this hot and humid day. I tell Bunnifar over and over to try some, even after she has.
The grilled pork skewers land on our table first. I am snapping away at this dish, fussing over the settings of the camera because the restaurant is dimly lit and trying my best to avoid using the flash. Before I know it, all of the dishes arrive at the table and I don't have any room for my plate, so I put it on my lap!
The skewers remind me of the vietnamese sausage called "Nem Nuong" except it doesn't have that punch of flavour I come to expect from Thai food. It is still very good. I swirl the meat in the dipping sauce which helps give it that extra-oomph that I had been looking for.
The Crying Tiger dish was very average in appearance, it was a pain to photograph and it was unremarkable to eat. I cannot even think of anything imaginative to say about it. I regret ordering it and vow not to order it ever again.
Bunnifar digs into the "Ship and Shore" salad first and starts scooping half of its contents onto her dish. I grab a random piece of meat, it happened to be a prawn, and the sweet and sour chilli jam bursts into my mouth. I get a gentle crunch from what can only come from a super fresh prawn. I immediately understand her insatiable appetite for it and I start scooping out my share of the bowl. Bunnifar rarely eats chilli dishes but tells me that this is one of her favourite dishes of all time.
I glance over at a dish that is sitting at the corner of table next to Bunnifar. Neither of us have touched it and I cannot recall what it is. I ask Bunnifar if she knows, we both sit there trying to recall what we had ordered in order to work out what the dish was. It turned out to be the soft shell crab, we were both expecting to see something that resembled a crab, but this dish looked like a plate of soft fried noodles. "Don't judge a book by its cover". This was my favourite dish of the evening. The soft shell crab was soft enough for us to eat as a whole, meat and shell. It had a mild curry taste and a gentle heat. The chinese celery gave the dish the crunch that it needed.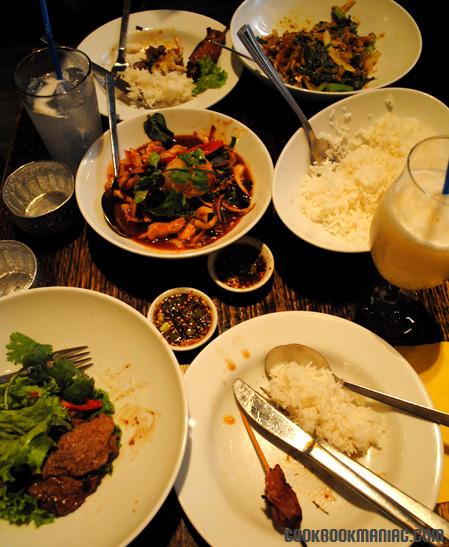 A third of the way into our meal, Bunnifar tells me she thinks we ordered too much. I hate wasting food, I tell her we'll get a doggy bag! This'll make an excellent lunch tomorrow.
"Excuse me, can I get these two dishes take away, please?"
"Take away, 50c a box, miss."
"Oh, it doesn't matter, put them in two seperate boxes".
"That is $1, miss. Do you want it all in one box?"
"No, thank you. The flavours will interfere with each other if they mix".
"Oh… ok, miss".
Bunnifar is holding back her laughter "Amy, your crazy!" and waves me off.
Chat Thai
20 Campbell St
Sydney, 2000
Phone (02) 9211 1808
http://chatthai.com.au
Opening Times
Lunch: 10am-5pm
Dinner: 5pm-10pm
Supper: 9.30pm-2am
Please share this: