Lamb Chops stuffed with Feta Cheese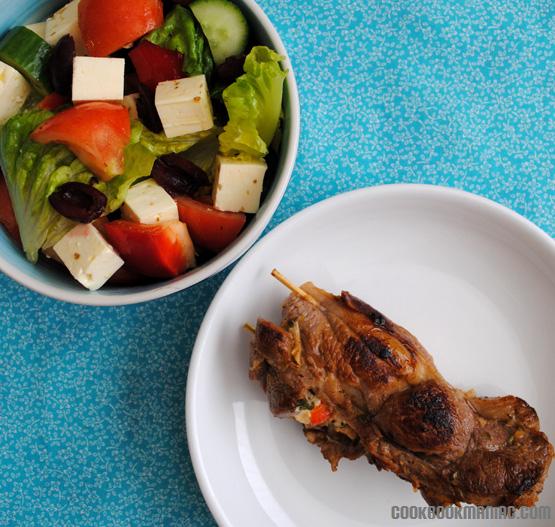 I own so many cookbooks. I think the floor under the shelf is bending from the weight of it. There are thousands of recipes sitting inside these gems calling out to me. "Make me, try me, love me". You see, one of the main reasons why I started this blog was because I felt I wasn't cooking from them enough, (and food blogging is a fantastic hobby). I find that there are many, many recipes that I have never heard of, nor ever eaten.
I am too much of an adventurous eater to just stick to one type of cuisine and not try anything else. There is no better comfort of knowing that I have the freedom to choose a recipe based on the whim of whatever I am craving, from wherever it is from in the world. Whether it be digging my fork into a tomatoey eggplant that is oozing mozzarella, or, slurping and sweating over a bowl of pho. There is also a deep warm satisfaction when I watch Pizzaboy rushing into kitchen to grab his share of whatever I have concocted in the kitchen.
Sometimes it doesn't work out. That is when the shit hits the fan and I smack my fist into my failed creation. All that time, energy and food wasted because I was not able to either follow the recipe or mothernature decided to watch me throw a tantrum. I feel lucky I have a partner who will eat my food no matter how ugly, and is convinced that at my worst, I could still do no wrong.
There are times when I choose to make a recipe that I have never eaten before. Making these lamb chops is one of those. When I first got the book Nosthimia! this recipe stood out the most, reading it through I was pretty confident that it would be a winner. It turned out to be one of those meals Pizzaboy and I agree to have on high rotation for dinner.
Lamb + Feta = YUMMO!
It was also very reasonable in the time it took to prepare and cook. It was 1 hour from when the lamb chops came out of the fridge to when it was ready to be eaten. There is also very few dishes to clean. phew.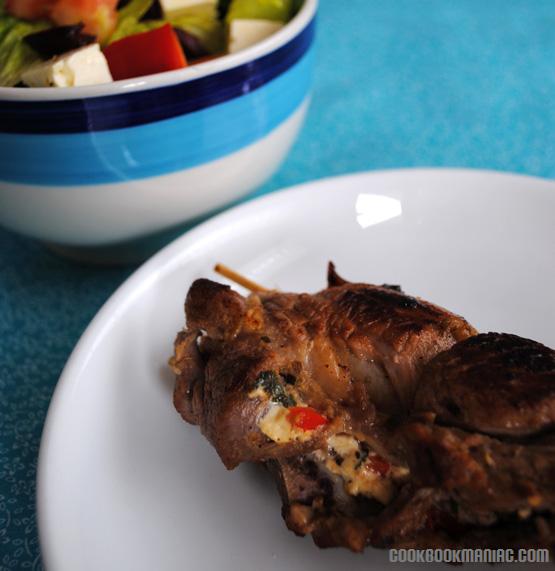 Recipe adapted from Nosthimia! by Georgia Sarianides
1kg lamb chops
Marinade
1/4 cup olive oil
1/4 cup fresh lemon juice
1/4 cup white wine
3 cloves garlic, minced
1 teaspoon dried oregano
1/2 teaspoon dried thyme
1 bay leaf, crushed
Salt & Pepper
Filling
1/2 cup crumbled feta cheese
1/2 red capsicum, finely chopped
2 cloves garlic, minced
1 tablespoon parsley, finely chopped
1 tablespoon olive oil
Freshly ground pepper
1/ Wash the lamb chops and pat dry with paper towels
2/ In a medium bowl stir together the ingredients for the marinade. Pour the marinade over the chops, and turn to coat thoroughly. Cover and refrigerate for 3 to 6 hours.
3/ In another medium bowl mix together the ingredients for the filling.
4/ Remove the lamb chops from the marinade and drain. Allow the chops to come to room temperature before cooking. Preheat grill to medium-high.
5/ Take two of the lamb chops and secure one side with a skewer. Using a spoon, stuff lamb chops with the cheese filling and secure the other side with another skewer. Trim the skewers so that it is not obtrusive.
6/ Place them on the grill and cook for about 5 to 7 minutes on each side for medium rare, or to your liking.
7/ Remove to a plate and cover with aluminium foil, allow to rest for approximately 5 minutes before serving.
Tips from the cookbookmaniac
* The original recipe requested for 1 inch thick lamb chops and to cut a slit to create a pocket to stuff the filling. I could not find lamb chops that thick. The butcher said she could cut up a lamb leg to suit my needs, but that ended up being too expensive because I had to buy the whole lamb leg. I improvised and decided to join two lamb chops with a skewer instead.
* I didn't have a grill handy, so I used the frying pan. It worked fine.
* I only marinated the lamb chops for 30 minutes
* This is very a yummy recipe. The lemon, olive oil and white wine made the lamb very tasty and soft.
* I had leftover feta cheese and decided to make a greek salad.
—
Please share this: