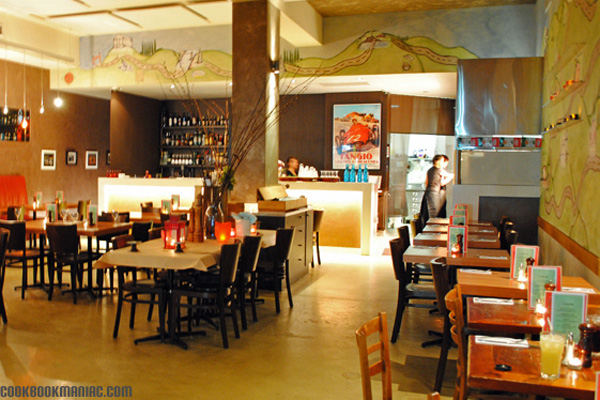 Twelve in King St, Newtown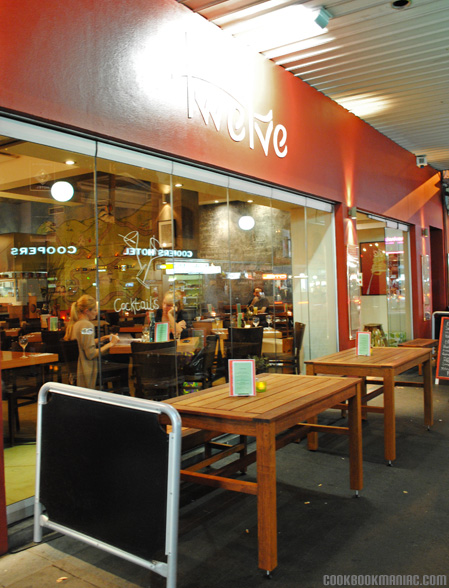 Bad luck follows me wherever I go. There is always something that I am missing out on or something that I have overlooked. One rainy evening, Pizzaboy and I make our way to Newtown to try the newly opened and uber-trendy Bloodwood, only to find the windows shut and lights turned off. It is closed on Tuesdays… bummer.
We walk along King St, glum faced and with no idea what to have for dinner. We walked past Twelve a couple of times before deciding on dining here. It was really our hunger that made the final decision.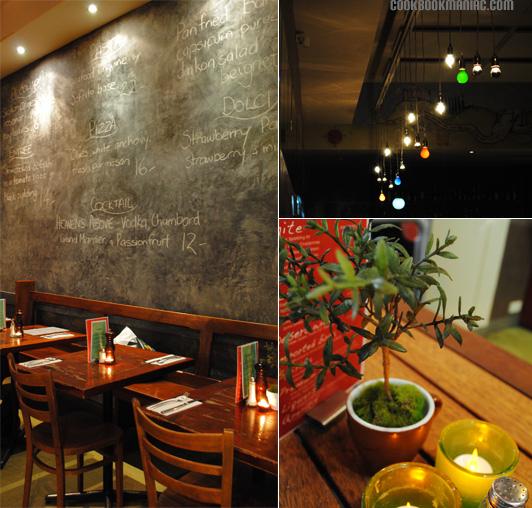 After being shown to our tables and looking over the menu I take a closer look at the restaurant and notice it is tasteful but haphazardly decorated. It's retro-italian, Lygon St, high school mural, arty, home furnishing shop, organic cafe style that somehow meshes together well.
The restaurant is empty when we sit down. By the time we leave, it is buzzing and almost at capacity. Our waitress for the evening is new to the job and we are her first customers. It hindered my usual method of ordering (I always ask what are their popular dishes and what they recommend). We order quickly and cross our fingers.
The antipasto platter arrives quicker than expected. It is beautifully plated and looks scrumptious. The foccacia bread is slightly stale, it may have been toasted in advance. The buffalo mozzarella is smooth, glossy and porcelain white. It tasted lovely with the sharp tomato sauce and bitter rocket leaves. Pizzaboy wasn't very fond of it and left it for me to enjoy. The proscuitto is pleasantly salty and paired with some of the buffalo mozzarella it is lovely. The grilled vegetables consisted of zucchini, eggplant and artichoke. They seem to have been mixed with the same sauce that appears with the buffalo mozzarella. I really like it and I am disappointed when it is finished.
The pork belly arrives and it smells amazing. The skin looks super crunchy and I dig into it with gusto. It turns out the skin is rock hard and it takes a stabbing with my knife to break it. When I manage to get it into my mouth it miraculosuly doesn't shatter my teeth but gives my ear drums a much loved *kerrr-unch* There is a huge gelatinous layer of fat and after a few bites it becomes too much. I end up leaving some wobbly bits at the corner of my dish.
The garlic potato puree is luscious and creamy. I do not taste a dash of garlic. Pizzaboy tries his best to distract me to steal a bite of them, but I am too clever to fall for it. I didn't think I would like the whiskey grapes but I find them sweet and plump. I am totally fascinated by them throughout the entire time they lasted on my plate.
Pizzaboy attacks his crispy skinned ocean trout like he hasn't eaten in years. The skin is thin and crunchy. The flesh is moist and breaks away with a nudging of the fork. The tomato sauce appears again and Pizzaboy is overjoyed. He smooches all the vegetables with the sauce and devours it with unabashed pleasure.
Pizzaboy claims that he is stuffed and refuses to look at the dessert menu. I, on the other hand, have a bottomless stomach and choose the Apple & Rhubarb Crumble.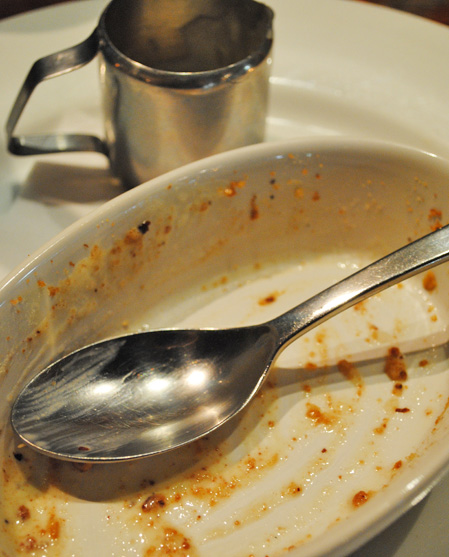 Although I polish off the entire dessert I found it to be average. I am going to be quite bold and say… I make a better one.
The verdict
This is a lovely place. None of the meals really excited me. I might come back again another time and try some other things. There was a fantastic smell of butter, garlic and pasta coming from the kitchen. I am curious as to what it could be O_o. However, with so many great options in Newtown, I don't think the next visit will be anytime soon.
Twelve
218 King St
Newtown NSW 2042
Phone: 02 9519 9412
Please share this: