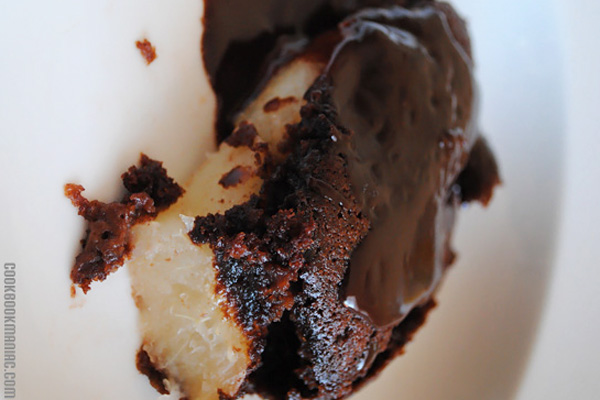 Chocolate Pear Pudding by Nigella Lawson
I love corner shops, they have always been there for me.
I could always count on them to have enough lollies, chips and ice cream to make me grin like a spoilt child.
They were perfect for the after school snack of pies and sausage rolls in my teenage years.
They were the place to get the newspaper and magazine for the bus/train ride to work as a young adult.
I also love the corner shop because whenever I have a craving and want to make something simple and quick… I can simply duck over to the little shop around the corner. No need to start the engine of the car. No need to dress nicely.
Sure its much more expensive, but the convenience is far more important when you just want a homemade chocolate cookie fix.
The corner shop became my hero when I decided to pull this together from out of nowhere. I had all the ingredients in the pantry, except the cream and pears. They had everything that I needed and this pudding was whipped up in no time at all.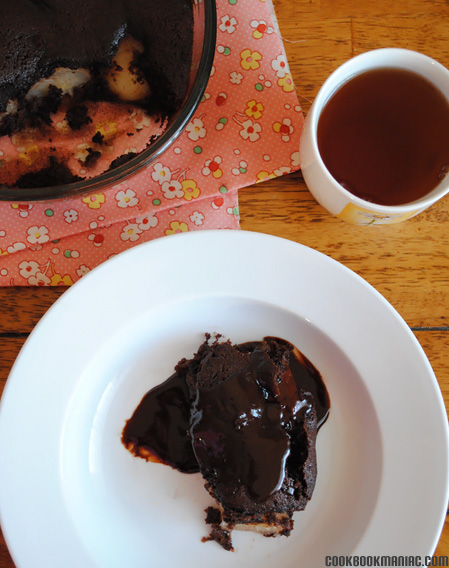 Recipe taken from Nigella Express by Nigella Lawson
Ingredients for pudding
800g canned pear halves in juice
125g plain flour
25g cocoa powder
125g caster sugar
150g unsalted butter, softened
1 teaspoon baking powder
1/4 teaspoon bicarbonate soda
2 large eggs
2 teaspoons vanilla extract
1/ Preheat the oven to 200 degrees and grease a 22cm square or round ovenproof dish.
2/ Drain the pears and arrange them on the base of the dish.
3/ Put all the remaining ingredients in a food processor and blitz until you have a batter with a soft dropping consistency.
4/ Spread the brown batter over the pears, and bake in the oven for 30 minutes.
5/ Take it out of the oven and let it stand for 5 to 10 minutes, whilst you are waiting for it to cool, make the chocolate sauce into slabs.
6/ Cut into slabs and serve with chocolate sauce
Ingredients for chocolate sauce
75g dark chocolate, 70% cocoa solids
125ml pure cream
2 teaspoons instant espresso powder, dissolved in 2 tablespoons water
1 tablespoon golden syrup
1/ Break up the chocolate and put into a heavy-based saucepan.
2/ Add the remaining ingredients, then place the pan over a gentle heat and let everything melt together.
3/ Once everything has melted, stir well, take off the heat and pour into a jug to serve.
Tips from the cookbookmaniac
* There aren't any. This was so easy to put together and bake!
Please share this: