Tan Viet Noodle House – Cabramatta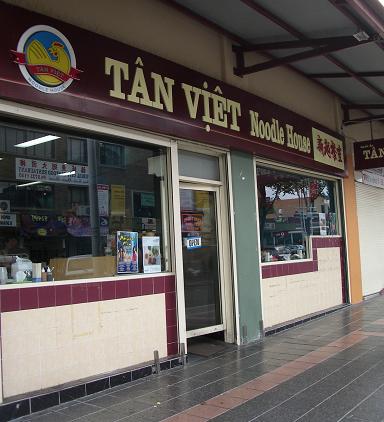 Tan Viet is one of our favourite places to eat. They serve traditional vietnamese cuisine but they are famous for their "Criskin Chicken".
Yes – Criskin. It's an appropriate play on the words crispy and skin. And if you are familiar with the vietnamese accent, this is how the vietnamese say crispyskin in english. Or possibly a spelling mistake made many years ago, and now is the norm.
They are so reliable that we order the same thing on every visit.
This is one of few places that I rarely stray from my usual order because my favourite thing on the menu is so good I want to eat it every time that I visit.
The chicken is wonderfully crispy and amazingly flavourful. They somehow manage to get the skin super-crispy and the flesh really moist. My mother tells me they cook it twice. They boil it first to cook the flesh and then they deep fry to make the skin crispy. But it is the flavour that captivates me the most and keeps me coming back for more and more. Addictive is another way to describe it. To add to its addictive nature, when walking nearby the aroma alone is like the Pied Piper calling for all to come and devour it.
I love to eat the Criskin Chicken with Dry Egg Noodle.
The dry egg noodle has a secret sauce drizzled on it to give them an exquisite flavour.
Pizzaboy loves to eat Criskin Chicken with Tomato Rice.
They also include some pickled vegetables that are delicious as well.
Each order comes with a comforting, and tasty, clear chicken broth as well as all the typical side dishes that the vietnamese always have with every meal ie, nuoc cham (fish sauce for dipping) and bean sprouts.
Tea is complimentary. And there is a tray of sauces, mustard, chilli and salt on every table.
So the saying goes, you know a place is good when the restaurant is filled with locals. During lunch hour (lunch hour at Cabramatta is between 11am to 3pm) there is usually a waiting line out the door – however the wait is never too long. Singles and couples usually have to share tables during busy times. But with food this good and cheap, who cares?
It is also very easy for Pizzaboy and I to frequently visit this place because it is so cheap. Our two orders and two drinks only came to $24.00! This has to be one of Sydney's greatest cheap eats.
Tan Viet Noodle House
Shop 3, 100 John St
Cabramatta
(02) 9727 6853
Open 7 days a week
9am – 7pm
No reservations necessary
Please share this: