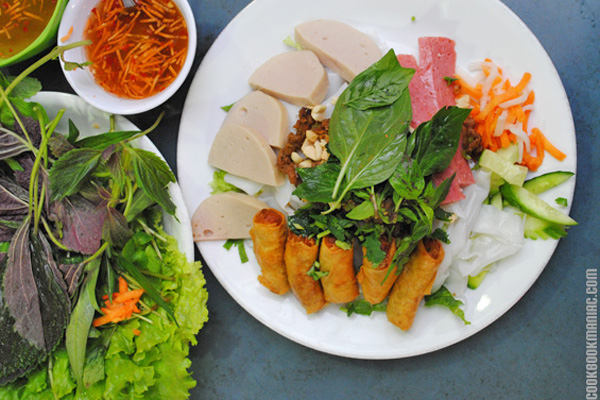 Tan Hung Vuong – This is how you roll it!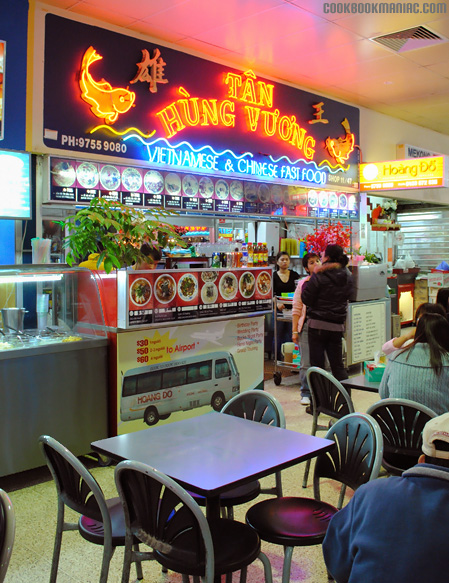 The food courts in Cabramatta are unlike most food courts you will find in large shopping centres. There is no KFC, McDoanlds, Doner Kebab vendors or fake-chinese stalls. They are mostly fresh and authentic foods from Vietnam, Thailand, China and Laos.
In fact, KFC once opened its doors here and only lasted 6 months. The locals preferred fresh and local produce and did not welcome the idea of frozen, msg-laden fried chicken.
Our favourite Vietnamese vendor is Tắn Hủng Vướng in AA Supermarket. We come here quite often when we want fast and cheap food. Almost all of the menu items are $10 or less and they make great Vietnamese coffee.
Their menu contains a vast array of Vietnamese dishes, mostly specialising in cold noodle items and wraps or rolls. They also have hot noodles like Bún bò Huế and Bánh canh. They make a great Bò kho too.
Pizzaboy and I have our favourite. They make the best Bánh hỏi nem nướng in town. It is difficult to pass this up and try other things. I did cave in and order my second favourite Bánh ướt for the purpose of variety for this blog post. I ♥ my blog!
Bánh hỏi nem nướng literally translates to steamed vermicelli noodles with bbq pork sausage. Like most vietnamese meals it comes with a large side dish of lettuce, fresh herbs and nước chấm.
Here is an example of how to wrap these yummy bbq pork sausages: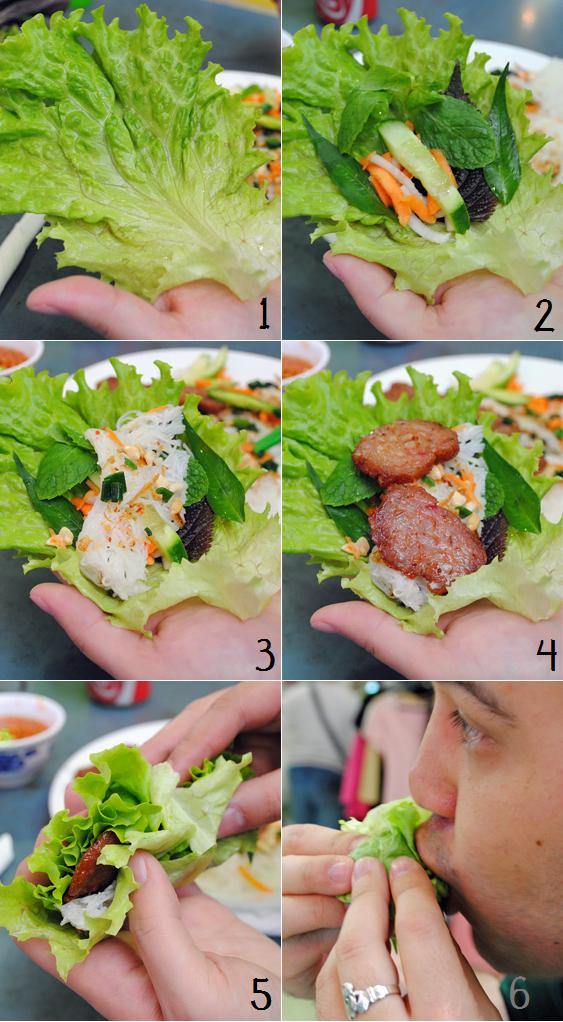 [1] Grab a lettuce leaf
[2] Place the herbs (red perilla, vietnamese mint, mint), pickled carrots, pickled white radish and cucumber on the lettuce leaf
[3] Lay a piece of the steamed vermicelli noodle on top. Be sure to include some of the garnishes (peanuts, spring onion and fried onions)
[4] Top it with the nem nướng
[5] Fold it up and dip it in the nước chấm
[6] Put it in your mouth!
Bánh ướt literally translate to wet cakes. It is large steamed flat rice noodle sheets topped with fried shallots, herbs, bean sprouts, chả lụa (Vietnamese pork sausage) and occasionally nem chua (pickled sour pork). It is then gently bathed in nước chấm. For an extra $2.00, I ask for the 'special' which includes spring rolls and fried beef.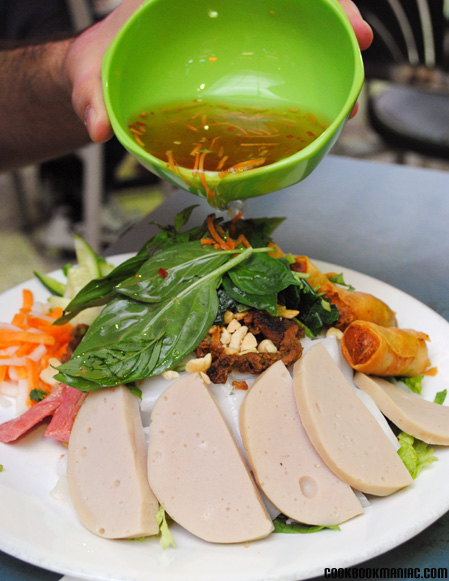 This was so filling, healthy and delicious. Pizzaboy kept stealing my spring rolls. Gah!
The verdict
It is definitely one of many great places for traditional Vietnamese food in Cabramatta. You can also do some grocery shopping in the centre. There are fresh fruit and vegetables grocers, butcheries, fish market, flower shop, clothing stores and a small supermarket.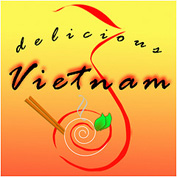 This is an entry to Delicious Vietnam hosted by
A food lover's journey and Ravenous Couple.
Tắn Hủng Vướng
AA Supermarket
47 Park Road
Cabramatta NSW 2166
Phone (02) 9755 9080
Please share this: