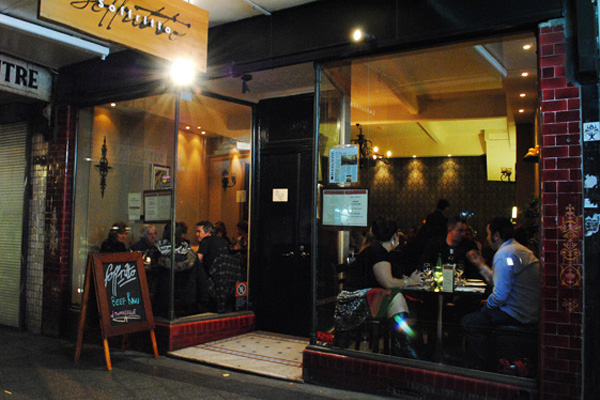 Soffritto in Newtown – Oh my! How good is this!
Have you ever stumbled upon a place and given it serious consideration and then passed it up. Only to find that many days later the curiosity has grown from the size of pea to a giant watermelon?
I was gazing into the window of this little restaurant one evening and did just that. It only had 15 items on its menu, the lighting was very low and there wasn't anyone in there at 6pm. However, there was something about it… an air of mystique. It got the better of me one boring Thursday afternoon at work and I rang to make a reservation for Friday date night with the boy.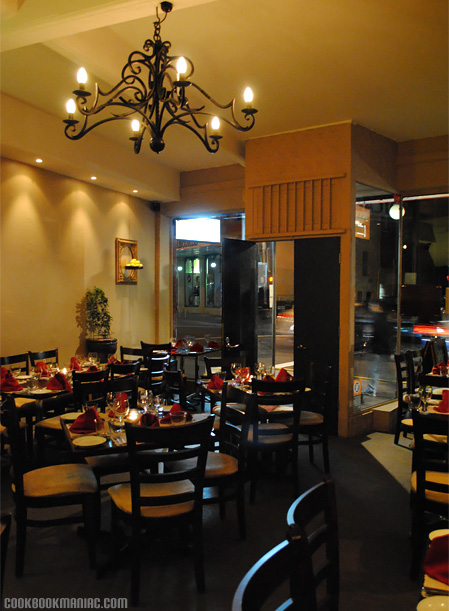 Phone call made on Thursday afternoon
"Hello? This is Soffritto."
"Hi, I would like to make a reservation for 2 people at 6.30pm on Friday night."
"Ahh…. yes, we are able to fit you in. It will be a full house that evening. Please be aware that you will need to vacate the table by 8pm."
"Ok. No worries."
Phone rings at 6pm
"Hello? This is Amy."
"Hello, this is Soffritto. We are calling to confirm your booking for 2 tomorrow at 6pm."
"Yes!"
"Are you aware that you will need to finish your meal by 8pm."
"Errr. Yes."
"Please let us know if you are not able to as we now have an extensive waiting list for the evening."
"Ok. No worries."
"Thank you."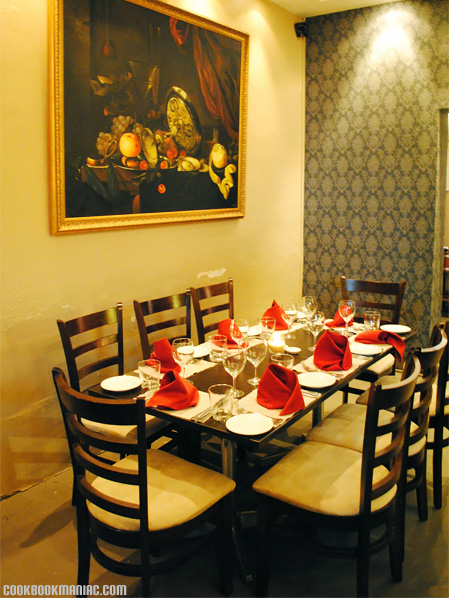 Pizzaboy and I arrive at the virtually empty restaurant and we are shown to a table with a lamp just above it. phew. The restaurant is so dark I appreciate the extra lighting for the photos. There is another couple seated next to us enjoying their shared entree and they greet us with a smile.
The waiter hands us the menu and reminds us that we must finish up by 8pm. We quickly order our entree and main, but leave the dessert order for later.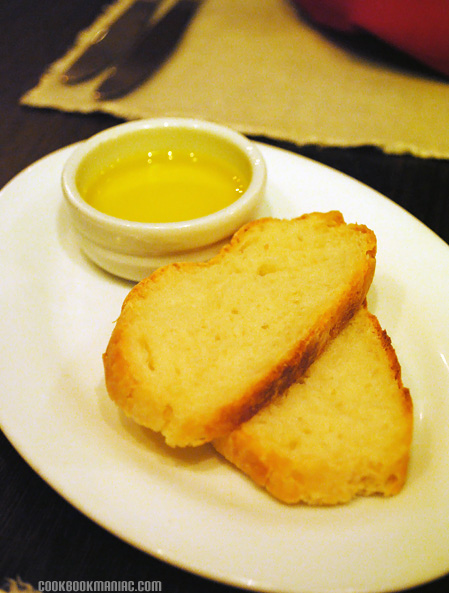 The bread comes out very quickly and it is warm to touch. The olive oil is fresh, grassy and fruity. Pizzaboy dislikes the taste but I don't mind it. The gently toasted bread was a little stiff at the crust but perfectly crisp in the middle.
The duck tortellini is placed in front of me and I nearly faint at the captivating aroma of the parmesan cheese, balsamic vinegar and pasta. It maybe the only time I have ever thought of forgoing the photo and animalistically diving in, however, I use every muscle in my body not to react so brashly and prudishly push my fork against the dumpling and put it in my mouth. I hear harps and flutes playing in my mind as I close my eyes and relish every bite.
Needless to say, it was delicious!
Pizzaboy's initial reaction to the pâté isn't as dramatic as mine. However, his facial expression when he puts the first piece of smothered bread to his lips is the thing that great things are made of. I quickly steal a piece of bread and slather on a generous amount. Oh my! How good is this! This is the best pâté ever! It's smooth, not a hint of graininess.
We want more!
After we finish the entrees we can't stop discussing how amazing the dishes are. The couple sitting next to us ask us if we are enjoying the food. We both let out a sigh and wax lyrical. They receive their mains whilst we wait for ours and they thoroughly enjoy their Beef Ragu and Roast Barramundi.
My risotto looks fairly unremarkable on its plate, however after the tantalising effects of the entrees I take a deep breathe and taste a good scoop of the risotto. It is mouthwateringly superb. The rice and pumpkin are creamy and the sprinkling of the parmesan cheese is blissful. The melted gorgonzola is only lightly folded through the rice. There are pockets of where there is no cheese and then there are parts that are gorgonzola-overload.
It is so refreshing for me to enjoy a risotto at a restaurant. Quite often its texture tastes like microwaved rice but this is achingly good.
Pizzaboy looks at his beef fillet and wonders whether they have mixed up his order.
"Hey, what's wrong?"
"Errr. I don't know if this is mine."
"You ordered the beef fillet didn't you?"
"Yeah. But this is not what I was expecting."
"You wanted a steak, didn't you?"
"Yeah. Kinda."
"Eat it anyways."
He takes a bite
"Oh! How good is this!"
The beef fillet is lusciously tender and barely budges when the knife slices through it. The flavour of the beef is second to none. The potato mash is creamy and I practically steal half of it in one scoop. Pizzaboy picks up some spinach and places it on my plate. "Have a bite of that." I do as he says and a burst of buttery goodness explodes in my mouth. Oh my goodness!
"Vegetables are not suppose to be that good!" says the cow to spinach.
Towards the end of our mains we overhear the waiter recommend the chocolate pudding to the couple next to us. His description captivates Pizzaboy and he asks for the dessert menu immediately after we finish our mains.
It did not disappoint. The top is scorched like a creme brulee and the innards is a silky pool of oozy sweet dark chocolate. It is very moreish and the couple next to us remark, "How good is it!"
I love the strawberry jam-like thing that came with it. Pizzaboy let me keep it to myself.
The baked apple and quince tart looks like a tarte tatin. The apples are deeply caramelized and the pastry is as crisp as perfectly ironed linen. Although it is not as indulgent as the chocolate pudding I am still very happy with it.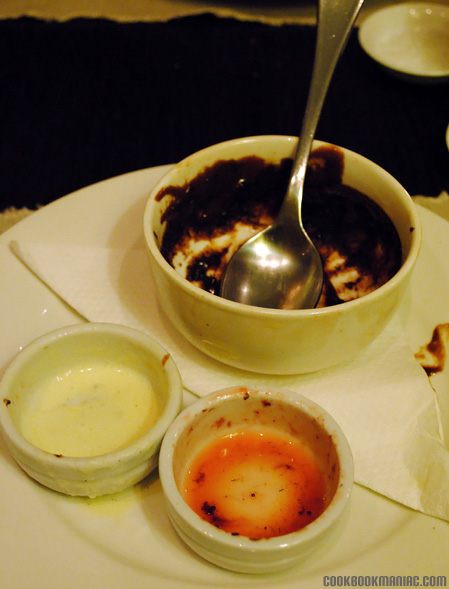 It is 15 minutes to 8pm. Pizzaboy and I are shovelling the dessert into our mouths to make curfew. I catch sight of the waiter sheepishly heading towards our table with the bill. He places it down and quickly apologises for rushing us but its almost eight o'clock. He then quick foots away from us without waiting for our acknowledgement.
Pizzaboy is annoyed. "Didn't he see us rushing?"
"Nevermind. Don't let it ruin the meal. At the very least, he tried to be polite about it."
The little restaurant was at capacity and buzzing by the time we leave.
The verdict
This is not a paid advertisement. It's just bloody good food!
*I had to photoshop the hell out of these photos due to the low lighting
Soffritto
367 King St
Newtown NSW 2042
Phone 02 9565 4660
www.soffritto.com.au
Open Tuesday to Saturday 6pm-Late
Bookings essential
Degustation dinner – 5 courses for $70 [with wine $95]
3 courses for $49
Please share this:
Tags:
beef eye fillet
,
best mash potatoes
,
butter sauce
,
chicken liver pate
,
duck tortellini
,
french restaurant
,
gorgonzola risotto
,
italian restaurant
,
Modern European Restaurant
,
My Favourite Places Eat
,
Places to Eat that are Always Busy
,
pumpkin risotto
,
restaurants in sydney
,
vegetarian risotto