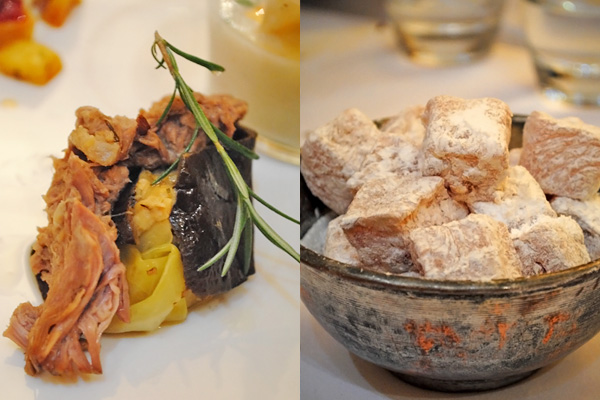 Efendy in Balmain – Lamb Testicles… to eat or not to eat?
"Efendy means 'Gentleman' in old Turkish.
It is commonly used to describe people with traditional upbringing
adopting modern views"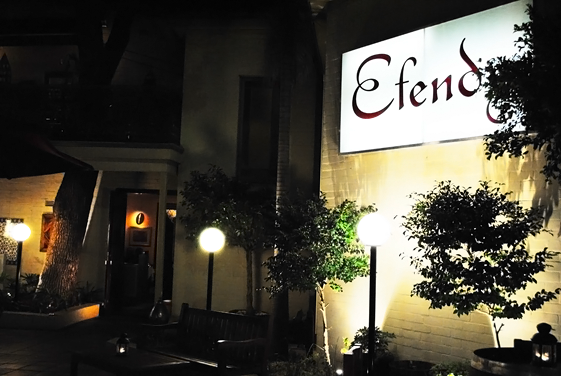 During the Easter break I was invited to attend a food bloggers dinner event at Efendy by Simon Leong of Simon Food Favourites. The purpose of the evening was to introduce and highlight the cuisine of one of the most ancient capitals: Istanbul.
I do not know much about Turkish food. My knowledge of it doesn't extend further than Turkish Delight and what is offered at the kebab shop. So, I was quite excited to attend and sample some new things.
The evening was hosted by Asli and Somer Sivrioglu. The elegant Asli dined with us, whilst the jovial Somer attended to the kitchen. We sampled many wonderful dishes and had quite a few eye-opening moments too. *wink wink*
We were treated to:
* Three cold mezes
* Three hot mezes
* A main course which was a trio of lamb dishes
* A dessert platter of three different desserts
Turkish bread is served along side a platter of dips and olive oil.
Isot is a dried Turkish pepper. It has a smoky, raisin-like flavour. Although its spiciness is not apparent immediately this slowly builds as more is consumed.
Sumac is a pretty red spice with a citrus-like flavour. I quite liked swirling this around with olive oil and turkish bread.
Nuts & Spice Mix was a blend of pistachios, walnuts and toasted sesame seeds. Yasmin – who was sitting next to me – was obsessed with this dip and I don't blame her. Its earthy scent and crunchy texture coupled with the grassy olive oil and turkish bread deserves an entire sitting on its own.
Nar Eksisi is a pomegranate molasses. This was my absolute favourite of all four and I used every muscle in my body not hog the whole thing to myself. The yeasty taste of the turkish bread marries perfectly with the fruity, sweet, sour notes of the syrup.
Fava is a broad bean puree with onion and dill. It is garnished with more dill, artichoke and drizzled with olive oil. This was extremely soft and there is only a gentle taste of the dill. The texture is surprisingly pleasant and makes for a good starter.
Hamsi are small black sea sardines in olive oil, confit style. These are rich, soft and tasted strongly of the sea. They weren't at all salty like I had been expecting. It is also a staple food of the Black Sea cuisine and is widely used from pan dishes to baked goods, even as a dessert.
Midye Dolma are Tasmanian black mussels stuffed with aromatic rice, pinenuts, currant and spices. Before we all devour our morsels of mussels, Simon demonstrates the traditional method of eating them by opening the shell, scooping all the contents on to one shell half and squeezing a bit of lemon on it. Although it all looked interesting, I was wearing a very pretty dry-clean only dress and didn't dare follow. You can trust me to accidentally tip the entire contents of this delicious mussel down my dress instead of my mouth.
Pachanga Boregi is a fried borek of pastirma (spice-cured, sun-dried beef backstrap), layered with kashar cheese and is encased in a beautifully crisp flaky pastry.
My tastebuds have a thing for fried foods (my thighs do not). This parcel was mouthwateringly good. The pastry was rich (but not oily) and had that much loved and sort after *crunch*. The pastirma was filled with the flavours of beef, salt and spices. The kashar cheese enhances the luscious texture of the pastirma and I am in Istanbul heaven. So much so I forgot to take a picture of the innards because – as always – my greed got in the way. To see the gorgeous layers of the borek please visit Simon's blog entry by clicking here.
Koc Yumurtasi is a lamb's testicle placed upon a garlic, almond tarator. I had my reservations about this dish that was topic of conversation for a large part of evening.
To eat or not to eat?
I decided… to eat. The food so far had been fabulous and the hosts made us all feel at home. I will always try anything once (I draw the line when it comes to endangered species). As I have already mentioned, my knowledge of the turkish cuisine is limited and I attended this event to learn something new. They presented me with something new and I might as well give it a go.
I was expecting it to be very similar to chicken livers. As always, I am proven wrong. They were spongey, soft and tasted of chicken meatballs dipped in lamb fat. Denéa took a strong liking to the testicles and twittered about it straight away. Richard chose this as one of his favourite dishes of the evening. Although the dish was not as bad as I had thought it would be, I wouldn't call it my favourite.
Kadayifli Karides is a Hervey Bay king prawn that is elaborately wrapped in threads of kadayif pastry and served on a mound of yummy walnut, capsicum and roasted garlic muhammara.
These were scrumptious and I am deeply disappointed that I only get to eat one. I am told that these prawns are the only thing on the menu that hasn't changed since Efendy's grand opening. It is the most popular meze dish on their menu. I completely understand why.
Kuzu Kuzu is a trio of dishes and is an ode to lamb,
the most common meat used in Turkish cuisine.
Braised lamb neck in a traditional wedding soup of yoghurt, rice and chickpeas. This was divinely rich and nourishing. The yoghurt gave the soup a gratifying sour note. I am told that this soup is served to people with broken bones because it is rich in calcium and collagen. This is an amazing soup and I shall be hunting down a recipe.
Tandir-style Bultarra saltbush lamb shoulder over dried eggplant skin, filled with smoky eggplant puree. This is my favourite dish of the night. The meltingly tender shredded lamb was draped over the delicately smooth and smoky eggplant. This was such a glorious dish I wanted to put my own personal order for a larger serving. Oh my it was amazing!
Mini Iskender of Dorper lamb backstrap, jus soaked Turkish bread crouton, Iskender sauce of tomato, capsicum and paprika, garlic yoghurt. Phew. That is one huge ingredient list for such a simple looking dish. I ate this soon after the brilliant saltbush lamb and eggplant. It paled in comparison and I never finished it off.
Ahirdagi Salata is a finely chopped salad of pomegranate, tomato, cucumber, red onion, walnuts and pomegranate molasses. I am nicknaming this as the Jewel Salad. All the vegetables look like little shiny gems and the salad itself was sublime. The arils gave the salad a lovely tart taste and it was a very refreshing combination with the walnuts, tomatoes and cucumbers. I am also going to try and make this dish at home, it is too delicious to have only once.
Kazandibi was a strange little dessert. It is a burnt mastic and cinnamon pudding. Its texture is similar to japanese mochi but more gluey. I wasn't a fan of the burnt-bitter taste and only took one bite.
Baklava was the best I have eaten. It was not overly sweet therefore the flavour of the nuts and pastry were shining through beautifully. I am told by Asli that it is has 42 layers of handmade pastry. That statement receives numerous "oohs" throughout the room.
Keskul is a traditional palace recipe of pistachio, almond and pomegranate pudding. It is almost like a very smooth rice pudding, without the rice. I loved this dessert very much. I ate it slowly with small spoonfuls, so as to prolong the wonderful experience. I also love that it is generously decorated with pişmaniye – the turkish version of fairy floss.
I have never been a lover of Turkish Delight. I recall eating some chocolate covered ones as a young child and found them to be disgusting.
It wasn't until I watched 'The Chronicles of Narnia: The Lion, The Witch and The Wardrobe' that the curiosity grew again. I paid particular attention to how Edmund succumbed to the temptation of gluttony when the White Witch offers him enchanted Turkish Delights. His undiluted joy whilst devouring these pink cubes made me realise that there must be more to Turkish Delight than the lame, mass-produced versions made by large confectionery companies.
Well, here it was presented to me by real Turkish people. I had to open myself up to it. I am glad that I did. These were rose-scented, bite-sized pieces of heaven. The more that I ate it, the more I wanted. At the end of the night when everyone was leaving I emptied a bowl of these into a paper napkin.
Elma Cayi is a lovely cinnamon apple tea. I could have sipped on this tea all through the night. It was the blissful last note to a treasure trove of amazing food.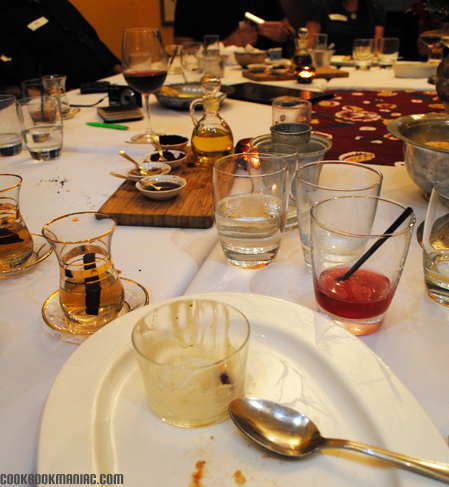 My stomach was at capacity and my notebook was full of scribbles. We sat around and talked about the food like only a bunch of food lovers can do.
Somer goes around the table and asks each of us what are favourite dishes are. Here is a list of our faves:
* Simon of Simon Food Favourites loved the Hervey Bay king prawn
* Helen of Music Munchies Review loved the borek of pastirma and cheese
* Belle of Ooh Look also loved the borek of pastirma and cheese
* Denéa of Gourmet Rabbit loved the Lamb Testicles
* Leona of Pigged-Out loved the Hervey Bay king prawn
* Phuoc of Phuoc'n'Delicious phuoc'n loved the pudding dessert.
* Amy of cookbookmaniac loved the saltbush lamb on eggplant
* Richard of Richard Elliot's Blog loved the Lamb Testicles
* John of He Needs Food loved the black mussels stuffed with rice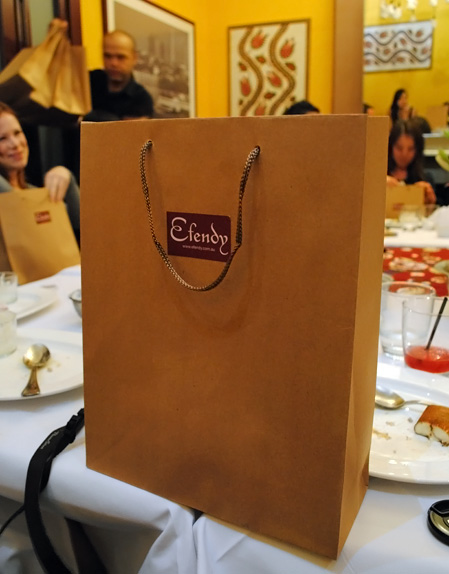 We get ready to leave and Asli thanks us for attending and surprises us with goodie bags. I jump up and down and clap with the exuberance of a young child on her birthday. The bag was filled with:
* Apple Tea. Woohoo! I can sip on this all day at home!
* Isot. Yes! Now I can smother my midnight munchie toast with this!
* Pomegranate Molasses. *punches the air* I wanted to make the Jewel Salad at home. Now I have all the ingredients ready.
* Turkish Delight… nuff said
cookbookmaniac.com attended as a guest of Efendy
Efendy
79 Elliott Street
(Corner of Darling Street)
Balmain NSW 2041
Phone: (02) 9810 5466
www.efendy.com.au
Please share this: