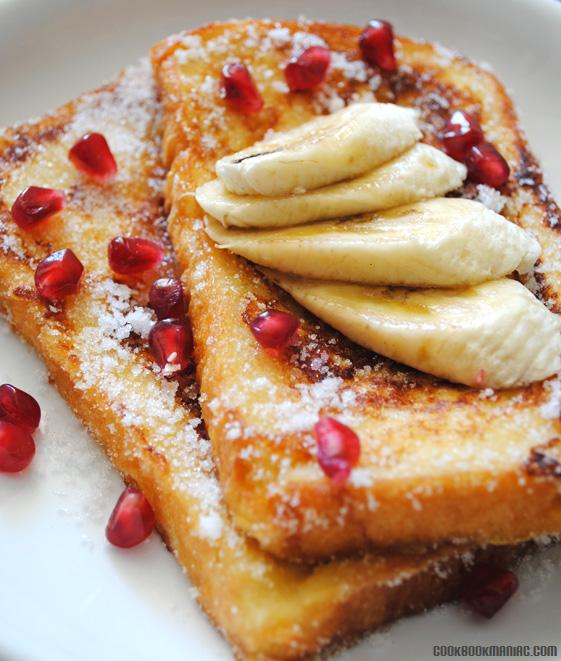 Doughnut French Toast by Nigella Lawson
Midnight munchies.
Has there been any research into whether midnight owl syndrome is genetically hereditary? It seems that everyone in my family, with the exception of my dear father, are at their most active when the sun has set and clock hands are hitting the 12.
There use to be all 6 girls living under one roof. Imagine this… One sister has gone downstairs to make herself a sandwich, she opens the fridge and another one hears the gush of the door. She also heads downstairs and starts cooking some instant noodles. Another sister is on her way to the bathroom and the scent of the instant noodles is dancing in the air, she heads downstairs and re-heats last nights dinner. Another sister hears the beeping of the microwave and decides to have breakfast for supper, so she fries up some eggs and bacon. I wonder what all the murmuring is about and head downstairs to find the kitchen in full swing, I pop some bread slices in the toaster and slather it with jam. Bunnifar creeps into the kitchen.
"What are you guys doing?"
"Whaddya think we're doing?"
"Ooh, can one of you make something for me?"
"Make it yourself!" We all say at the same time.
"Oh please, I'll either burn my hand or burn the kitchen down."
"Whaddya want?"
"Dunno…"
"BE QUIET!" My father yells from his bedroom.
It's a bad case of the midnight munchies.
I recall watching some current affairs story not too long ago about eating before going to bed. They did an experiment with three people. One went to bed hungry, one on a full stomach and the other person had a small snack. It turned out the people that went to bed on a empty and full stomach had the most restless sleep and the one who had a snack had a peaceful sleep. First of all, I am not one to watch these sorts of programs. They are designed to perpetuate fear into mediocre minds. I only happened to watch this because it was on soon after one of my favourite TV shows, Antique Roadshow. Secondly, I was surprised with the outcome of their minor experiment, I was mostly expecting a scathing attack. It did nothing to prevent me from having second thoughts about my midnight shenanigans in our overworked kitchen.
In the midst of making and eating these delicious Doughnut French Toasts, I decided that they would make a wonderful midnight snack. They create few dishes and most of the ingredients are pantry staples.
So tell me, do you have the attack of the midnight munchies? If so, what is your favourite midnight snack?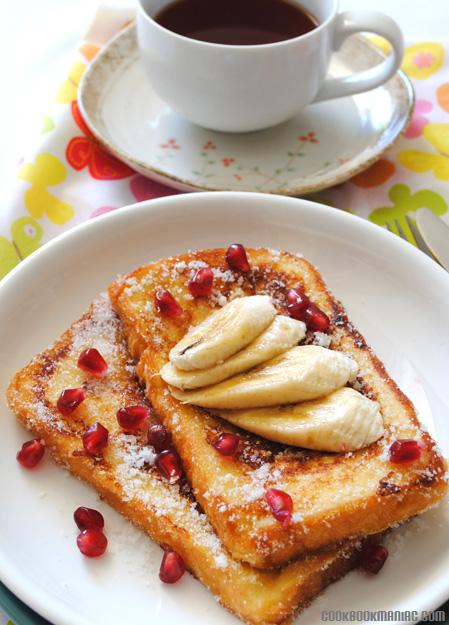 Recipe adapted from Nigella Express by Nigella Lawson


Ingredients
4 eggs
2 teaspoons vanilla extract
1/2 cup full cream milk
4 thick slices of white bread
2 tablespoons butter
2 tablespoons vegetable oil
1/2 cup caster sugar
Instructions
1/ Beat the eggs with the milk and vanilla in a wide, shallow bowl.
2/ Soak the bread in the eggy mixture for 2 minutes.
3/ Heat the butter and oil in a frying pan, and fry the egg-soaked bread until golden and scorched in parts on both sides.
4/ Put the sugar on a plate and then dip the cooked bread in it until coated like a sugared doughnut.
Tips from cookbookmaniac.com
* These doughnut french toasts are fabulous when you have the attack of the midnight munchies!
* Although these are marvelous on their own, any fruit that you have in your kitchen goes well with them.
* If you do not have caster sugar, do not fear. Using plain old sugar is fine.
* I heart pomegranates!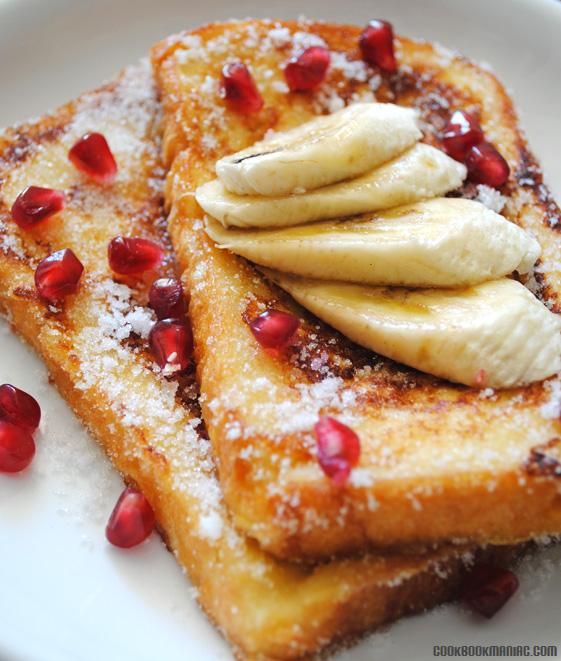 Please share this: