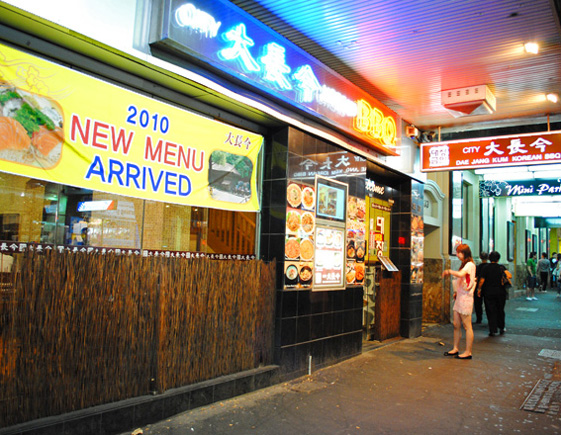 Dae Jang Kum – Korean BBQ without the smokey bits
I always know what I want. Ask me what I like and you will more often than not get a quick straight answer. However, give me a menu with more than 150 items and watch me crumble with indecision. Throw in colourful photos for each item and a hungry partner… I could be buried in the menu for hours.
Dae Jang Kum is not the kind of place to take your time ordering your food. They have a high turnover of customers and there is a constant flow of people – from all walks of life – walking in and out.
Their menu includes countless items of sashimi, rice, noodle and soup dishes. There are interesting combinations of hot pots and a selection of An-Ju meals (recommended dishes to go with alcohol). However, the barbecue is the reason why we pay a visit.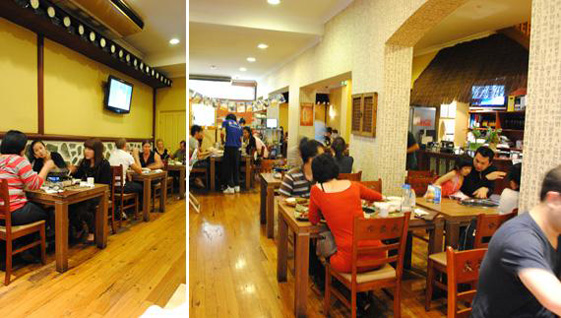 When Pizzaboy and I arrive at the restaurant we notice that there are no mean-looking overhead exhausts hovering over the tables and the restaurant is happily smoke-free. We come to learn that the grill plate is fitted with a self-exhausting system that sucks in the smoke leaving the restaurant free from smoke.
I am tickled pink when I learn this. I love Korean BBQ, but I really dislike the cloud of smoke that I inevitably end up dining in and the stench it imbeds in my clothes.
We order oysters for our entree and a combination of meats for the barbecue.
Banchan – small dishes of food served along with cooked rice
A huge tray of banchan is balanced by the lovely waiter and we help place the vast array small dishes on our table. I am told that the selections change everyday.
The famous kimchi is a part of the selection and is perfectly crunchy and pickled. Pizzaboy is relieved that they are not too spicy and we evenly divide it to make sure we get our fair share. There is also a white radish version of the kimchi. I really like this version and munch on it quite happily.
We also receive some pasta, soy-braised potatoes, bean sprout salad and a cabbage salad.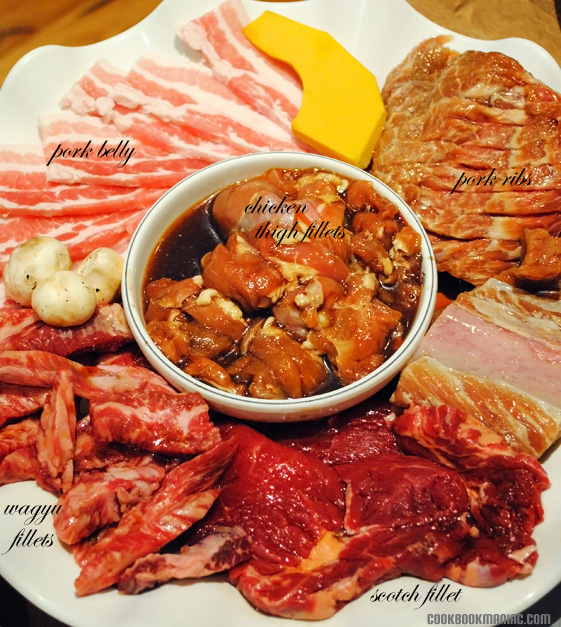 The platter of meat is placed at our table in no time. The waiter kindly points out the cuts of the meat and then turns on our burner.
Pizzaboy puts on his bbq chef's hat and starts snipping away at the meats to prepare them for the bbq.
Pork Belly
The pork belly is thinly cut and has super-sized layers of fat. The fat almost disappears when it is sizzling on the grill and it didn't take too long to cook. The strip of pork melts in our mouth. I wrap some of the small strips in lettuce and place a dollop of the doenjang (fermented bean paste) in the middle. It was absolutely delicious.
Pork Ribs
The pork rib is served marinated in a sweet soy sauce. It comes with one rib and a ribbon of meat attached to it. The meat is cleverly slashed to ensure a quicker cooking time. The pork rib shrinks quite a bit when cooked and caramelises to a dark brown. They are sweet and chewy, but tender. We realise soon enough that these are best cut into bite-sized pieces before cooking.
Scotch Fillet
The scotch fillet doesn't appear to be marinated in any sauce. It is a thin and long piece. We cut it into 5cm pieces and it makes the loudest sizzle noise when cooking on the grill. The flavour of the meat is quite bland on its own and improves when eaten with a bit of doenjang.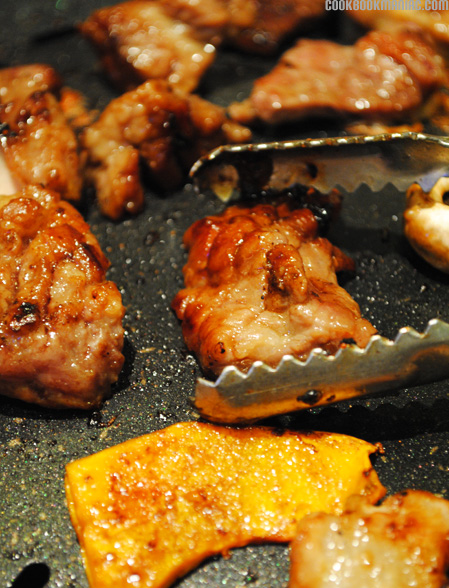 Wagyu fillets
Pizzaboy and I marvel at the well-marbled pieces of wagyu beef fillets and we wait in extreme anticipation when it is being cooked. Pizzaboy pops the first cooked piece straight into his mouth and nearly burns his tongue. The fillets are very tender and tasty. We discuss ordering another round of the wagyu fillets but decide to finish what we have first before greedily ordering more.
Chicken thigh fillets
The chicken thigh fillets seem to be marinated in the same sauce as the pork ribs. I take my first bite and my eyes widen with astonishment. They were so soft and tender. They have a sweet soy sauce taste and they tantalise my tastebuds to the extreme. These were my favourite cut of the evening.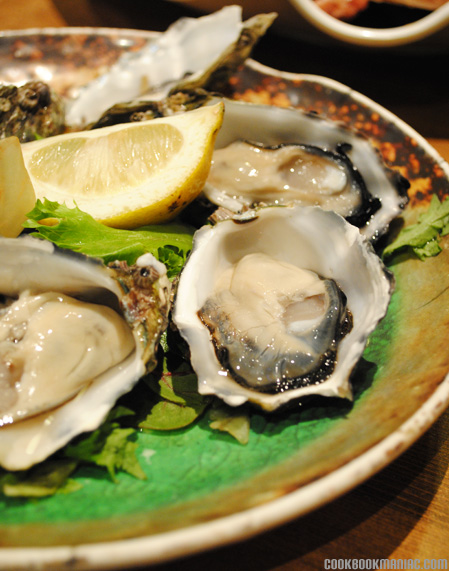 The funniest moment of the evening is that the plate of oysters arrived at the very same time as the platter of meats. We were so enamoured by the bbq that we forgot about the oysters until almost the very end! The oysters were at room temperature and tasted very fresh.
The Verdict
Pizzaboy and I haven't dined at many Korean BBQ Houses, but when we do we usually visit a popular establishment in Parramatta. After visitng Dae Jang Kum we have come to realise that it is the real deal and will never go back to the frozen meat buffet again.

cookbookmaniac.com dined as a guest of Dae Jang Kum
Dae Jang Kum
35 Goulburn Street
Haymarket NSW 2000
Phone 02 9211 0890
www.daejangkum.com.au
Please share this: