Chocolate Brownie Cake with Fresh Strawberry Whipped Cream – Chocolate Lovers United
Brownie recipe taken from allrecipes.com
Fresh Strawberry Whipped Cream recipe is an original from cookbookmaniac.com
Brownies are a blessing to the home baker. You get a superior product with a minimal amount of effort. Instead of dressing it up, it is best left the way it is. Therefore the cake is prepared and baked in almost no time, and your chocolate craving is satisfied sooner rather than later.

There are so many varieties available. There are the gooey and fudgy kinds, or the chewy and cakey. Even ones filled with nuts, raisins or rum. I have tried many types (being a chocolate lover) and I have to admit I love them all.

There is no mystical science to making brownies, the only rule that seems to pervade every recipe that I have come across is to take the brownies out of the oven when the aroma of it baking hits the air. This is because many of the compounds that give chocolate its flavour are highly volatile and easily lost. The brownies will continue to cook for a few minutes from residual heat, it is best to remove brownies from the oven as early as possible, generally when a toothpick test still shows a few moist crumbs.
CHOCOLATE BROWNIE CAKE
2 cups caster sugar
1 cup unsalted butter, softened
2/3 cups cocoa powder
1 teaspoon vanilla extract
4 eggs
1 cup plain flour
1/2 teaspoon baking powder
1/2 teaspoon salt
1/ Take butter out of the fridge and allow it to come to room temperature.
2/ Preheat oven to 160 degrees celsius. Grease and flour a 21cm round springform tin.
4/ In a small bowl, add the flour, cocoa, salt and baking powder; stir to combine; set aside.
5/ In a large mixing bowl, cream the butter using an electric mixer on medium speed until smooth.
6/ Add the sugar gradually and beat for 3 minutes or until fluffy
7/ Add the vanilla extract
8/ Add the eggs, one at a time, beating well after each addition
9/ Gradually fold in the flour mixture with a wooden spoon until combined. Do not overbeat.
10/Bake for 55 minutes.
11/ Remove from the oven. Allow the cake to cool in the cake tin for 10 minutes, then remove the cake and allow it to cool on a wire rack for 1 hour before serving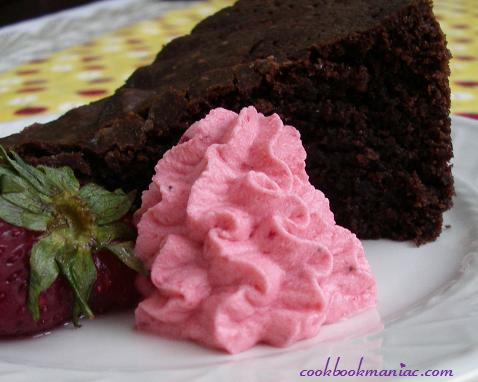 STRAWBERRY WHIPPED CREAM
250g fresh strawberries
1 tablespoon pure icing sugar
1/4 teaspoon red food colouring
1/2 cup pure cream
1/ Whilst you are waiting for the cake to cool, put half the strawberries, icing sugar and red food colouring in a food processor and blend until smooth.
2/ In a mixing bowl, beat the cream with an electric mixer until almost stiff
3/ Add the strawberry mixture and continue to whip until fluffy
4/ Place mixture into an icing bag with a medium star tip
Recipe Rating
Prep Time: 10 minutes
Cooking Time: 55 minutes
Difficulty: 2/5
Deliciousness: 5/5
Tips from cookbookmaniac.com:
* The cake may appear wobbly in the centre when you take it out of the oven, but it will continue to cook and firm up when it cools.
* The cake will have a sunken centre, it's okay, it's part of the charm 😉
* If you like an extra gooey centre then decrease baking time to 45 minutes
* If you are making this for company, it maybe worthwhile to bake two at once. This cake is capable of creating a "I-want-another-brownie!" stampede.
So tell me, dear reader, what foods would you stampede for?
Please share this: