Monte Carlo Reception – Celebrating 30 Years in Australia
I was only 10 days old when my parents escaped war-torn Vietnam in 1979. They, along with half of our hometown, Camau (located on the southern tip of South Vietnam), jumped on boats and made the brave and dangerous journey towards freedom. After Ho Chi Minh took power and the threat of communism was fast becoming a way of life, my parents (and many others) were sent to re-education camps because they were of Chinese-descent. Almost everything that was worth building a future with was taken away from them, for fear of a revolt. My parents had to sell their precious belongings to a black market to feed their 5 daughters. Brave, but full of fear, they boarded strung-together boats to look for safer shores, leaving behind memories of atrocities that were never spoken of ever again.
I am not quite sure how long the journey took, but we made it the border of Australia, only to be turned away and sent to a refugee camp in Indonesia. We were there for nine months. The moment we received our rushed visa to Australia we were on a plane to beautiful Sydney. One year later, we became proud citizens of Australia.
My father is quite a jovial, social man. He is opposite to my quiet and shy mother. He and his friends had been organising a fund-raising function to celebrate the 30 Years in Australia. They invited their former neighbours (from Camau, Vietnam) within Sydney and from all around the world. Over 600 tickets were sold. He was one of the officials of the evening and we were all very proud and happy to be there.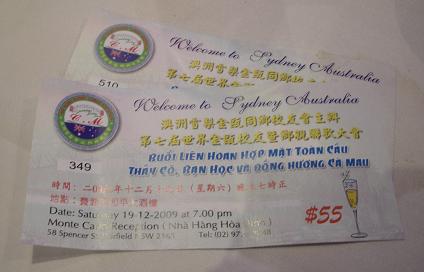 The evening was filled with many speeches, musical performances, a lion dance, lucky door prizes and yummy food. The restaurant was gaudily decorated. There was a cave-like construction in the middle of the reception area, the ceiling lights that border the restaurant are blue, there were 4 stages, with dusty plastic flowers randomly scattered around tables, and flickering multi-coloured christmas lights that were permanently wrapped around railings at the entrance. What struck me as odd was that there was also a wedding reception happening at the same time!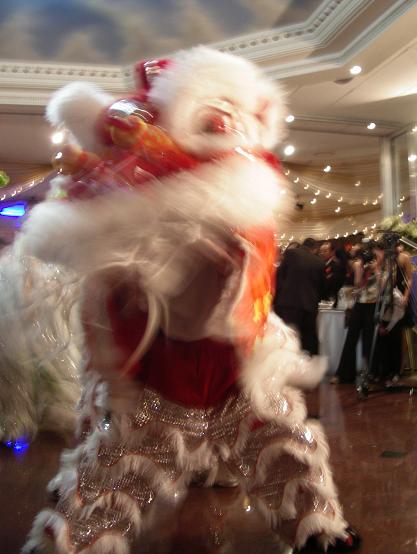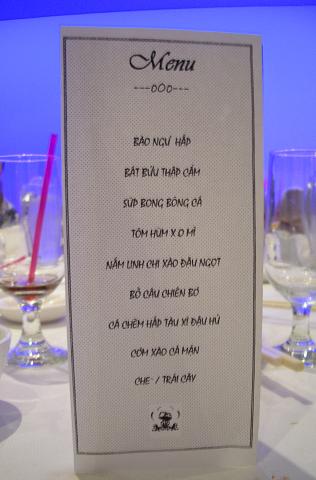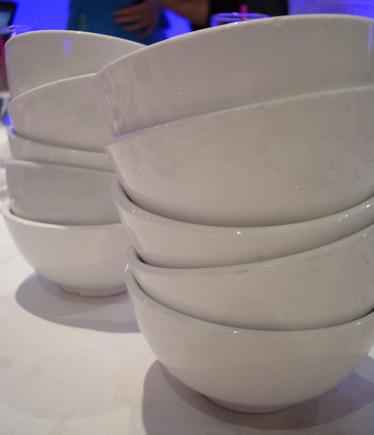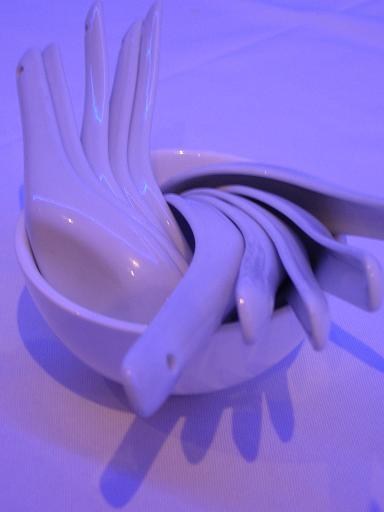 The invitation stated that the evening would begin at 7pm. Being a seasoned foodie I guessed that the first course would not be served until 8.30pm. So I had a very light meal before we left the house. I was one of the lucky ones not to starve, the first course did not arrive at the table until 9.30pm! We were all cracking funny jokes about having a Maccas-run because the food was taking so long. When the first course finally landed on the table we did not hide our relief and dived in. It was a platter of cold BBQ meats and a jellyfish prawn salad. Not a slither of anything was left behind. The meats were perfectly cooked and were at room temperature. The jellyfish were perfectly crunchy and wobbly. In fact, we were still so hungry we took a glance at other tables and could not believe that they did not finish the dish and allowed the waiter to take it away with food remaining.
It seemed to take forever for the courses to come out. The second course did not arrive at our table until 10pm. It was a plate of Abalone with a ginger, spring onion, coriander and soy sauce. Pizzaboy and I agreed that for the extreme price of the abalones, it was not a very exciting dish.
The next course was a Seafood & Egg-Drop Soup. This soup is one of my favourites. My mother knows that she must make it every Chinese New Year, otherwise it wouldn't be a feast without it. One of the things that I love about it, is that it is the only dish that I know of that uses the ingredient, Sea Cucumber. I love the squishy, slimy, soft,  nurturing nature of it. I am quite disappointed when there was no chance of a second serving 🙁
The main course, as well as, in my opinion, the star course of the evening, was the Lobster, wok-fried in XO sauce on a bed of noodles. Without a hint of shame, and with much reverence to the foodie-blood that runs in all of us, we fought for juiciest-looking pieces. Oh my, it is indescribable how much I loved this dish. The lobster was so soft and freshly sweet. It was messy, hard-work to reach the meat in the legs, but I was too enamoured by the dish to be bothered by it. The noodles were super-smooth and assist at devouring up the rest of the amazing XO sauce. When we had finished the entire plate, my niece (who is sitting at our table) appeared from what seemed to be nowhere with a side plate of more lobster. We all stare at her and demand to know where she managed to scam another piece. She had conveniently left the table to say hello to her other grandparents who humbly gave their sweet granddaughter some of their precious lobster. I was green with envy.
The next course was a vegetable dish with mushrooms and baby peas. I am not quite sure what kind of mushroom it is, but it was silky and meaty. The baby peas were super fresh and sweet. The sauce appears to be quite similar to the XO sauce that was used with the lobster. I politely and discreetly ate half of the dish.
The fish course was next. I must admit, my mother makes a mean version of this dish and therefore has cooked it very often as part of our everyday meals. I was not particularly excited by it and therefore only helped myself to a tasting. The fish was obviously very fresh and succulent, but I leave it for the rest of the table to finish it off.
The second last course for the evening was Salt & Pepper Quail. I was rushed to take the photo of this, being warned that the quail will no longer be nice if it is cooled.  This is the only photo that was in focus. The quail was scrumptous, a perfect balance of saltiness and pepper and the meat, rich and spare. I managed to eat two and declare myself stuffed to the brim. I received a raised eyebrow from a couple of people, who then crack a joke that they are going to KFC afterward.
Ok, I am a rookie food-blogger. I went to the ladies for a moment, came back to the table and found half the fried rice (the last course) missing. I shrug my shoulders and say, "Eh, its only the fried rice". Please forgive me, the rice was fried quite ordinary, tasteless and oily.
All-in-all it was an enjoyable evening. We didn't win prizes but I left with my tummy full at half past midnight. I was ready for bed, as I had a 5am start in the morning. Oh dear.
MONTE CARLO RECEPTION
58 Spencer St
Fairfield NSW 2165
(02) 9726 9088
Please share this: