Eggplant Parmigiana – A Vegetarians Delight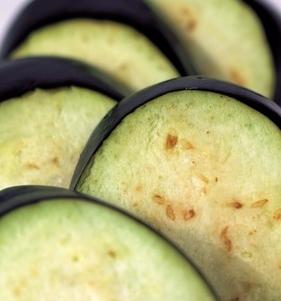 I've never been a big fan of eggplant. The oblong, deep purple nightshade has always struck me as somewhat bland and mealy. One day, Pizzaboy's Italian Aunt, made eggplant parmigiana as an entree for a Christmas Eve meal. I have been converted ever since.
Parmigiana is a classic Southern Italian dish made with thick slices of eggplant that are fried in olive oil until golden then layered with tomato sauce, mozzarella cheese, and basil and baked until bubbly. Variations made with breaded meat cutlets, such as veal and chicken parmigiana, have been developed in other countries, usually in areas of Italian immigration.
In some recipes the eggplant is breaded and fried. While this adds a whole extra layer of texture, I don't think it's necessary.
There are many versions of eggplant parmigiana. I probably like them all. The earthy sweetness of the eggplant and tomato sauce, the gooey mozzarella, and the sharpness of the parmesan all come together to make something delectable.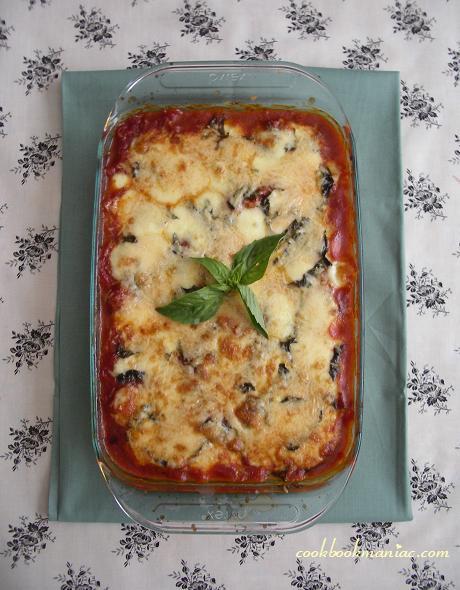 Recipe adapted from Miss Dahl's Voluptuous Delights by Sophie Dahl
2 medium-sized eggplants
1/2 cup olive oil
1 large onion, finely diced
2 teaspoons garlic, minced
800g can of chopped tomatoes
2 tablespoons of tomato paste
3 tablespoons of dry white wine
1 tablespoon soft brown sugar
1 teaspoon dried oregano
1 cup of shredded fresh basil leaves
250g bocconcini or buffalo mozzarella, sliced
1/2 cup of shredded parmesan cheese
Salt & Pepper to taste
1/ Slice eggplant into 1cm thick slices. Lay them on a flat surface and sprinkle them generously with salt. Leave for 20 minutes.
2/ In a saucepan, heat some of the olive oil and gently sweat the onion and garlic. Don't let it burn; keep it on a low heat and keep stirring. Add the crushed tomatoes, brown sugar, tomato paste and dried oregano. Season to taste. Simmer with the lid on for 20 minutes.
3/ Preheat the oven to 200 degrees.
4/ Place a large frying pan over medium heat and pour in enough olive oil to cover the base. Fry the eggplant in batches for 3-4 minutes, or until golden brown, adding more oil to the pan as needed. Drain on paper towels.
5/ Grease a 2 litre baking dish with some olive oil. Arrange a layer of half of the  eggplants in the dish. Sprinkle with some basil, add some bocconcini slices, and half of the tomato sauce. Keep going in this order until you have used everything up. Top with parmesan cheese. Bake for 20 minutes.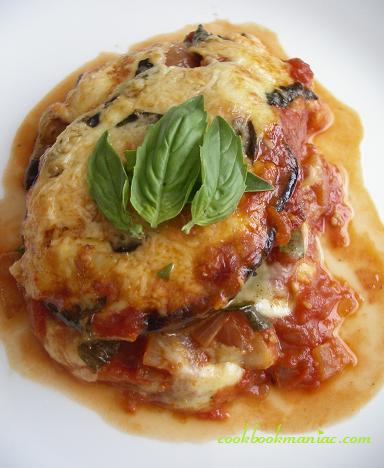 Tips from the cookbookmaniac.com
* Buffalo mozzarella was originally listed as an ingredient for this recipe. However I was not able to easily find fresh mozzarella and substituted with baby bocconcini. It worked a dream.
* I served this with some baked chicken that was marinated in minced garlic and soy sauce. I also sprinkled some parmesan cheese over the chicken before I baked it. A bit of globe-trotting never hurt anyone.
So tell me, dear reader, what are your favourite vegetarian dishes?
—
Please share this: