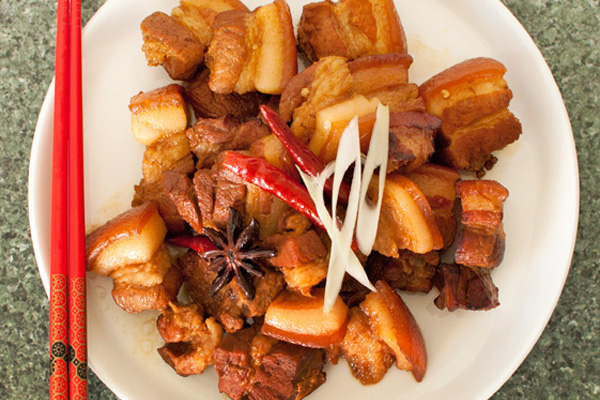 Chairman Mao's Red Braised Pork Belly – Hong Shao Rou by Fuchsia Dunlop
Hello Everyone.
I've been missing-in-action for a couple of months now. Those that follow me on twitter will know that Pizzaboy and I have finally bought a home. It was the right size, in the right suburb, in the right location and at the right price. This is the first time both of us have moved away from home and so far it's been fun. We are both so happy and we can't help but be playful whilst unpacking.
I am also delighted that the kitchen is flooded with sunlight from dawn to dusk. This will make photography and blogging so much more easier and pleasant. I've been stocking my pantry full of all the things that I love and marking recipes in cookbooks that I want to try. One of these recipes is Chairman Mao's Red Braised Pork Belly.
I doubled the recipe because Pizzaboy and I are greedy foxes that either eat more than we should or appreciate leftovers the next day.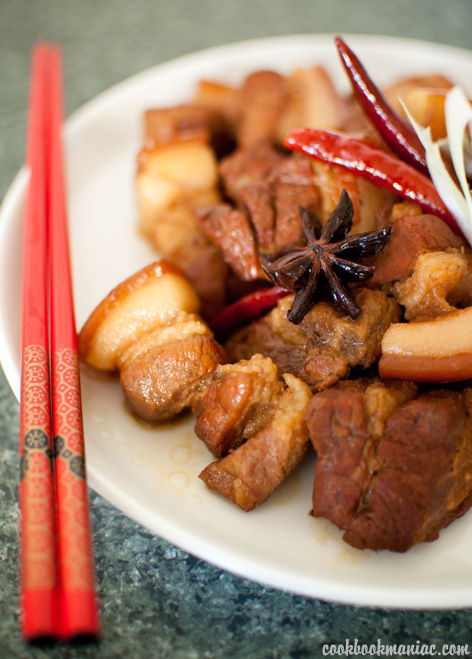 Chairman Mao's Red Braised Pork Belly
Recipe adapted from Revolutionary Chinese Cookbook by Fuchsia Dunlop
500g pork belly
2 tablespoons peanut oil
2 tablespoons white sugar
1 tablespoon shaoxing wine
20g fresh ginger, skin on and sliced
1 star anise
2 dried red chillies
a small piece of cassia bark or a cinnamon stick
5 black peppercorns
1 tablespoon light soy sauce
1 teaspoon salt
1 teaspoon white sugar
spring onions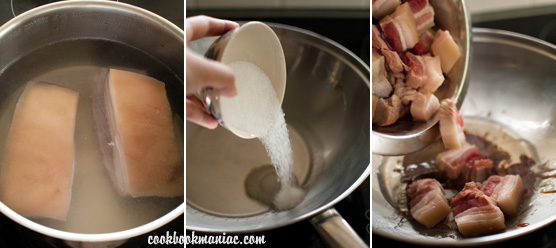 1/ Place the pork belly into boiling water for 4-5 minutes. The pork belly should only be partially cooked. Wait until it is cool enough to handle and then cut them into bite-sized pieces.
2/ On low, heat the peanut oil in a wok and add 2 tablespoons of the white sugar. When the sugar melts turn up the heat and stir it until it turns into a dark caramel brown.
3/ Carefully add the pork belly and the shaoxing wine. Stir.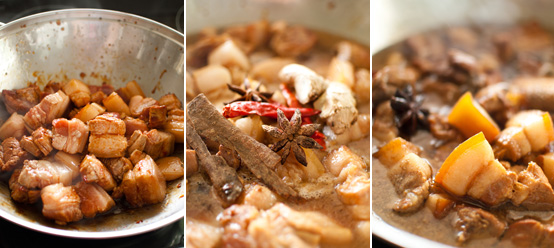 4/ Add enough hot water to just cover the pork belly
5/ Add the ginger, star anise, red chillies, cassia bark and black peppercorns. Bring it to the boil, turn down the heat and simmer with the lid on for 1 hour.
6/ Take the lid off and turn up the heat to reduce the sauce. Add the soy sauce, salt and 1 teaspoon of white sugar.
Serve with a sprinkling of chopped spring onions.
Tips from cookbookmaniac.com
* Be very careful when adding the pork belly to the hot caramel mixture. The caramel spat like a mad dragon, had I not had the camera in my face I would have been burned.
* Pizzaboy and I enjoyed this recipe, but we felt it was missing a little something. I think this might need a little more tweeking.
Another pork recipe from cookbookmaniac.com: Mini Vietnamese Pork Rolls
Please share this: