Mushroom Risotto from Valvona & Crolla by Mary Contini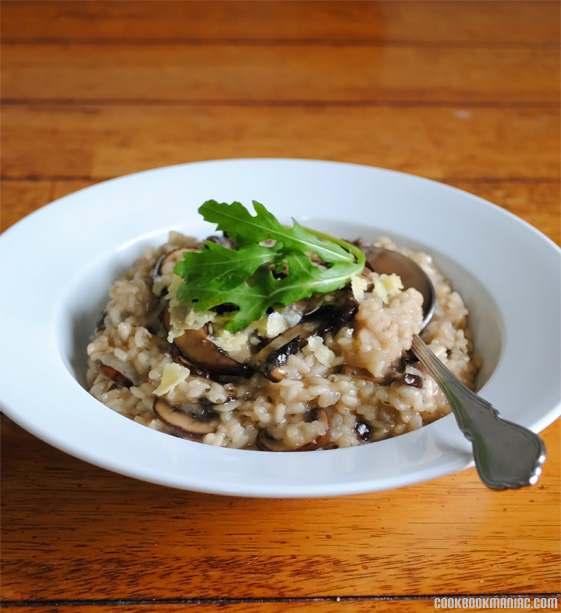 Cutting corners.
If you have read my previous post about patience you'll know that I have very little of it… except when it comes to cooking. I will not tolerate waiting in line for a sandwich but I can stand over a pot and stir a risotto for ages. There is something about the stirring that brings me joy and comfort. However, time is not the kind of corner that I am writing about. It's the expense of ingredients.
I try my best to stay faithful to a recipe when I am cooking. However, I am not opposed to substituting, adding or eliminating ingredients if I find them unnecessary, difficult to find, or ridiculously expensive. My jaw nearly hit the floor when I approached the cheese counter at the local delicatessen only to find that the fontina cheese that this recipe called for was $65.99 per kilogram. Good golly! Although the recipe only asks for 100g making the purchase $6.59, I could not bring my self to spend so much when this was merely for a weekday dinner. I had a block of parmesan cheese in the fridge at home and decided to stick with that.
The recipe also called for 3 tablespoons of parsley. I do not have the luck of having a pot of parsley growing on my window sill… maybe one day I will. The parsley was $2.98 a bunch at the local greengrocer and I consider it wasteful to purchase a large bunch only to use 10% and have the rest rotting at the bottom of the fridge. So, I decided to do away with that ingredient and not use a substitute.
Now, with all of that in mind I spent $16.00 on ingredients for this utterly delicious risotto. Pizzaboy ate more than half the pot and complained that he had eaten too much. I ate two-thirds of what I photographed and I was full. We had enough leftover for lunch the next day. If I did not make any substitutes it would have cost $25.00
Although my risotto may not be regarded as authentic with all the changes, I am quite proud to say that it was a dream to make and devour.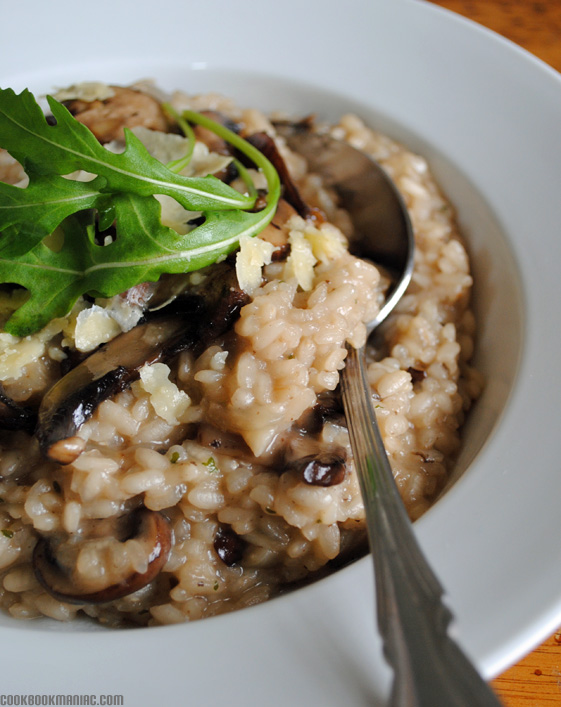 Recipe adapted from Valvona & Crolla by Mary Contini
Ingredients
1 litre of Vegetable or Chicken Stock
100g unsalted butter
1 brown onion, finely chopped
300g Carnaroli or Arborio rice
1/2 cup dry white wine
250g cremini or porcini mushrooms, cleaned and sliced
50g parmesan cheese, freshly grated
1/ Place the stock in a small pot and bring to a simmer
2/ Meanwhile, heat half the butter in a shallow, heavy-based saucepan on medium heat. Add the onions and cook until soft and translucent.
3/ Stir in the rice, coating all the grains with the butter and onion mixture. Then add the wine and boil until the alcohol has evaporated, 3-4 minutes
4/ Add all the mushrooms, stir gently. As the mushrooms start to release their juices, add a ladleful of hot stock, stir into the rice and simmer until the liquid has been absorbed. Repeat this step until most of the stock has been used.
5/ Stir in remaining butter and the parmesan cheese. Check the seasoning and serve immediately, piping hot, with more freshly grated parmesan cheese.
Tips from the cookbookmaniac
* I could not find porcini mushrooms, so I used swiss brown mushrooms instead. They worked out fine.
* Stir the risotto occasionally. Stirring it constantly will activate the starch and you will end up with a goopy mess rather than a creamy risotto.
* Make sure the stock is simmering hot before you add it to the rice
* If you like your risotto moist, take the pot off the stove and then add the last ladle of stock. It will be absorbed whilst the rice is resting.
* Check for seasoning before you add the last ladle of stock
* Valvona & Crolla is one of my favourite cookbooks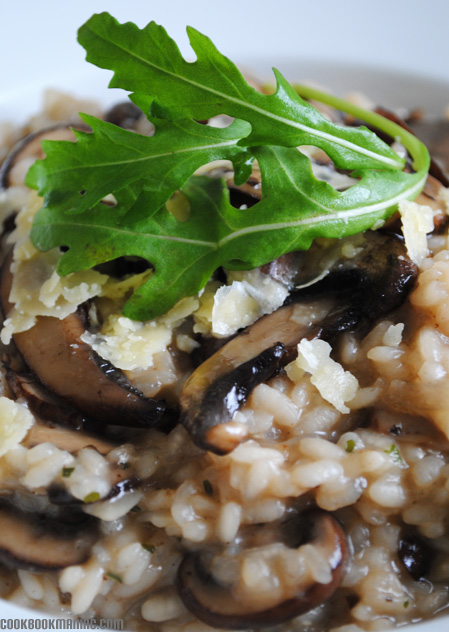 Please share this: