Bodega Tapas Restaurant & Bar; Rockabilly + Pin Up Girls + Tapas = Modern dining at its best!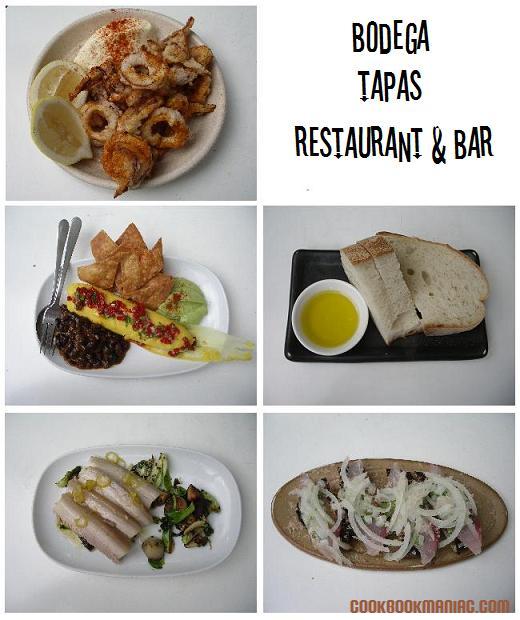 tapas – (esp. in Spain) a snack or appetizer, typically served with wine or beer.
There is much ado about Bodega, its been listed as the best tapas restaurant in Sydney by almost every food writer, food critic and food blogger. I had to go taste for myself what all the noise was about.
It had been a hard week at the office, I was adamant that Pizzaboy and I go out for dinner that Friday night. There is nothing better than a good meal to cleanse the soul.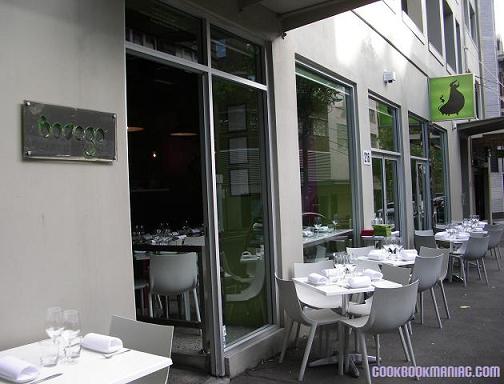 We arrived at the premises 10 minutes before opening. We were second in line and the summer heat had cooled off, mercifully. Once 6pm came around we were promptly shown our seats and offered drinks. Pizzaboy and I don't usually drink alcohol with our meals, so we politely decline and are given the food menu.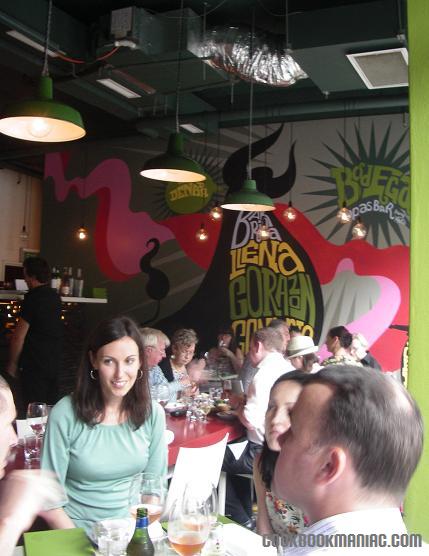 A quick look around I instantly fall in love with the place. The walls are adorned with a tripped out graffiti-come-pop art mural of the sexiest bullfighter you'll ever see. And then there are the staff! The boys in the kitchen are channeling modern rockabilly and the girls on the floor are all red lips and pin-up girl hair.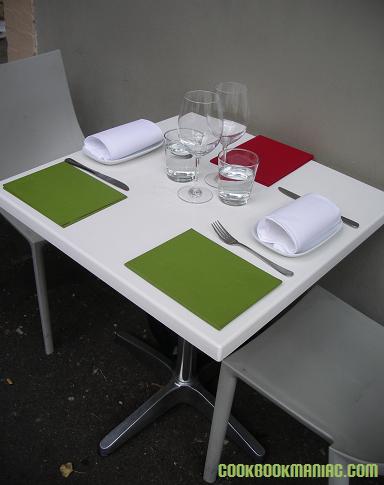 There is an incredible range on the menu. There are some things I do not recognise. The lovely waitress more than politely explains the items in question. Pizzaboy is stunned and leaves the ordering up to me. I choose 2 must-have dishes (according to many food critics) –  the fish fingers and deep-fried calamari.  And 2 other dishes that tickled my fancy – Corn Tamales and Slow-cooked Pork Belly.
After ordering, the bread arrives at our table. The bread and olive oil is artfully and effortlessly designed, I had to take a picture of it! However, the bread was quite bland and the olive oil was too sharp for my tastes (it also tasted kind-of plasticky). Pizzaboy eats his share and I only eat a couple of mouthfuls.
The deep-fried calamari came out whilst I was forcibly swallowing a mouthful of the bread. I push the bread plate to one side and quickly snap away at the calamari. Pizzaboy is begging me to hurry up. The smell of the dish is so incredible, I can barely hold myself back. We dive in and it is delicious!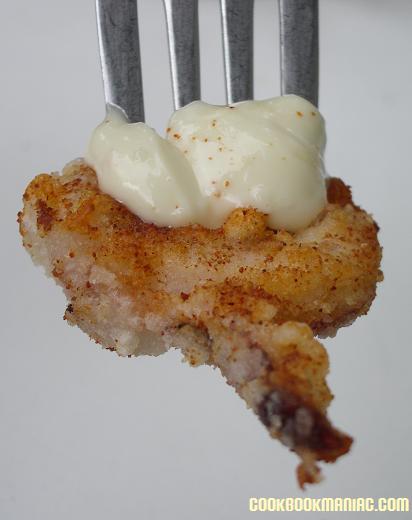 The calamari is perfectly crunchy and slightly spicy. The aioli is generous in serving, smooth and airy in texture. Pizzaboy is not a fan of garlic, but he surprisingly admits that he is totally in love with the aioli. I don't mind the spiciness,  and Pizzaboy keeps gulping the table water, we cannot stop eating it.
The fish-fingers arrive mid-calamari-mania. I had to stop eating and start taking pictures. Its a curious little morsel. Despite its name, it is a kingfish sashimi on top of garlic toasted bread and topped with calamari ceviche and onions. Pizzaboy is hesitant about the onions and pushes them off. He takes an enormous mouthful of one of the slices and declares, "Good choice of restaurant".
The bread has a scent of charcoal, but it compliments the dish rather than hinders it. The kingfish sashimi is super-fresh. The calamari ceviche is sweet and lemony. I love onions so I topped my morsel with the onions that Pizzaboy rejected.
We finish both the calamari and fish fingers before the next dish arrives. I have quite a few Mexican cookbooks and tamales appear in almost all of them. However, I have never eaten one before. So, when I spotted it on the menu, I knew I had to try it at Sydney's best tapas. Perhaps its because of the buildup of excitement, but the tamale tasted like moist cornbread. Not that it tasted bad. It was good. Its just that I was expecting something less dough-like in flavour. I considered renaming Pizzaboy, CornTamaleboy after he cleaned up most of the dish.
Pizzaboy and I are racing to finish the black beans. They are al dente in texture and the tomatoey flavour of the sauce compliments the beans perfectly. I smother the tamales with the guacamole. This has to be the best guacamole I have ever tasted! It is wonderfully smooth and fresh. I am so close to asking for a take-home tub of it, along with the aioli.
We are quite surprised that we are almost full. I didn't think that we ate that much and yet we feel like we've eaten a feast. I am so glad I didn't go nuts and order everything that sounded enticing.
The slow-cooked pork belly arrives and it looks shiny and divine. I took more photos of this baby than any other dish. Pizzaboy sits, fork in hand, waiting for the green light. I reluctantly stop taking pictures and he has the first bite. "That is amazing. Try it!" I do as he says, it is so soft and melts in my mouth. There is a lot of fat, but the flavour from it is a heavenly delight.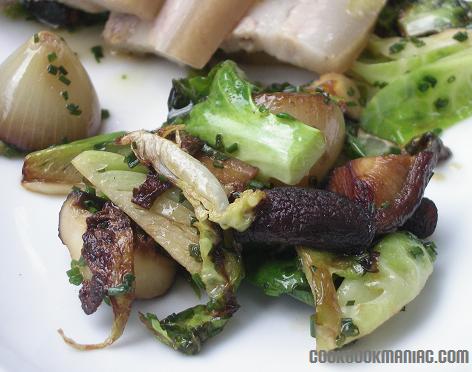 The shiitake mushrooms are sparse, and we want more. The brussel sprouts seem to have been braised in white wine, I love them. The eschallots are sweet and cute.
Pizzaboy and I struggle to finish the dish, even though we decide it is the best of the evening.
We will definitely be back.
Rules to the Bodega waiting game
They open at 6pm sharp. No early arrivals.
No Bookings – First in, first served.
Be well-mannered when they are ready to seat people.
The person waiting the longest should be seated first.
Always ask who arrived first, before barging in.
They do not seat you until your entire group arrives. They are strict about this policy.
You are welcome to wait at the bar.
It doesn't help to whine and complain about the policy, they do not budge.
Being persistent about being seated is embarrassing.
Dress it up when dining here. Casual dress is under-dressed at this super-trendy establishment.
Bodega Tapas Restaurant & Bar
Shop 1, 216 Commonwealth Street
Surry Hills NSW 2010
Phone (02) 9212 7766
http://bodegatapas.com
Please share this: