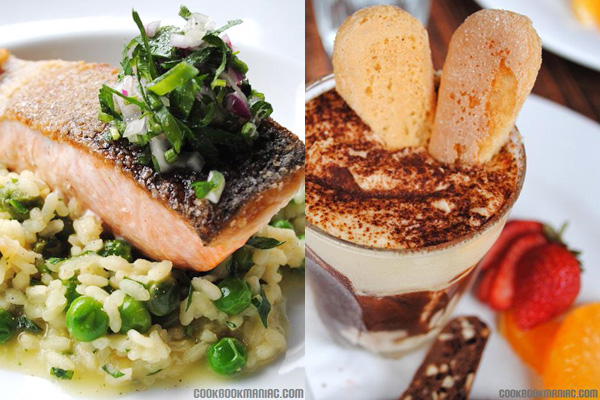 Bitton Gourmet – Cafe and Grocer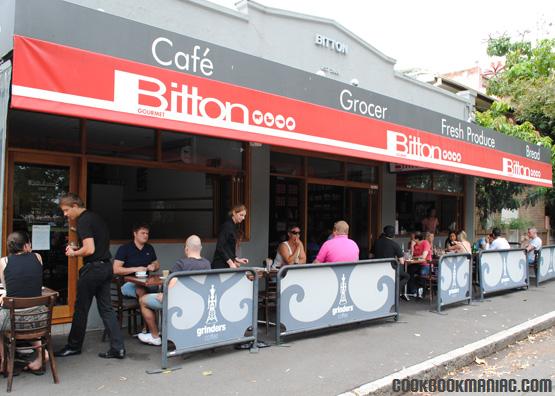 I had come across Bitton Gourmet in the Sydney Morning Herald Foodies Guide 2010. Its little blurb about their famous jams and dressings was enticing enough for me to view their website. From that point on my curiosity grew. I loved the description of a green grocer, cafe, and gourmet food shop, and was convinced I had to pay a visit. Pizzaboy and I invite Papa & Mama Bear along with us for a Sunday Lunch. It turned out we got more than what we expected and truly love and believe in this wonderful establishment in Alexandria.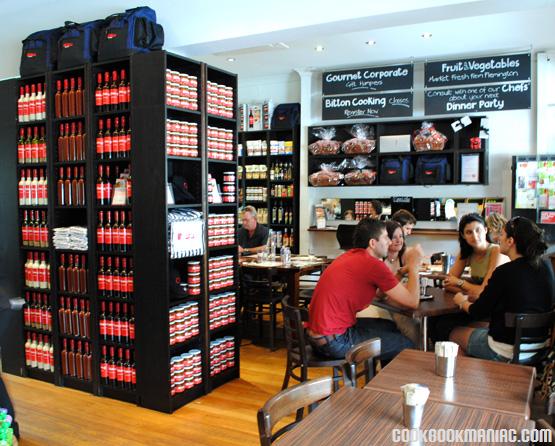 We arrive at the store in between the breakfast and lunch rush. We were seated inside the cafe as the tables outside were all occupied. I was slightly disappointed because I prefer my food pictures to be lit by sunlight. I politely ask if we could move when there is a table free. The lovely staff member did not hesitate and checked for me, he came back and said that we were more than welcome to move to a table that was just vacated. I breathe a sigh of relief.
It seemed like the place to be, the cafe was quickly filling up and there is a constant flow of customers throughout our visit. We order our drinks and I cannot stay in my seat! I head towards the fruit boxes, the apples are sweetly scented and tomatoes unblemished. One of the signs says that the fruit and vegetables are fresh from Flemington Markets, by looks of things, I don't doubt it.
The jars of tapenade, spices, sauces, oil and dressings catch my eye, with its bright red packaging I just wanted to place them in a basket and take them home. Recipe cards are displayed along with them, and I begin to realise that the Bitton-experience doesn't stop when you leave the premises. They want you to take it home and enjoy the same quality food with your family and friends.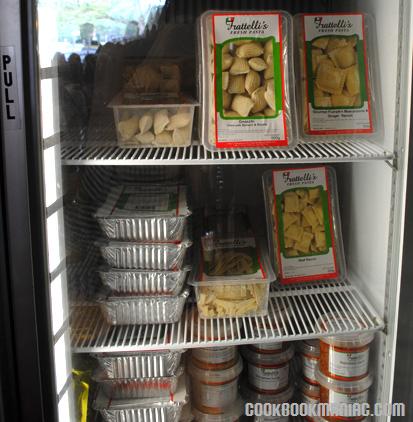 The refrigerators are stocked with international and local produce. More fruit 'n' veggies, fresh pasta, tomato sauces, cheese, yoghurt, and ice cream are displayed to entice the average joe to take it home and make a gourmet meal out of them.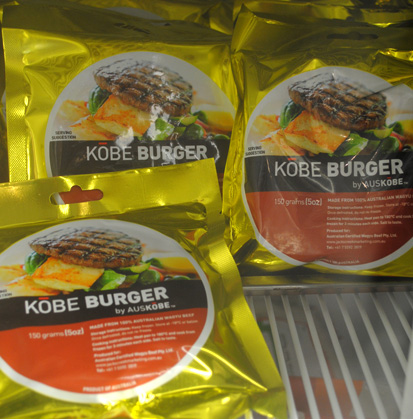 However, the item that caught my attention most was the Kobe Burger. Pizzaboy and I have a wild obsession with the Wagyu steaks and we were disappointed that we did not manage to eat the Kobe steak whilst in Japan. I later kick myself for not purchasing some of the frozen patties, they would've worked a dream for our annual Australia Day barbie.
Pizzaboy appears from a doorway at the back of the store. He says, "Amy, you gotta see this". He leads me to the courtyard, there is an additional dining area and further out the back it appears to be a private dining area in the garden.
The walls are decorated with photographs, they are entries into SMH Shoot the Chef competitions. I am utterly fascinated and had to include some of them here.
It is also a pleasant surprise to see a small playroom for the kiddies. It is adorable and appropriate for their clientele. It's a very nice and loving touch. Pizzaboy and I joke that we want to dine in this room because its so cute!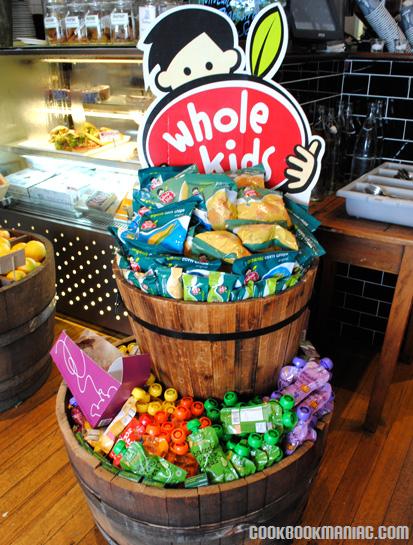 After seeing the playroom, I realise that there is a large display of healthy snacks and drinks geared for the kids at the front of the store. This adds to my love for Bitton, their desire for tasty and healthy meals also include the bubs and cubs.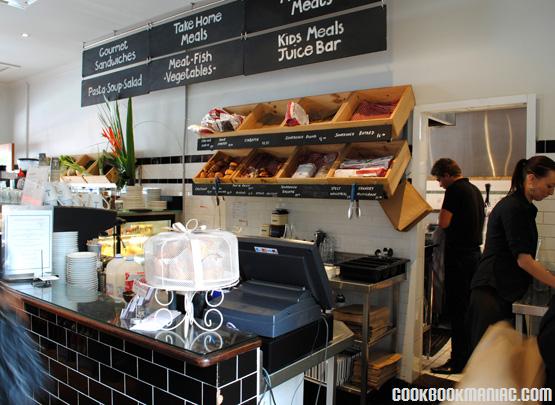 I walk up and down the shop, back and forth, around and around. I do not want to miss a thing. I look over the items in the fridge, over and over. I stare at Bitton's oils and dressings, I am unable to look at the international food items because there are a group sitting front of the shelf and I do not want to disturb them. Pizzaboy walks over whilst I am cooing over a jar of their famous strawberry and vanilla jam. "So… are we ready to eat?" Ahh yes, the cafe… this is what we have come here for.
I return to the table and I had forgotten that I had ordered a drink. The strawberry smoothie is pale and frothy, I take a sip and declare it tastes amazing! It is not overwhelming in its flavour of strawberries, it is rather a milkshake scented with freshly picked strawberries. I close my eyes and slurp away. Mama Bear laughs at me and I offer her a sip. She reluctantly takes a sip, fearing that it will be overly sweet. Her eyes light up, "That's nice!" I grab Pizzaboy's Vanilla Milkshake and take a sip, the cool vanilla-scented milk was perfect. Pizzaboy swishes his straw around and enquires about the blackish-purplish seed-like things floating in his drink. We realise they have used real vanilla beans. YUMMO!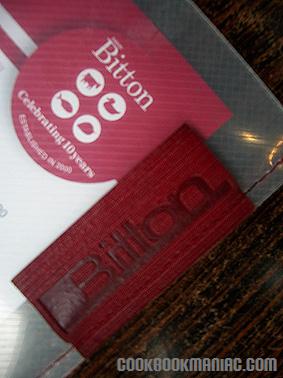 Bitton rely on fresh produce, it makes complete sense that the menu changes seasonally. The special of the day is the Moraccan Spiced Lamb Backstrap with Mango Salad. The name of the dish sounds instantly like summer-on-a-plate. I am battling with myself what to order. Pizzaboy declares he is ordering the Wagyu Burger and no one else can order the same thing. Papa Bear loves his steak, he orders the beef eye fillet. Mama Bear quietly orders the special of the day. I am last to order because I cannot decide. I close my eyes and point randomly, my finger lands on the Crispy Skin Salmon. I love salmon, so i'm happy to order it.
All of the meals arrive at the table at the same time. It is the Wagyu Burger that receives our oohs & ahhs. We all gaze at it. I wonder where the burger pattie is. Pizzaboy lifts up some of the lettuce leaves and points at the burger underneath. I remark that the burger bun looks like a beret! So French! Pizzaboy looks confused and doesn't know how to eat it. We all tell him to use his hands, but he feels uncomfortable doing that, so he pulls out the knife and fork and cuts it into quarters.
"Hmmm. This is good". I grab a bite and deduce that although it doesn't evoke the same out-of-this-world nature of a wagyu steak, I still like it. The vegetable pickles are mildy sweet and tart. I like the combination and we declare it a good burger.
Mama Bear's Moroccan Spiced Lamb with Mango Salad is a revelation. The lamb is unapologetically spiced, but is not overwhelming. The mango salad is sweet and the flavours balance really well together with the lamb. Mama Bear is not a salad person, but she scoops up every bit of it.
Papa Bear's Beef Eye Fillet is beautifully plated. The eye fillet is soft and tasty. The red wine sauce is slightly sweet and seems to have some fruit and spice mixed in with it. The aroma is enough to cause a frenzy. The steak is heavily peppered and everyone at the table takes a bite out of it, which doesn't leave much left for Papa Bear. Oops. Hehehe.
I stare at my fish for a while. (You see, whenever I pan fry salmon at home, I always end up getting the outside crispy but the inside raw). The first thing I do is cut the salmon in half to find that is just cooked through and I am curious as to how it has been done. The skin is obviously crispy and the flesh is soft and bordering fluffy. The salmon is fresh and the skin salty. The bed of risotto is delicious. The rice grains are cooked but still have a slight bite to it. The peas seem to be fresh and I eat the Onion Salsa with the risotto and I am loving the pairing of the two. However, the skin is way to salty for me, Pizzaboy grabs the skin off my plate and devours it in one bite.
During the main meal one of the staff members walks pass us with a cup of something beautiful. Our eyes are locked on the dessert from the moment it appears at the doorway to when it is set down on the table next to us. Pizzaboy wonders if dessert is on the horizon. We all finish our meals and a staff member comes to pick up our plates. Papa Bear asks what the dessert was in a cup. "That'll be the Tiramisu". Our eyes light up. "I'll go get the dessert menu".
Pizzaboy loves his Tiramisu. The mascarpone topping is extremely smooth and melts in the mouth magicly. The coffee flavour is not overwhelming, but Pizzaboy likes it this way. He reaches the bottom of the cup in no time. However he doesn't enjoy the liqueur soaked lady fingers sitting at the bottom. I take a scoop and I don't mind it, but when I try to take another scoop, I realise that Pizzaboy has devoured it and is trying to lick the cup clean.
I ordered the Creme Brulee based on the staff member's recommendation. It did not let me down. I did not pick up on the mango flavour, but the ginger gives the custard a slightly spicy heat that I surprisingly enjoy, as I am not a fan of ginger. The more I eat it, the more I am enjoying it.
Papa Bear has the Lemon Tart. It looks like joy on a plate, and I have fun taking photos of this at all angles. The strawberry rose is gorgeous and I want to take it home with me. But I know that I should leave it alone and sadly hand the dish back to Papa Bear. He takes the first bite and says it is delicious! He cuts me a piece and slides it on my plate. It is the best lemon tart I have ever tasted. It has a fresh burst of lemon flavour and has just the right amount of sweetness to balance it. The pastry is baked to perfection and tastes divine. I really wish I had ordered lemon tart. Pizzaboy says that I can have it the next time we visit. It puts a gigantic smile on my face and I am instantly happy.
Throughout our visit I notice that David Bitton is greeting and talking to his patrons. He has a genial disposition and come to think of it… all his staff seem to be very pleasant, attentive and friendly. I ask him about his business and he informs me that this is their 10 year anniversary and there are further plans for expansion within Australia and internationally. He says that when he and his wife started the business they never envisioned that it would become this successful and this huge. I feel inspired and hopeful from this simple and poignant insight. He asks me about my website and what my favourite cookbooks are. Like a star-struck teenager, I freeze and my mind goes blank. Oh dear.
Bitton Gourmet will be opening two new stores in the near future and will be releasing their very own cookbook at the end of 2010. I will have to make sure that I am first in line when the book is released. If it is anything like what we have experienced on this visit, I will love it already.
**the below excerpt is taken from bittongourmet.com.au
THE STORY OF BITTON GOURMET
It all started with a jar of Strawberry and Vanilla Jam, made to a recipe lovingly passed down from Grandmother to Grandson.
David Bitton's French childhood and training, combined with a passion for excellence shared by his wife Sohani led to the opening of the Bitton Gourmet Café and Grocer located in the Sydney suburb of Alexandria.
From this small café, David and Sohani recognised a demand for quality cooking products that anyone could use to create a restaurant quality, gourmet experience at home.
These humble beginnings have remained a signature of Bitton Gourmet products, maintaining standards of excellence and attention to detail rarely seen outside a family business; the entire Bitton range is now available in over 300 hand picked fine food stores both locally and internationally.
—
Bitton Gourmet
36-37a Copeland St
Alexandria NSW 2015
info@bittongourmet.com.au
Phone (02) 9519 5111
Fax (02) 9519 5455
http://bittongourmet.com.au
This is a re-post from 28 January 2010
Please share this: