Wild Barramundi with Black Olive Salsa by Sophie Dahl
There are days when I really want to indulge. These are times when only chocolate and red frogs will do. Then there are days when I want something light and good for me. One Sunday afternoon I was feeling like eating for my health and so I flipped through some of my more healthier cookbooks.
Miss Dahl's Voluptuous Delights has an exciting range of meals based around the seasons and breakfast, lunch and dinner. Whenever I want to make something quick and healthy I often reach for this book. I will often find something or feel inspired by it.
She doesn't eat red meat or chicken, however there a couple of lamb and chicken recipes (strange…). Vegetables and grains are predominate throughout the book. I also find that I am adding ingredients to her list. Whether it be a squidge of butter, an extra clove of garlic or some dried herbs. Most of the additions are to my personal taste, but I'm sure the recipes are fine on their own.
I recently learned that she now has her own cooking show with BBC. I watched a couple of videos on youtube and cannot help but draw comparisons between herself and Nigella Lawson.
* They are both well-spoken, elegant, upper-class english ladies
* They have chatty and charming dispositions
* They are surrounded by pretty things. All of which I want for myself.
* The film styles, closeups and presentation are very similar
* They both have smiles that could light up a night sky
The obvious difference between the two is that Sophie leans more towards wholesome, organic foods. Where as Nigella is more indulgent and adopts the attitude of "full of fat or nothing at all".
I appreciate both women dearly and I am quite happy to have them both sharing space on my cramped bookshelf.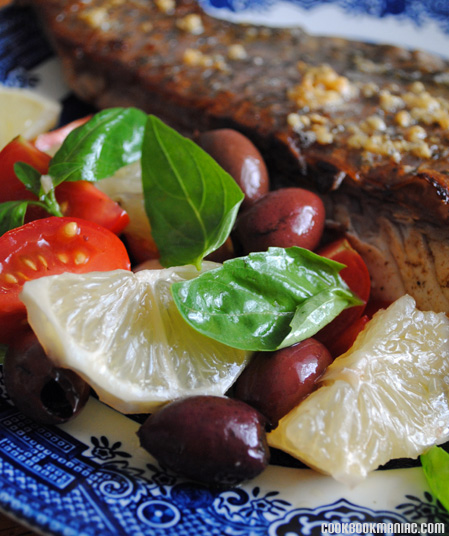 Recipe adapted from Miss Dahl's Voluptuous Delights by Sophie Dahl
2 x 300g Wild Barramundi Fillets
Olive Oil
Juice of 1 lemon
1/2 cup Dry White Wine
Salt and Pepper
For the butter garlic sauce
1/2 cup salted butter
2 cloves garlic, crushed
For the black olive salsa
1 cup of pitted black olives
1 cup of cherry tomatoes, halved
A handful of chopped fresh basil and dill
Juice of 1 lemon
1/2 a red chilli, deseeded and chopped
1/4 cup of olive oil
1 lemon, sliced, rind and pith removed, to garnish
1/ Marinate the fillets in a mixture of olive oil, lemon, white wine and salt and pepper for about 20 minutes.
2/ In a mixing bowl, mix the olives, tomatoes, chopped basil, dill, lemon juice, red chilli and olive oil. Put to one side.
3/ Melt butter is a small saucepan on medium heat. Once the butter starts to froth, turn off the heat and add the garlic. Stir and set to one side.
4/ Pan-fry the barramundi fillets in some hot olive oil (skin-side first), cooking it for 2 minutes on each side. Add the bass to the plates, top with the butter garlic sauce and the black olive salsa. Sprinkle with extra dill and lemon slices.
Tips from the cookbookmaniac
* The original recipe uses sea bass fillets, however these wild barramundi fillets were looking very plump at the fish market. So I subbed it. It was delicious.
* These fillets spat like mad at me once they hit the frying pan. Either stand back or use a splatter screen.
* Although the recipe states to cook the fillets for 2 minutes on each side, I found myself frying it for about 5 minutes to cook it through.
* This was so easy and delicious. Quick and easy lunch.
* To cut back on expenses, you can do away with the dill, chilli and white wine.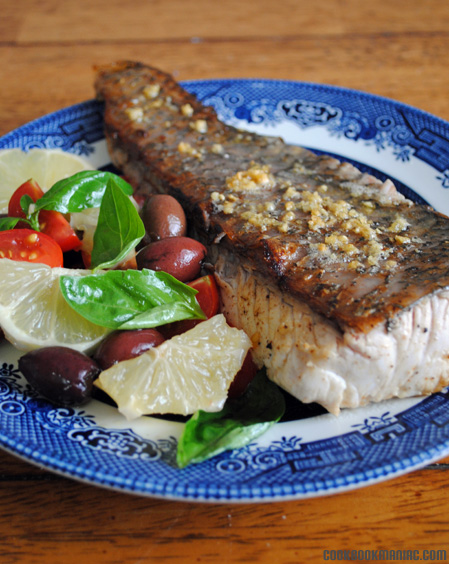 Please share this: