Whoopie Pies – Chocolate and Vanilla Buttercream
I'll admit it right now. I am not very good at taking orders from people, especially when it comes to food. My eyebrows furrow and my toes curl up when I hear a command. The kitchen is the one place that I want complete control and complete freedom to do what I please.
However, when Pizzaboy sent me an email with a picture of something he saw on the internet, my toes started to curl and I pursed my lips. 'What is it that you want now?!' I ask. The attachment was the most enticing picture of a whoopie pie.
"Hell yeah! I'll make that!"
"Really?"
"Yeah!"
"Oh… cool!."
The things we do for love.
I've never eaten these before. I am pleasantly surprised by it's soft cake-like texture and it definitely sinks right into your mouth. My mind is going insane with all the potential flavour combinations ideas.
ps. they are a heck of a lot easier to make than their French counterparts *cough* macarons *cough*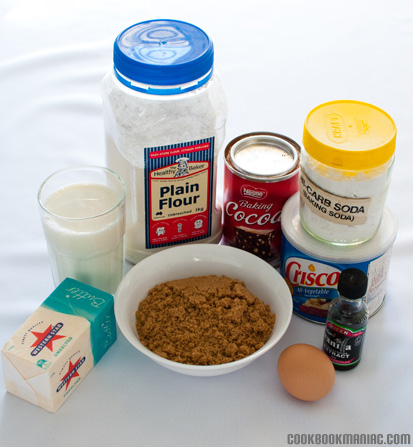 Recipe is from Whoopie Pies by Sarah Billingsley and Amy Treadwell
Ingredients for the cake biscuit
1 2/3 cups plain flour
2/3 cups unsweetened cocoa powder
1 1/2 teaspoons baking soda
1/2 teaspoon salt
4 tablespoons unsalted butter, at room temperature
4 tablespoons vegetable shortening
1 cup dark brown sugar
1 large egg
1 teaspoon vanilla extract
1 cup milk
1/ Position the rack in the centre of the oven and preheat to 170 degrees (375F). Line two baking sheets with silicone mat or cooking paper
2/ Sift together the flour, cocoa powder, baking soda and salt.
3/ In the work bowl of a stand mixer fitted with the paddle attachment, beat together the butter, shortening and brown sugar on low speed until just combined. Increase the speed to medium and beat until fluffy and smooth (about 3 minutes).
4/ Add the egg and vanilla extract. Beat for another 2 minutes.
5/ Add half of the flour mixture and half od the milk to the batter and beat on low until just incorporated. Scrape down the sides of the bowl. Add the remaining flour mixture and milk. Beat until completely combined.
6/ Using a spoon, drop about 1 tablespoon of batter onto one of the prepared baking sheets and repeat, spacing them at least 2 inches apart.
7/ Bake one sheet at a time for about 10 minutes each, or until the pies spring back when pressed gently.
8/ Remove from the oven and let the cakes cool on the sheet for about 5 minutes before transferring them to a rack to cool completely.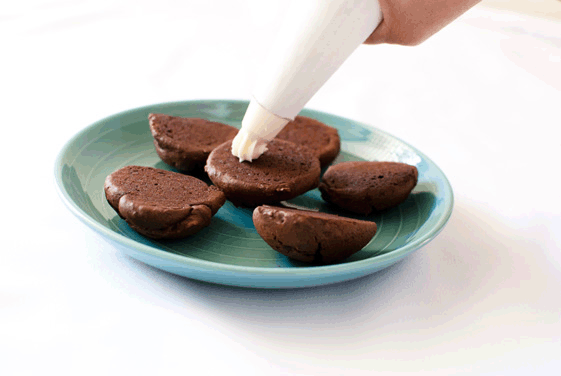 Ingredients for the vanilla buttercream
3 cups pure icing sugar
1/2 cup unsalted butter, at room temperature
3 tablespoons milk
1 teaspoon vanilla extract
Pinch of salt
In the work bowl of a stand mixer fitted with the paddle attachment, beat together the icing sugar with the butter, starting on low and increasing to medium speed, until the mixture is crumbly, about 1 minute. Add the milk, vanilla and salt and beat on high speed until smooth, about 3 minutes.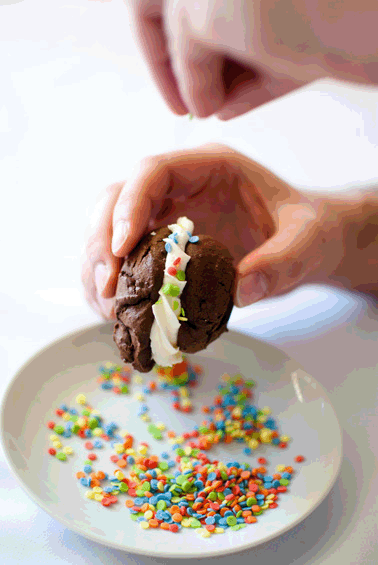 Assembling the Whoopie Pie
Scoop the buttercream into a piping bag fitted with a star nozzle. Flip the cake biscuit base over and pipe out a generous amount. Gently place another cake biscuit on top of the iced cake biscuit.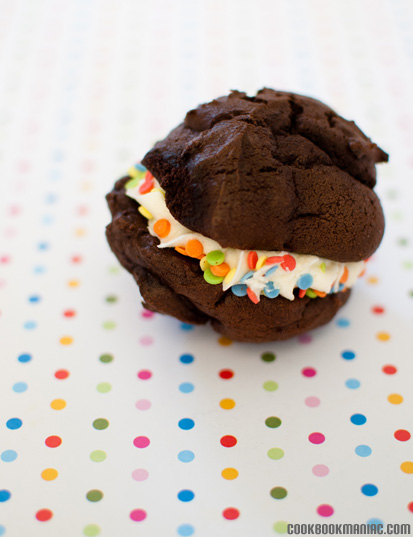 Tips from the cookbookmaniac
* These expand a lot in the oven. It is very important to keep a 2 inch distance between the each scoop of the batter
* Whoopie Pies should have a smooth humped top. My whoopie pies turned out cracked, but… I don't mind them that way.
* I think I will have to double the quantities the next time I make these. Pizzaboy gobbled them up in an instant.
Please share this: