The Smokehouse – Vintage quirky and mighty delicious
I love to travel. Take me to any exotic place and I will not fear to venture out on my own. There is nothing more exhilarating than to get lost in a city and discovering its many hidden treasures without the aid of a travel book or map.
Pizzaboy and I have not been able to travel as much as we use to since we decided to settle down and buy a home. All our savings are now being banked up in a volt for when we find the right place. Isn't it odd that we must save money to borrow money?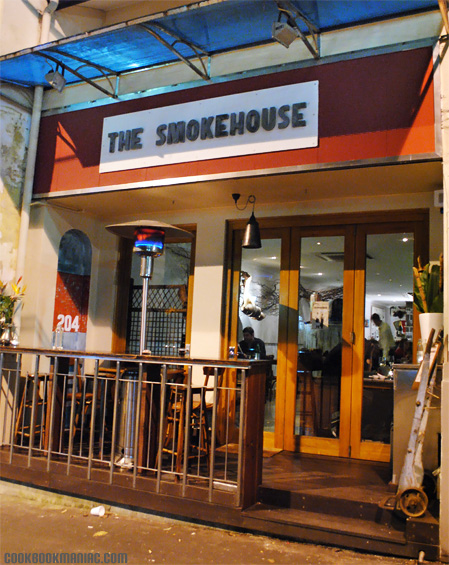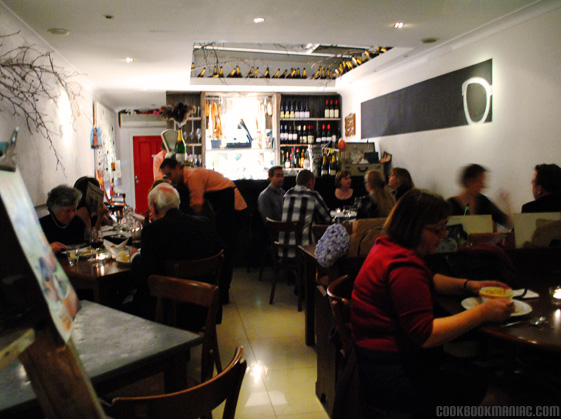 We have had to give up on a lot of things in pursuit of the homeownership dream, but we are not able to sacrifice the luxury of eating out. The discovery of The Smokehouse had left me with the same joyful feeling as when I travel without a safety net.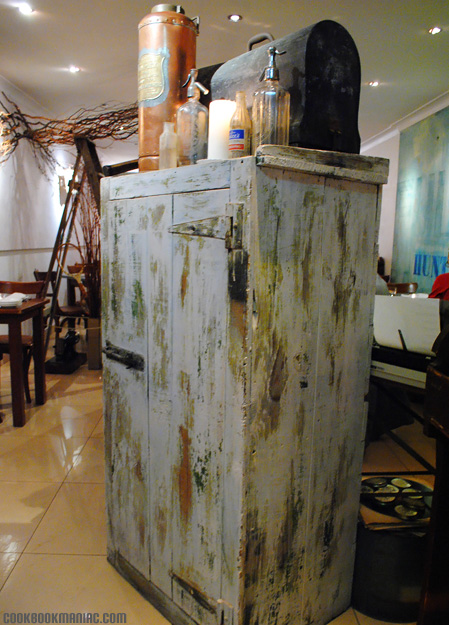 When entering the premises I could not help but feel like I had stepped into a place that was a cross between Gilligans Island, a pre-loved vintage shop, fish'n'chip shop, french cottage and a fancy restaurant. Its mismatched furniture and various other random elements left me scratching my head but with a tingling in my fingers. I wanted to start snapping away with my camera like an overly excited tourist.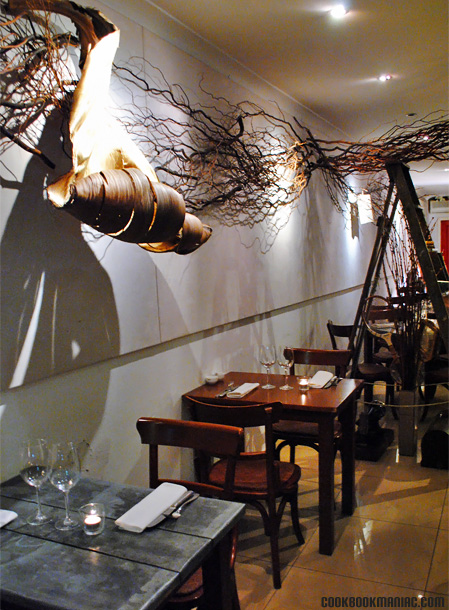 I did my best to not appear like a member of the paparazzi and made my way around the room quietly. I notice that I am being watched by the only waiter not in uniform. I assume that he is the floor manager and I timidly sit back down at the table as he makes his way towards me. I am expecting to be reprimanded, but instead I was greeted with this.
"Hello! You must be careful when taking pictures in here. The staff have a bad habit of jumping out and pulling funny faces. I just thought I should warn you, so you don't get a fright!"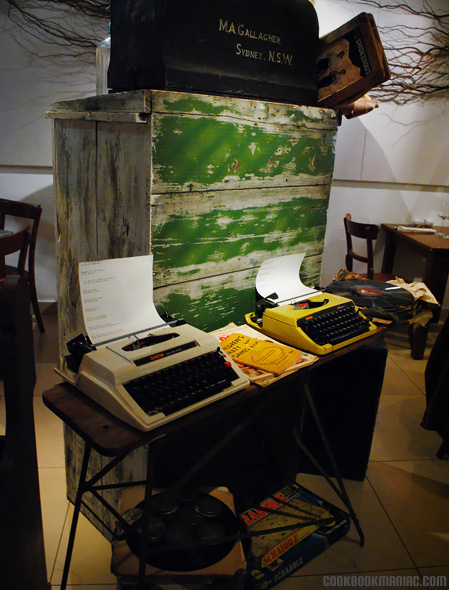 We almost fall off our seats in laughter upon receiving this warning. His humour is in keeping with the tongue in cheek decor. Pizzaboy and I relax and soak in the atmosphere.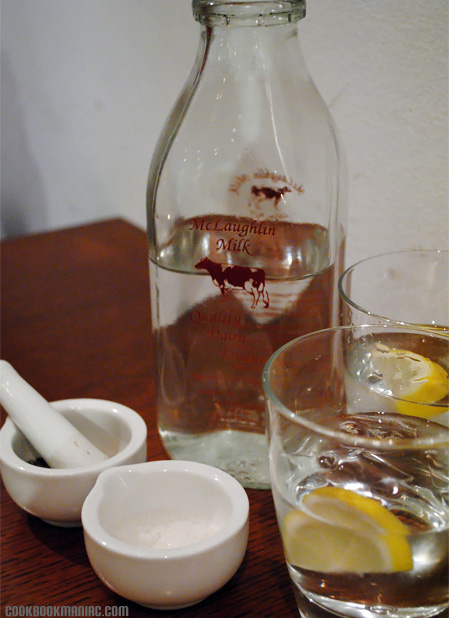 The menu is handed to us on a wooden clipboard. The first page is the main menu, the second page is the specials menu of non-smoked items and the third page is a wine list.
I learn that they smoke their own seafood in a smokehouse purposely built out the back. They use Aged South Coast Hardwood that lends a particular signature flavour to their dishes.
We decide to order the Tasting Plate for Two as an entree. We wanted a birds eye view of what they had to offer since it was our first visit.
Smoked Salmon Tartlets are heavily smoked and enchantingly tasty. The light and creamy smoked salmon mousse is perfectly cupped in crispy thin pastry. I secretly wish the little tartlet was a giant tart.
Gravlax cured in beetroot and vodka takes on a bright orange-pink tone and is pleasantly salty. The waiter explains that it is made in-house and cured for 48 hours.
Smoked Cod Fritters are almost like croquette balls. They are crispy on the outside and soft and floury on the inside. The flavour of the smoked cod is very subtle.
Smoked Salmon on Toast is generously sized in comparison to the other morsels. The fish is heavily smoked and does not really need the toast bed to accompany it.
Garlic Prawn Wonton is deep fried and wrapped like a tortellini. The flavour of the prawns is overpowered by the hoisin-like sauce and crispy pastry.
Smoked Trout wrapped in Nori on Sesame Seed Sticky Rice is surprisingly tasty. This is a crafty representation of sushi.
This delectable dish is the perfect example of smoked seafood at The Smokehouse. The fillet is strongly smoked but does not overpower the original flavour of the ocean trout. The fillets sit on a generous serving of a warm potato salad with broccoli, squash and zucchini.
I am a garnish-lover and I really like the way that they use dill. This is actually the first time that I have eaten fresh dill and it is off to a good start so far.
When the floor manager serves us the plate of salmon belly he explains that it is usually served with ordinary sweet potato. However they eyed some fresh seasonal purple sweet potato at the produce market that morning and couldn't resist using it. Pizzaboy and I really like this mash and crave more of it.
The crispy salmon belly is only lightly smoked. The skin is lusciously crispy, as promised. It is mouthwateringly good and after just a few bites into the main meal we agree that we must visit again soon to try out other dishes on the menu.
After our satisfying mains we ask the lovely waiter for the dessert menu… and they place this in front of us with a cheeky smile.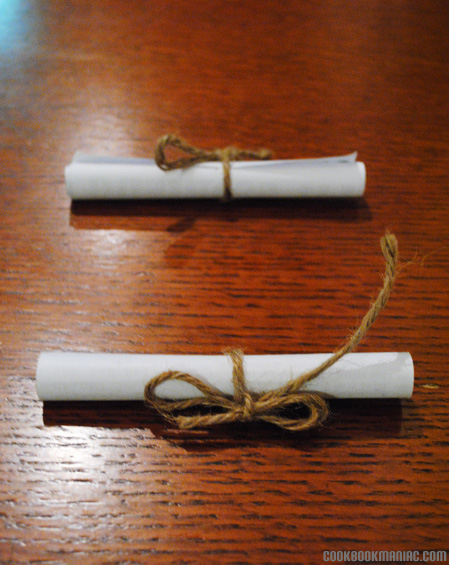 Pizzaboy and I can't help but chuckle.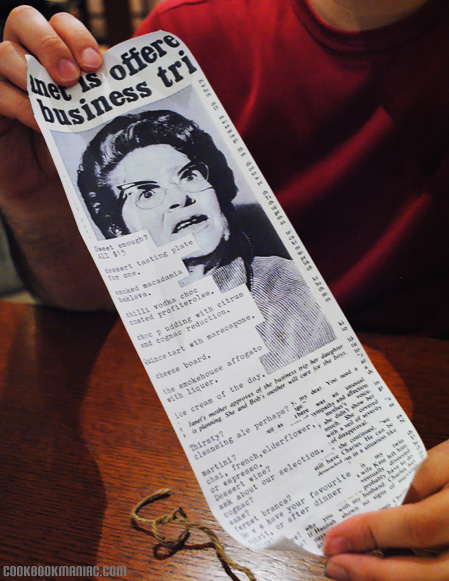 I love their sense of humour!
The cheese board is charming and delicious. The blue cheese is pungent and works beautifully with the honeycomb and lightly toasted artisan fruit bread.
The tasting plate had four tantalising sweet thangs that we both enjoyed. The tapioca pudding is vanilla scented and the toffee shards are awesome. Pizzaboy adored the profiterole and I loved the cream cheese blueberry tartlet. The macadamia baklava was really sweet and overpowered the pastry and nuts.
After the dessert Pizzaboy visits the bathroom and tells me that I have to go and have a look. It's my kind of bathroom. I pick up the camera and he scolds me.
"Whaddaya think your doing?"
"If it's beautiful I am going to take a photo."
"Don't take your camera in there."
"Try and stop me."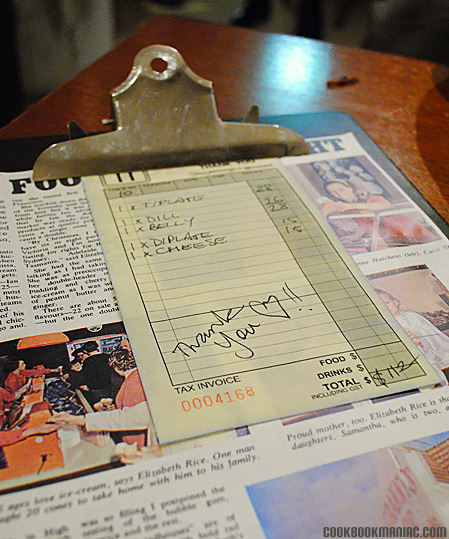 Oh my stars, it is my dream bathroom!
It also has fresh towels to wipe your hands. So sweet!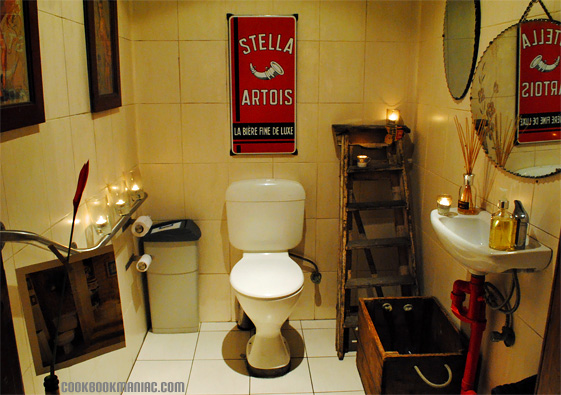 Do you think it was inappropriate of me to take my camera into the bathroom?
The Smokehouse
204 Devonshire St
Surry Hills NSW 2010
Phone (02) 9699 1155
www.thesmokehouse.com.au
Open Tuesday to Saturday 6pm-Late
Bookings essential
Please share this:
Tags:
Beautiful restaurant
,
cool bathroom
,
fun places to dine in sydney
,
fun places to eat in sydney
,
fun restaurants in sydney
,
My Favourite Places Eat
,
Quirky Places to Eat
,
smoked salmon recipes
,
smoked seafood
,
Unique places to eat
,
unique restaurant
,
unique restaurants in sydney
,
Vintage Restaurant