The Mediterranean Kitchen – That ain't paella!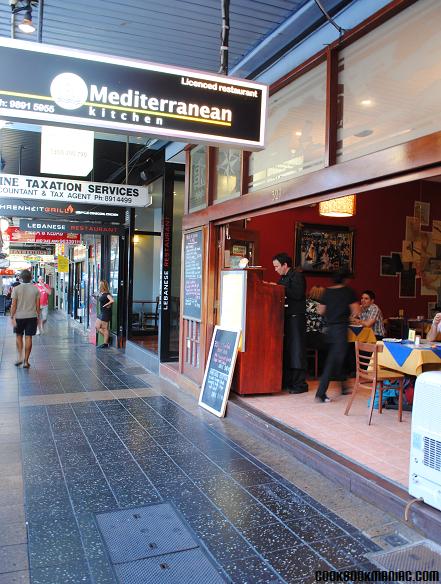 First thing Friday morning I am happy. I am happy to go to work because I know that the weekend is just peaking around the corner and Pizzaboy and I are going out for our ritual Friday night dinner… or as one of my workmates likes to call it: Friday Night, Date Night.
Nothing makes me happier than to leave work right on the dot and head to wherever Pizzaboy and I have planned to dine at… with perhaps a little bit of comic book and cookbook shopping in between.
Pizzaboy and I find ourselves on Church St in Parramatta. There is endless variety of restaurants packed between Phillip St and the river. We are undecided as to where we would like to dine at and we walk up and down that part of the street numerous times. We decide that we must visit a place that is a little busy, but without the loud music playing, and a long wait for a table – City Extra is out of the question.
The Mediterranean Kitchen fitted our fussy list perfectly.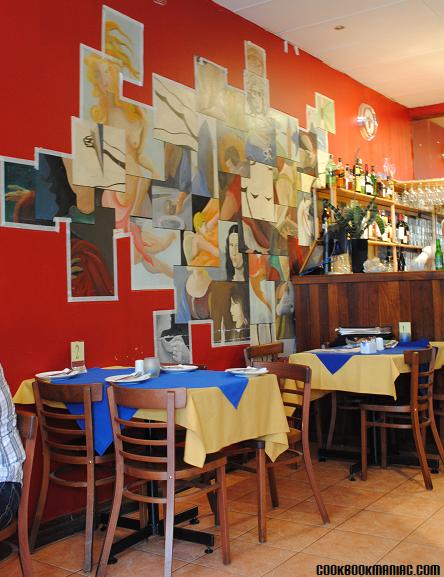 We were quickly seated and the menu handed to us. All the items are listed along with the flag of its place of origin. We are such geeks that we go through each flag and try to guess what country its from. Pizzaboy wins hands down.
After possibly 15 minutes reading the menu over and over, scouring every detail and discussing whether we should order our typical choices or go for something different.
"Pizzaboy? What are you going to order?"
"I don't know. Maybe filet mignon with pommes frites."
"…steak and chips?"
"Yeah… what's wrong with that? What are you ordering?"
"Dunno. Lamb Kofta. Maybe we should order stuff that we don't usually order."
"Yeah. Let's try something different."
Going for the safe option at a place I have never dined at would be an easy thing to do, but we quickly come to the decision to go with the unfamiliar and order things we have never eaten before. We go over the menu again, although we cannot pass up the haloumi for the entree, I go for the Seafood Paella and Pizzaboy chooses the Algerian Mixed Grill.
Pizzaboy and I have a borderline obsession with haloumi. I remember him almost devouring half my lamb & haloumi salad when we had our first encounter with this rubbery fried cheese. At first I thought they had put salty pancakes with the lamb, but I later realised it was a fried cheese.
The entree lands at our table and I can see already that this haloumi is meltingly soft with the all important golden crispy edges. We take our first bite into it and Pizzaboy and I look at each other like we have both found heaven on a plate. I eat my share slowly. I cut little bits at a time. The olives are especially good. Salty, shiny and with the gentle taste of the brine. The cucumber and tomato go refreshingly well with the salty olives and haloumi.
Our mains arrive at the same time. Pizzaboy hands me his plate to photograph and my face scrunches up in all sorts of ways. The meat is coated in what I thought was Barbecue Sauce. Everyone has a particular food that they really despise, bbq sauce could kill me from a fair distance. I do not detect an odour of the killer sauce and deduce that it must be something different or their own version of it.
Pizzaboy takes a bite and calls out, "Oh god! This is so good!" He cuts bits of everything for me to taste test. The beef and lamb are tender and grilled to medium. The taste of the charcoal is delicate and the sauce that the grill is coated with adds to moist texture of the plate.
I take a look at my so-called paella. "This isn't a paella." The contents are not sitting in a sexy spanish wide pan. This is quite a dissappointing introduction to a paella, it is more like a seafood risotto. I take the lemon that is sitting on the side of the plate and squeeze it all over and take my first bite. It is delicious!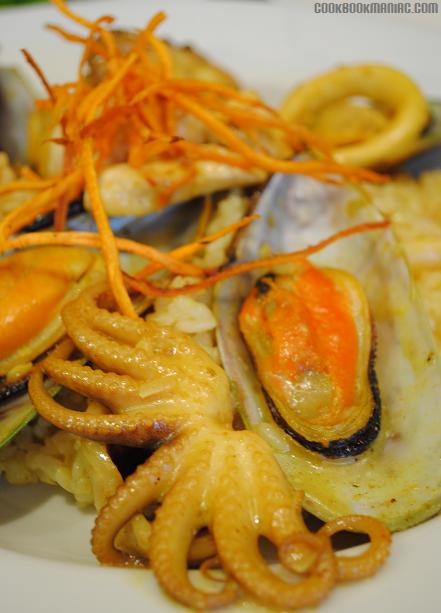 Paella, risotto or whatever. This is dish is comfort food on a plate and I enjoy every bit of it. The calamari is fresh and firm, the octopus breaks away easily on the bite, the prawns are mildly sweet and I hear a crunch which can only come from a fresh prawn. The mussels taste of the sea and the rice is delicately spiced with saffron and is creamy and soft.
Our lovely waiter asks how our meals were when he comes to collect our polished plates.
"That mixed grill was so good and the haloumi was the best I've eaten." Pizzaboy says grinning form ear to ear.
"That ain't a paella, its more like a risotto. Its still delicious though. We're gonna have to roll ourselves outta here."
"I guess dessert is out of the question." The waiter says smiling.
Although it is not the fanciest place in the world. The Mediterranean Kitchen is a lovely little restaurant with attentive, polite service and delicious dishes.
The Mediterranean Kitchen
327 Church St
Parramatta NSW 2150
Phone: (02) 9891 5955
Please share this: