Scrambled Eggs with Smoked Salmon & Chives – Curtis Stone
In honour of Australia Day celebrations, here is a blog post about a wonderful Australian chef, Curtis Stone. Enjoy!
Like many people who choose a voluptuous life in the food industry Curtis started his career studying for a degree in business. However, his hunger for food called louder than graphs and numbers, so, he packed his bags and jetted off to London. He made a name for himself in restaurants throughout Europe, Australia and England and his big break came when he was featured in the book London on a Plate.

Curtis has appeared in many television programs. He appeared in two successful seasons of Surfing the Menu, along with fellow chef Ben O'Donoghue. He was also the host of the first series of My Restaurant Rules before being replaced by Ian "Dicko" Dickson.

He has made several guest appearances on NBC's Today show and most recently appeared on Martha Strewart's show. Oprah Winfrey also invited him to cook on her show!

Most notably he was heavily featured in the phenomonly successful Masterchef Australia and is now one of the faces of Coles.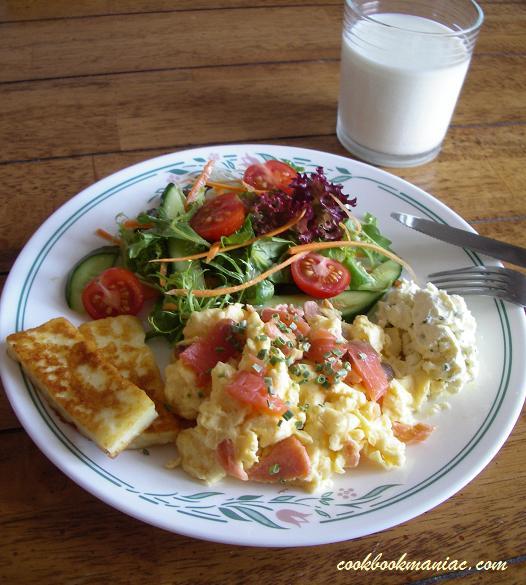 Recipe adapted from Relaxed Cooking with Curtis by Curtis Stone
6 large eggs
2/3 cup pure cream
1/4 cup fresh chives
1/4 teaspoon salt
1/4 teaspoon freshly ground black pepper
2 tablespoons butter
125g cream cheese, softened
125g sliced cold-smoked salmon
1/ Using a fork, mix the eggs, cream, salt and pepper in a large bowl to blend.
2/ Melt the butter in a large heavy non-stick fying pan over medium-low heat.
3/ Add the egg mixture to the frying pan and let it cook without stirring for two minutes.
4/ Once the eggs are just set on the bottom of the pan, use a silicon spatula to gently push and move the eggs into gentle curds, avoiding breaking them up too much. In all, cook the eggs for about 8 minutes, or until they are no longer runny; don't overstir.
5/ Mix the chives with the cream cheese in a small bowl
6/ Serve scrambled eggs with the smoked salmon and the cream cheese & chives mixture on the side. A side salad compliments this dish really well.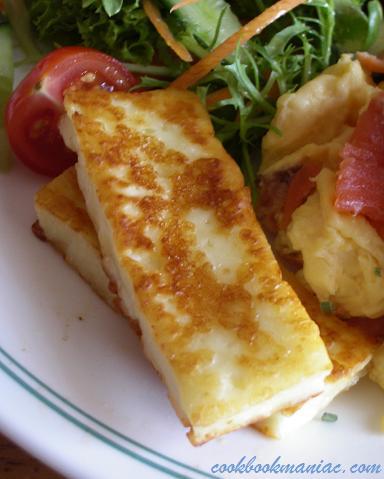 Tips from the cookbookmaniac
* The original recipe included sour dough bread and to smother the bread with the cream cheese. I forgot to buy some artisan bread and only had sliced white sandwich bread on hand. So, I decided to do away with the bread section and mix the chives with the cream cheese. It worked a dream.
* I love haloumi cheese. I will always find a way to include it into dishes. In this case, I sliced them up and fried them in olive oil on medium heat. Yummo!
* I also searched high and low for fresh chives. I finally found some and they appeared to be rotting. So, I substituted with dried chives. It worked out well. One day I will have a beautiful potted garden and I'll grow many herbs and cherry tomatoes.
Have you cooked from this recipe? Let me know what you think?
—
Please share this: