Red Velvet Cake – Irresistable charm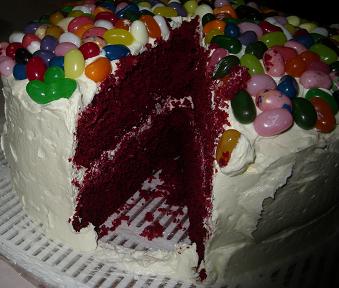 Recipe taken from Rose's Heavenly Cakes by Rose Levy Beranbaum
3 (90g) large egg whites
2 tablespoons red food colouring
1 1/2 teaspoons pure vanilla extract
2 cups (200g) cake flour or plain flour
1 cup (200g) caster sugar
3 teaspoons baking powder
1 teaspoon unsweetened cocoa powder
1/2 teaspoon salt
1/4 cup canola oil
4 tablespoons (57g) unsalted butter
1/2 cup buttermilk
Special Equipment
One 9 by 2-inch heart-shape or round cake pan (8 to 8²⁄³ cups), encircled with a cake strip, bottom coated with shortening, topped with parchment cut to shape, then coated with baking spray with flour
Preheat the Oven
Twenty minutes or more before baking, set an oven rack in the lower third of the oven and preheat the oven to 350°F/175°C.
Mix the Liquid
Ingredients In a medium bowl, whisk the egg whites, red food color, and vanilla just until lightly combined. (Caution: Be careful with the red food color: it stains effectively, but also unmercifully.)
Mix the Dry Ingredients
In a medium bowl, whisk together the flour, sugar, baking powder, cocoa, and salt.
Make the Batter
In the bowl of a stand mixer fitted with the flat beater, mix the oil and butter on medium speed for 1 minute. It will not be completely smooth. Add the flour mixture and buttermilk. Mix on low speed until the dry ingredients are moistened. Raise the speed to medium and beat for 1½ minutes. Scrape down the sides of the bowl. Starting on medium-low speed, gradually add the egg mixture to the batter in two parts, beating on medium speed for 30 seconds after each addition to incorporate the ingredients and strengthen the structure. Using a silicone spatula, scrape the batter into the prepared pan and smooth the surface evenly with a small offset spatula.
Bake the Cake
Bake for 25 to 35 minutes, or until the wire cake tester inserted in the center comes out clean and the cake springs back when pressed lightly in the center. The cake should start to shrink from the sides of the pan only after removal from the oven.
Cool and Unmold the Cake
Let the cake cool in the pan on a wire rack for 10 minutes. Run a small metal spatula between the sides of the pan and the cake, pressing firmly against the pan, and invert the cake onto a wire rack that has been coated lightly with nonstick cooking spray. To prevent splitting, reinvert the cake so that the top side is up. Cool completely.
Recipe Rating
Prep Time: 20 minutes

Cooking Time: 25 minutes

Difficulty: 3/5
Deliciousness: 5/5
Tips from cookbookmaniac.com
* Always read the recipe through and either memorise it or have the recipe handy for constant reference. Rose's recipes are very delicate and to ensure success, it is best to follow the recipe exactly.
* After eating the cake we found that it had stained our tongues!
* This cake was great with a White Chocolate Buttercream from More from Magnolia by Allysa Torrey.
Please share this: