Ramen Kan in Bondi – Errrr… What's all the noise about?
A Funny Red-headed Guy once told me that his favourite restaurant is McDonalds. He wasn't a child. He is 29 years old, skinny, tall, handsome, prefers never to wear shoes and never shuts up. You see, I am the kind of person who always asks what people are eating or what are their favourite restaurants. I try and connect with people through food. When Funny Red-headed Guy told me this I couldn't help but screw my face up in judgement. "Oi. Don't bag out the Macca's. I grew up on the stuff. Now look at me." He strikes a pose.
Who am I to judge? If eating McDonalds makes him happy, then good for him. He also told me that his favourite ramen is from Ramen Kan. He said that their ramen makes everyone else's seem like instant noodles. I immediately wrote the recommendation down in my mental checklist of places to visit. I had heard of Ramen Kan and was quite excited by his description of their egg noodles.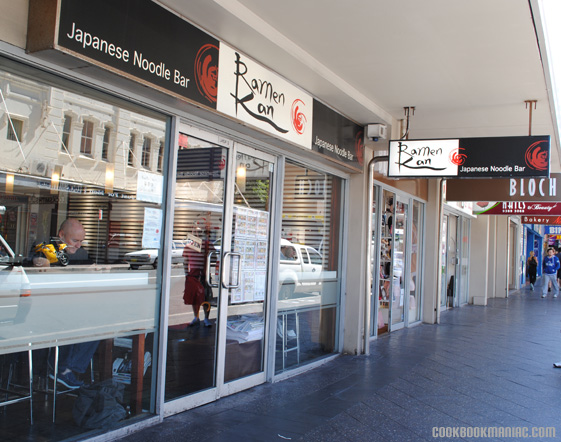 Pizzaboy and I find ourselves in Bondi one beautiful day with little idea of what we wanted for lunch. We settle for Ramen Kan.
Their menu has a dizzying array of food items and I cannot decide what I want. I must've taken about 5 minutes to come to a decision. The waiter had approached us 4 times to get our order. I became slightly annoyed and politely told her that I will call for her when I am ready. Pizzaboy on the other hand immediately chooses the Tonkotsu Ramen because its his favourite and he wants to try it from many different establishments.
Towards the end of the menu they have a layout of their most popular dishes. The Tonkotsu Ramen is Number #1 on the list and the TanTan Ramen is Number #2. So, I decide to order the TanTan Ramen and a serving of gyoza.
The gyoza arrive sitting on a beautiful black terracotta plate. I quickly take my photos and we dig in. To my disappointment the gyoza is pronounced with ginger. Pizzaboy and I have a dislike for ginger and it seems that it is the star ingredient for them. I dunk the dumplings into the dipping sauce in the hopes that it would drown out the obvious ginger flavour, however the sauce is very mild and I cannot taste a vinegar note to it.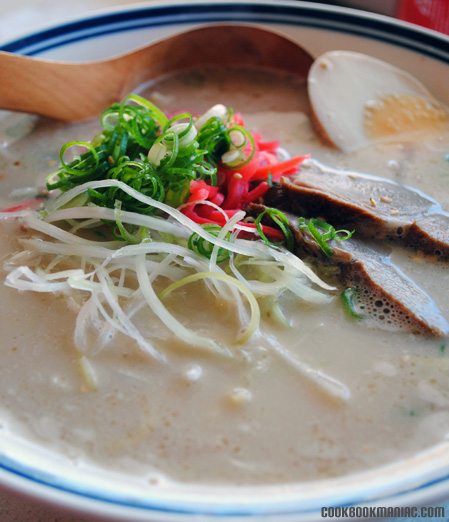 Pizzaboy's tonkotsu ramen arrives and he screws up his nose instantly. I take a peep at his bowl of noodles and realise they have placed a generous tablespoonful of pickled ginger on top! Pizzaboy scoops out as much of the ginger as possible but some of it has disappeared into the broth and is tangled with the noodles. Despite the unfortunate addition he consumes the ramen and finds that the broth is weak and watery. The egg noodles are thin and firm and are not as plump as we are use to.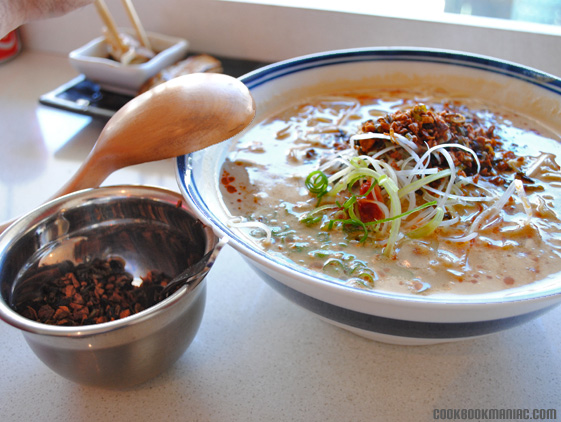 My ramen arrives a few minutes after the tonkotsu ramen and is thankfully ginger-free. It comes with a small bowl of the fried scallion and chili on the side. I scoop half the contents of the small bowl onto my noodles and love that they are crispy.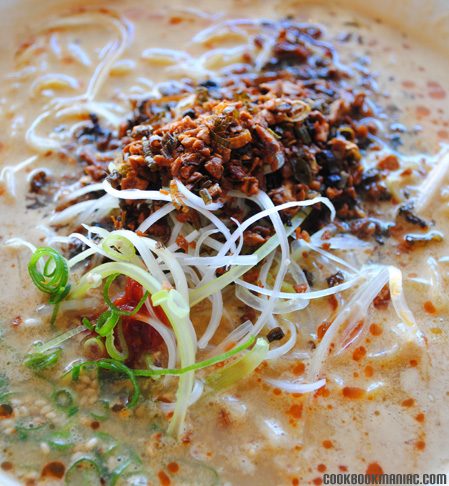 The broth seemed to have similar characteristics to the tonkotsu, it wouldn't surprise me if the same broth was used. The chili oil was not too spicy and fried scallions were slightly burnt which blended in with the broth. The broth then took on the taste of burnt food.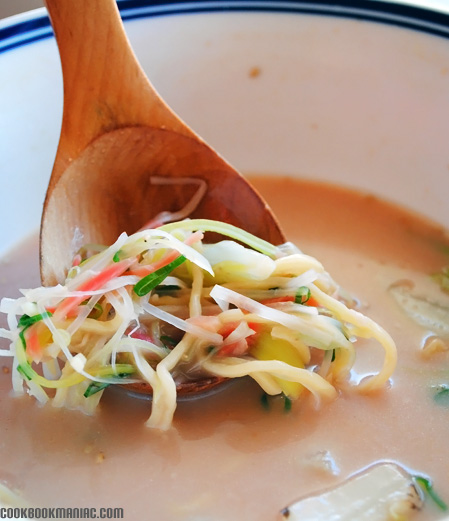 Pizzaboy's ramen took on a pink colour due to the pickled ginger and it reminded me of a scene from Bridget Jones' Diary (the one where she attempts to cook for her friends). He tells me that there were fresh ginger pieces placed underneath the noodles.
I ask the waiter for the menu again and read their description of the tonkotsu ramen. It doesn't mention that the noodles would be laden with ginger and we are both aghast with annoyance.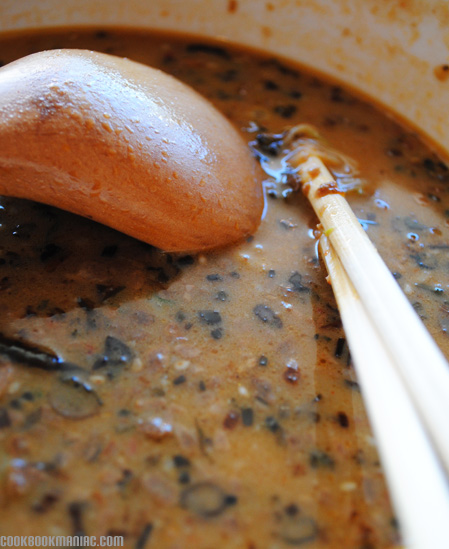 The broth to the tantan ramen had become too heavy with the charred flavour. The oil from the fried scallions overwhelmed the noodles and I couldn't finish it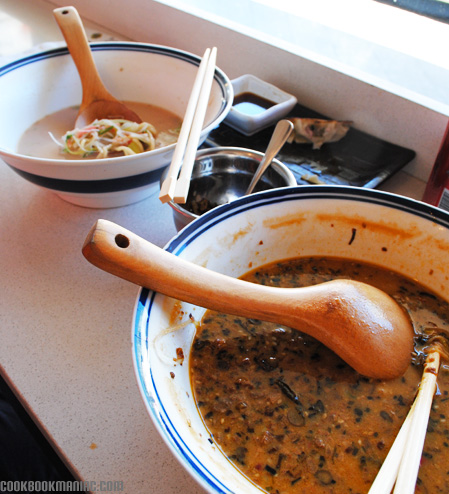 The verdict. Ramen Kan was not our cup of tea. Most of what we dislike about it was because of our personal taste.
* The ginger-laden tonkotsu ramen may appeal to someone who worships ginger.
* The tantan ramen would appeal to someone who prefers charcoal flavour.
From this experience I have decided never to seriously consider recommendations from those that consider McDonald's as the best restaurant in Sydney.
Ramen Kan Bondi Junction
Shop 3, Bronte Rd (cnr Bronte & Ebley Sts)
Bondi Junction NSW 2022
Phone: (02) 9387 5691
Ramen Kan Haymarket
Level 1, 90 Hay St
Haymarket NSW 2000
Phone: (02) 9211 6677
Please share this: