Perama Greek Restaurant – Perfection in every bite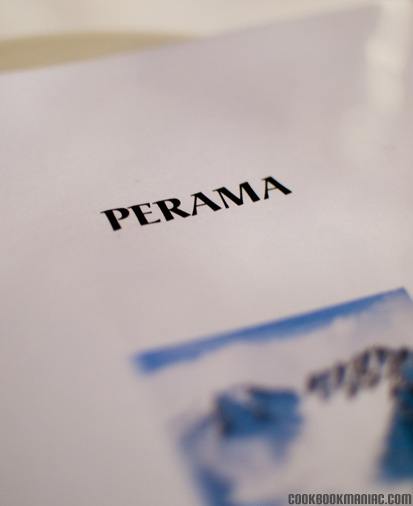 This restaurant is so freaking awesome.
I cannot think of a more appropriate introduction other than…
YUMMO!!
I dined at Perama with some always-entertaining food blogger friends Maria, Betty, Richard and John. We were looking forward to a great meal at a much applauded restaurant. However, what we got was a blow your socks off experience.
We started off with the traditional greek salad. The vegetables were incredibly fresh and crunchy. The feta was creamy and perfectly salty. The tasty olives were my favourite part of the salad.
All three dips were fantastic. However, it was the tzatziki dip that I kept coming back for and it was also the first dip to wiped clean from the dish at our table!
The dried shitake mushrooms are pickled in white vinegar, extra virgin olive oil, fennel and coriander seeds. It's rich woody flavour works impeccably against the pleasantly sour pickling liquid.
The pickled cabbage is a genius mixture of zucchini, leek and celery in white vinegar, extra virgin olive oil and garlic. This didn't seem to be a huge blimp on anyone's radar, but I absolutely adored it. It must've picked up on my love for it, grew legs and sat down next to me.
The char grilled Cypriot haloumi cheese was well liked by my always-beautiful dining companions but was a little too smoky for my tastes. It was also a lot more softer and less salty than the haloumi that I am used to consuming. The dried fig was delicately sweet and was also a burst of dark floral flavour in my mouth.
The pan fried filo pastries are filled with an exceptional creamy ricotta cheese and a danish white cheese. The pastry was luscious and flaky, whilst the filling was tantalisingly salty.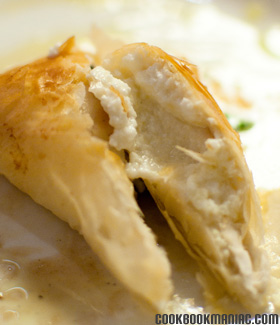 The vine dolmathes are stuffed with a rice and vegetable filling and served warm. The vine leaves were incredibly delicate and came apart very easily. The rice and vegetable stuffing were slightly citrusy and cooked to perfection. I could quite happily eat this everyday!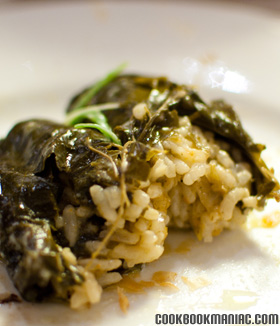 There was a lot of 'noise' about Perama's pork belly baklava. It is an exquisite stack of flaky filo pastry, pork belly meat, date, pistachio, crispy pork crackling that is drizzled with a date and mastic sauce. This was out-of-this-universe amazing! If you love pork crackling… my guess is that you will adore this.
The lightly floured and deep fried calamari and school prawns are accompanied by a drizzling of lemon ouzo mayonnaise. I have a weakness for deep fried food and this was wonderfully fragrant and very yummy. However, by the time this dish landed on our table I was feeling the effects of a full belly and could only munch on a few knowing that there were a couple more courses to come and dessert.
Lamb Skaras is slow braised lamb shoulder with oregano, olive oil, wine and garlic. It is then chargrilled with lemon and olive oil. The lamb was incredibly tender but still had a firm texture to it. This was also one of my favourite dishes of the evening.
The stuffed calamari is filled with jasmine rice, currants, flaked almonds, mint and prawns. It is served with a tomato, honey and cinnamon sauce. The cinnamon and honey brought a lovely sweet flavour to the tender calamari and the soft rice.
The vegetarian pastitsio is layers of pasta, spiced and herbed eggplant and lentils and topped with a bechamel sauce. This is one of those vegetarian dishes where you don't miss the meat because it is so good!
The bougatsa is a mandarin flavoured milk semolina custard wrapped in filo. It is warm, sweet and comforting. The pastry is very similar to the cheese filo triangles, except it is dusted with icing sugar and cinnamon.
The caramel baklava ice cream is sliced layers of vanilla bean ice cream, caramel sauce and crumbled baklava. I really loved how this was not sickly sweet and was actually really refreshing.
The ekmek is a classic dessert dish from the peasants of Byzantine Constantinople. It is a toasted sour dough brioche with a honey syrup and a buffalo clotted cream called kaymaki. It seemed to have been soaked in the honey syrup and was quite sweet. Some of my always-humourous dining companions thought it was too sweet, however I didn't mind it. If I hadn't been so full I could have happily eaten the whole thing.
The rice pudding thiples is a fantastic take on a traditional greek dessert. The fried, honeyed pastry is layered between a mouth-watering creamy rice pudding, crushed walnuts and a warm compote of spiced apples. This was my favourite dessert and I am going to try and replicate this at home.
The verdict
This was a divine dining experience and I cannot recommend this restaurant more highly. We ordered the $50 banquet and an extra dish of the Pork Belly Baklava for an additional $4pp. Vegetarians are well looked after and the restaurant is more than happy for banquet items to be changed. There is also no corkage fee when you order the banquet. This must be the best value banquet in the whole of Sydney!
Here are our favourite dishes:
John – Lamb Skaras and Pork Belly Baklava
Richard – Pork Belly Baklava
Maria – Pork Belly Baklava
Amy – Vine Dolmathes and Pork Belly Baklava
Betty (Vegetarian) – Caramel Baklava Ice Cream
Perama
88 Audley St,
Petersham NSW 2049
Phone: (02) 9569 7534
www.perama.com.au
Opening Times – Tuesday to Saturday from 6:00pm – 10:30pm
Please share this:
Tags:
bougatsa
,
Caramel Baklava Ice Cream
,
Ekmek
,
greek pork recipes
,
greek roast lamb recipes
,
haloumi recipes
,
Modern European Restaurant
,
My Favourite Places Eat
,
Places to Eat that are Always Busy
,
pork belly
,
pork belly baklava
,
Rice Pudding Thiples
,
Unique places to eat
,
unique pork belly
,
Vegetarian Pastitsio
,
Vine Dolmathe