"…Of Course We Have Scampi!" Bubba Gump Shrimp Co. Restaurant New York City
Warning! Warning!
Touristy restaurant review ahead
Proceed with caution
Warning! Warning!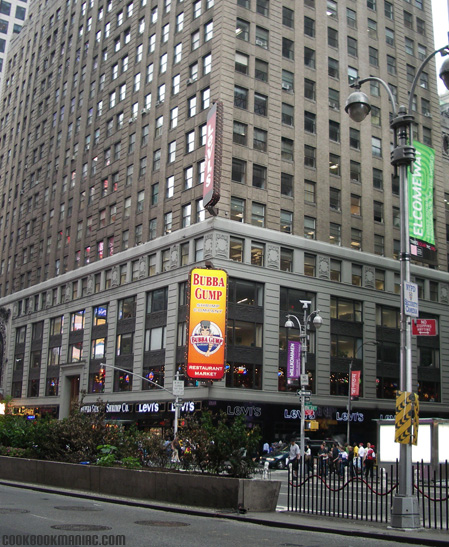 Forrest Gump is one of my favourite films. I jumped with unabashed joy when we walked past the Bubba Gump Shrimp Co. Restaurant in Times Square, New York. I had no idea that the restaurant existed and I was determined to dine there. Just to give it a go. Bubba's dream is alive!
I usually try and stay away from tourist-driven places when on holidays but I couldn't help but giggle like a japanese school girl when I enter the premises.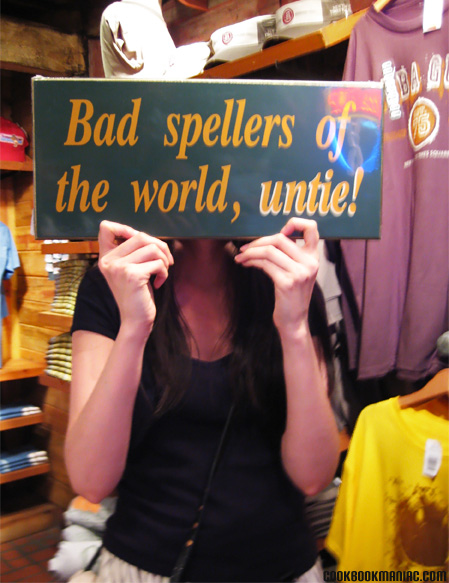 The restaurant looks like the Hard Rock Cafe for Forrest Gump paraphernalia. Downstairs is filled with merchandise from the film. T-shirts, shorts, caps, mugs, pens, photo frames are printed with tacky sayings and logos mostly taken from the film.
The restaurant was a little more tasteful and was themed more accurately to the film than the merchandise downstairs. There is a bar area and some semi-private rooms that are decorated like pergolas.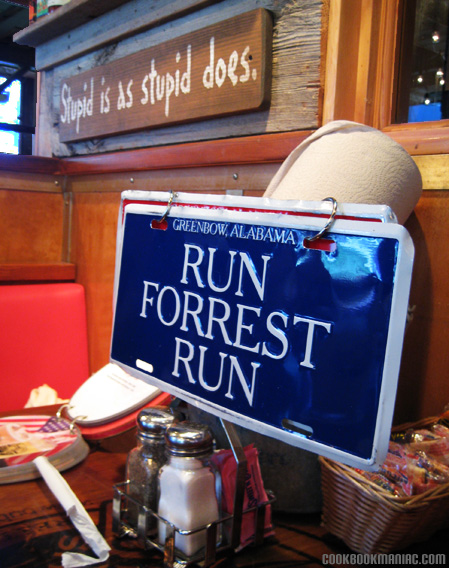 There is a sign on the table with "Run Forrest Run" and "Stop Forrest Stop" when you flip it. It is used to let the waiter know that you need something.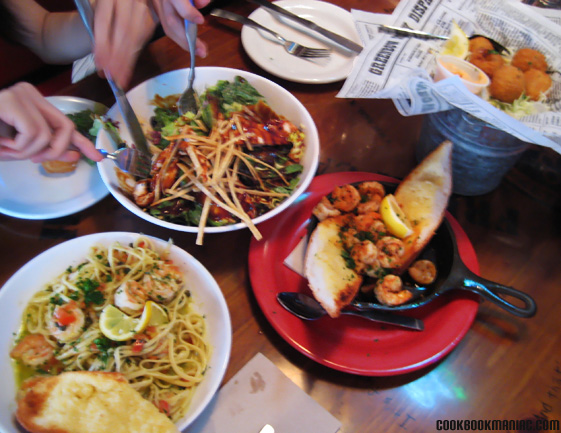 We ate our way through New York City. We gobbled down NY-style pizzas, bought freshly made bagels from food vans, snacked on NY hot dogs, dined at posh restaurants, devoured cupcakes at the Magnolia Bakery and visited touristy restaurants like Bubba Gump Shrimp Co.
The "…Of Course We Have Scampi!" left the biggest impression on me. It obviously didn't have a dusting of scampi, but was instead littered with shrimp/prawns. It was buttery delicious and was filled with garlicky goodness. My sisters and I couldn't get enough of it. We had to order another serving of it.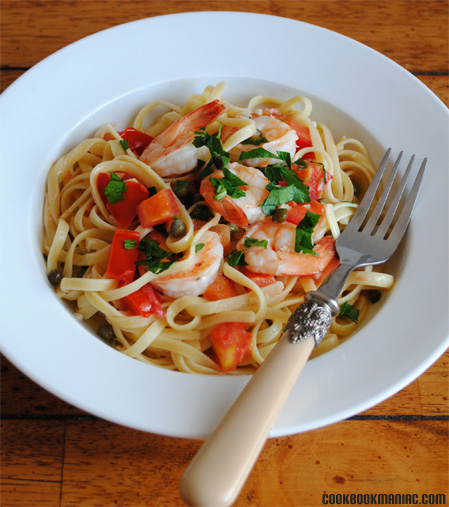 I was experiencing major craving pangs for this when we returned to Sydney. I searched website after website for a recipe remotely similar to this but was not successful. After many weeks of trial and error I have come up with a recipe that is very similar to the real thing. Its not exactly the same… but it is good enough.
Everyone that I have served this to has loved it. I have been asked for the recipe numerous times and this is the first time that I am sharing it.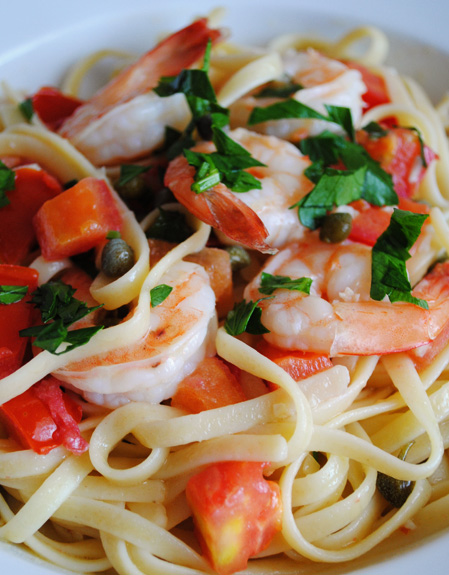 Garlic Prawn Linguine is an original recipe from cookbookmaniac.com
Ingredients
300g peeled raw prawns, tails intact
250g salted butter
1/2 cup dry white wine
2 tablespoons fresh lemon juice
2 tablespoons extra-virgin olive oil
100g pickled capers, drained
4 large garlic cloves, chopped finely (do not use garlic press)
2 ripe plum tomatoes, diced to 1cm cubes
500g dried linguine pasta
2-3 tablespoons of chopped fresh parsley
1/ Cook linguine pasta according to package instructions.
2/ Pour dry white wine in heavy bottomed frying pan over medium heat. Boil the wine until the alcohol has evaporated.
3/ Add butter. When the butter has melted add the garlic, olive oil and lemon juice. Stir the mixture gently until it begins to boil and add prawns. Allow the prawns to cook for approximately 1 minute and turn the prawns over. Let it cook for another minute.
4/ Add the capers and stir the mixture gently. Add the tomatoes and switch the heat off.
5/ Add the parsley and serve.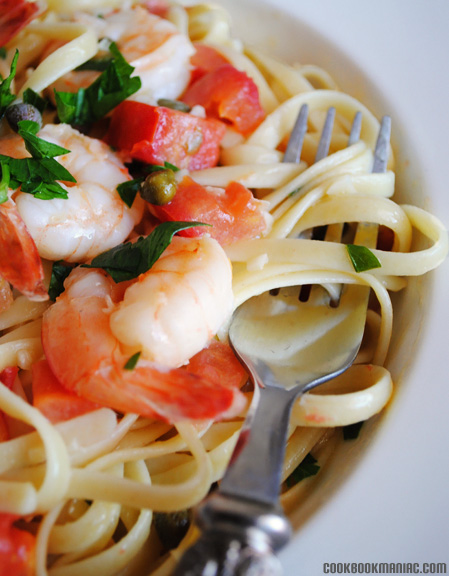 Tips from cookbookmaniac
* Make sure the linguine is perfectly al dente. The pasta will soak up a lot of the sauce!
* The more garlic you add, the merrier the sauce! You can up the garlic factor by including garlic bread. Do you have a good garlic bread recipe?
* This isn't the healthiest of recipes, which is why it's so good!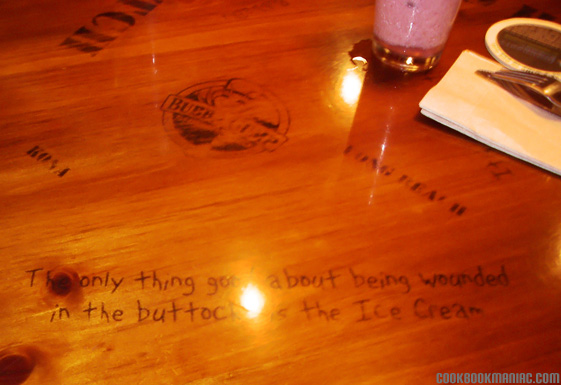 Please excuse the amateurish photos of the restaurant. They were taken pre-blog
Bubba Gump Shrimp Co. Restaurant
1501 Broadway
New York, NY 10036-5505, United States
Please share this: