More from Magnolia by Allysa Torrey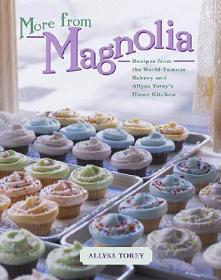 I am a HUGE Sex and the City fan. So naturally, I had to go on the Sex and the City tour when I was in New York. One of the sites we went to was the Magnolia Bakery.
I remembered the scene where Carrie and Miranda eat pink cupcakes on a bench. But did not realise it was this bakery, nor did i realise how iconic the bakery was. The tour guide bought us all a cupcake. They were unlike any cupcake i had ever eaten before. The vanilla bottom was light and the butter cream was pillowy soft and over-the-top. It was very indulgent and (gasp) i couldn't finish it. But that didn't take away from the impression it has forever made in me. I can no longer make a cupcake with just a swipe of runny icing. I must make mountains of icing placed in a icing bag with a star tip and squeeze copious amounts on top of the cake.
Isn't that what amazing experiences do to you? They change the way you think and behave, beyond any kind of control imaginable?
I emailed my partner that evening and told him to go buy the book immediately, ready for me when i get back to Sydney. Upon my return, i made the cupcakes the following weekend. They were exactly the same. Oh joy!
The 'Helpful Hints' section is really… helpful. Technique is the secret ingredient to a successful cake. Everything that i have made from this book came out exactly as i pictured it. Allysa has written this like she is a friend. I am so happy with this book and have bookmarked almost all the recipes.

Please share this: