Lunar New Year – Tet Vietnamese Festival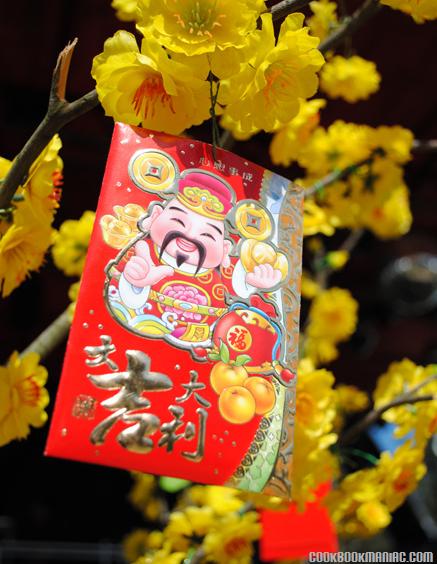 Vietnamese Lunar New Year falls on the same day as Chinese New Year. It was (and still is) my favourite time of the year as a young child. My sisters and I would eagerly wait for the auspicious red packets to be handed to us from our parents and our older relatives. They were considered lucky money and were given to young children and the elderly. We would always compete with each other on who got the most money and red envelopes by the end of the day. It was a lot of fun teasing the least successful recipient.
What were we to do with all this money?
Personally, I couldn't wait to spend it all on food, rides and games at the Tet Festival!
The carnival was once held at a park in Cabramatta, during the suburbs troubled times. It was occasionally overrun by gangsters and I recall on one visit all the rides were shut off because the troublesome teens were dangerously interfering with the rides and swinging off the rafters. The festival eventually outgrew the park and moved to larger grounds at Warwick Farm. Cabramatta has since been ridden of these dirty scoundrels and is now a thriving, family-oriented, Vietnamese metropolis in Australia. Thus, the festival has seen fewer dramatic incidents ever since.
Its been 9 years since my last visit. I have been begging Pizzaboy to come along with me in the last few years, so that I could show him my favourite past time. However, it has either been rained out, or intensely hot.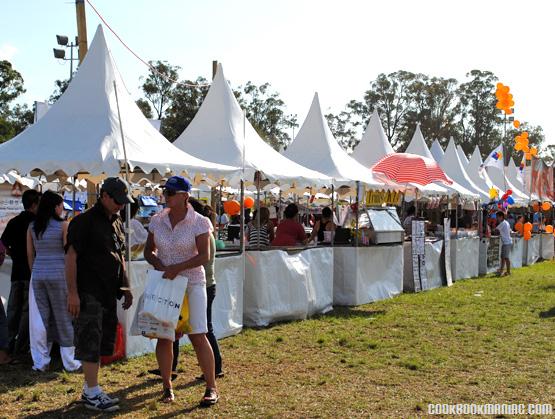 This is year the festival was held at Fairfield Showgrounds and the weather was been delightfully warm.
My niece, Little Miss Chicken Wing, and nephew, Pork Sausage, got whiff that I was heading to the showgrounds and begged me to take them along. I cannot refuse their sweet, little faces.
We decided to go a little earlier so that we could beat the crowds.
We sure beat the crowds… there was barely anyone there! We had arrived too early.
It was 3pm and the shop stalls were beginning to be set up and barely any food was prepared. Grrr. The rides and game stalls were open but there were only a handful of people wondering about. Don't get me wrong, I am not a fan of crowds, but this felt like a deserted carnival.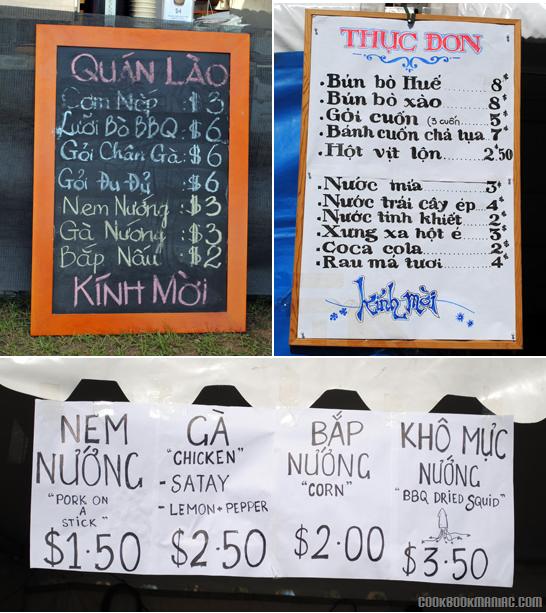 After walking around in circles we get very hot and thirsty. One of the stalls looked like they were grilling something, so we head over and sit in the shelter. We buy cool bottled water for the kids and I decide that I could do with something to eat and order a grilled corn (Bap Nuong) and a stick of grilled pork sausage (Nem Nuong). The corn was bland and under ripe. The pork sausage was tasteless and underseasoned. I leave bitterly dispappointed and frowning. I had built up my excitement, only to have it fall to a boring puddle of mess.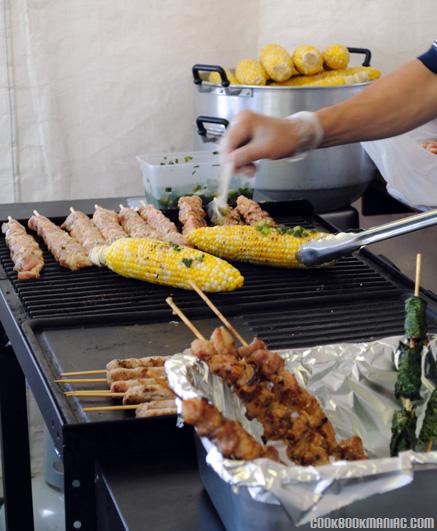 Pizzaboy notices my sullen mood, he gives me a hug and leads me back to carnival area.
Pork Sausage wants to play a shooting game and win a big fat toy. Little Miss Chicken Wing wants to play too. So, we fork out some of our cash and the lady explains the game to the kids. Pork Sausage shoots the dart at random on his first round, and we all laugh and scold him. The lady is kind enough to hand it back to us and walks away.
I show him how to aim, concentrate and shoot. He lets off a dart and it is centimetres away from hitting a ball. Little Miss Chicken Wing gives it a go and doesn't hit anything. She looks at us and has a great big toothy smile. She concentrates on her next shot and just misses. Pork Sausage finds some darts on the floor – perhaps from previous players – he pops them on the table when the lady isn't watching. (How can I be in a bad mood with these cheeky kids around?). Little Miss Chicken Wing shoots off all her rounds unsuccessfully. Pork Sausage is now on his last dart and I remind him to aim, concentrate and shoot. HE HITS A BALL!!
"Look! I hit a ball!"
"You are a lucky winner, baby boy."
"What do I win?"
"Here are some stickers."
"Oh, is that all."
"You gotta hit a ball on every shot to get the big prize, baby boy."
"Oh, ok."
"Hey baby girl, you don't go away empty handed. Here have some stickers too."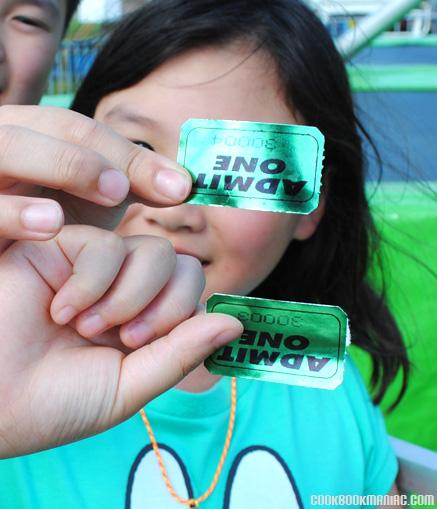 "Aunty Number Five, can I go on that jumping trampoline?" Little Miss Chicken Wing points to a monstrous, spider-like, torture device.
"Its $10 a ride! My goodness that must be the most expensive carnival ride in history!"
"Please Aunty Number Five, we went on it before and it was a lot of fun." Pork Sausage starts getting jumpy and excited.
"Alright, but its coming out of your red packets."
"YAY!!!"
They both run to the ticket booth and buy their shiny green tickets.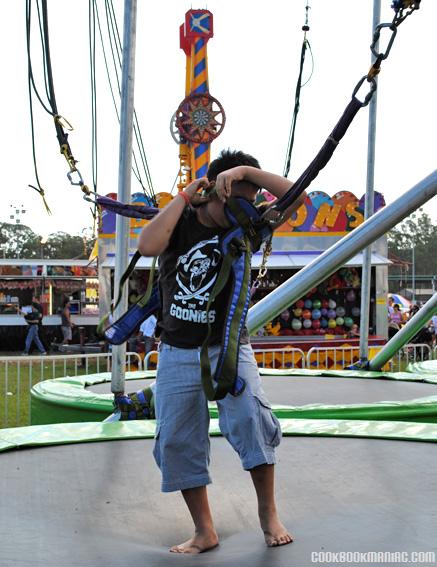 Little Miss Chicken Wing gets fitted into her harness first and starts jumping up and down. She barely makes a dent in the trampoline and only flies up a metre or two.
Whilst waiting for his sister, Pork Sausage decides to put the harness on himself. He is unsuccessful and deliberately puts it on all wrong and calls out our names for us to watch.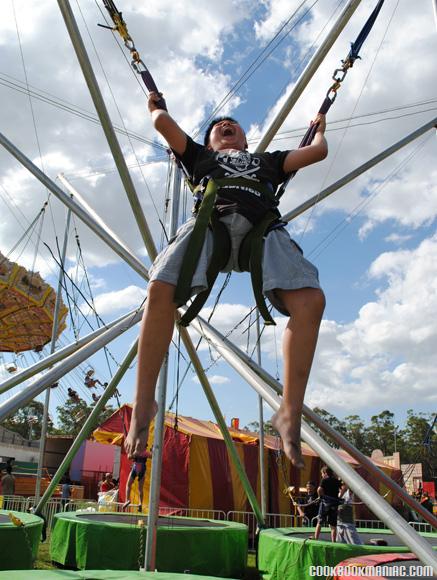 The attendant moves on to Pork Sausage and notices the tangle he has made with the harness. He gets Pork Sausage out of the mess and is giggling throughout the whole process. Once he is secured in the harness, Pork Sausage takes the biggest leap seen this century and springs right up into the air. "ARGH! HAHAHAHA!!!"
"Oh my god, that boy is full of mischief and nothing else." I put my hands on face trying to hide my grin.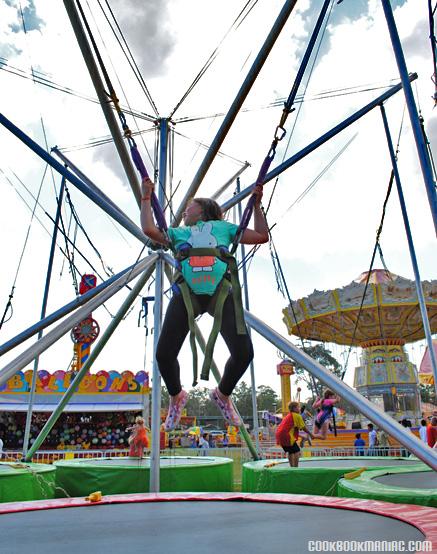 I look over to Little Miss Chicken Wing, she is just dangling in mid-air. It strangely reminds me of the fizzy lifting drink scene in Willy Wonka and the Chocolate Factory.
"Chicken Wing! You are suppose to jump!" Pizzaboy yells at her.
She kicks her legs up and down and it barely registers. A blonde little boy climbs onto the trampoline and holds onto her harness. He takes a deep breath and plunges her down onto the trampoline. Little Miss Chicken Wing, flies up into the air. "Yeeeaaahhhhh!"
"Jump Chicken Wing! You got to jump!" She barely makes a groove on the trampoline and in no time she is dangling in mid-air yet again.
"Oh my god, what is Pork Sausage doing?"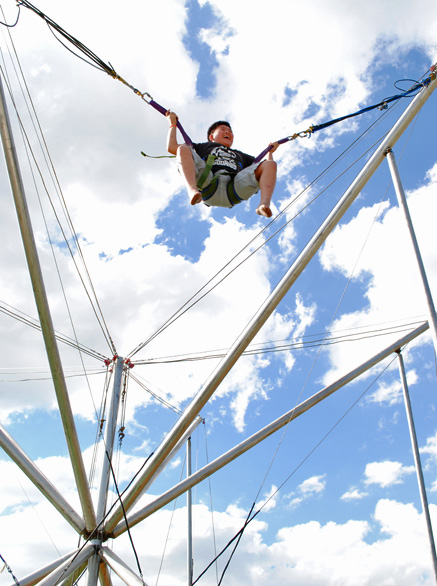 Much to my horror, instead of jumping up and down. Pork Sausage is leaping back and forth. He stamps down on the back part of the trampoline and it flings him into the air and propels him to miss the front part as he is coming down.
"Are you crazy! You're suppose to jump up and down! Not back and forth" Pizzaboy screams at him.
Pork Sausage appears not to hear us and continues with his death defying act.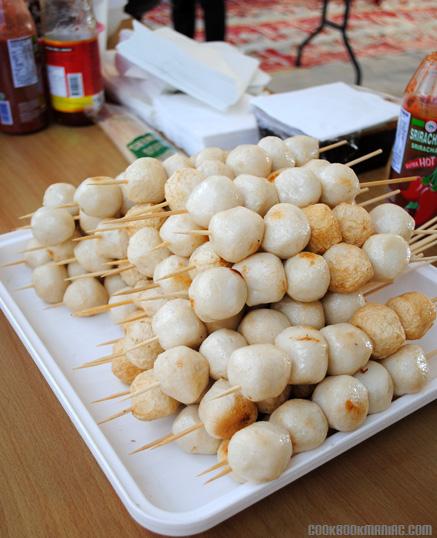 My tummy rumbles after all the yelling and laughter. We head back to the food stalls hoping that at least one tent is set up for business.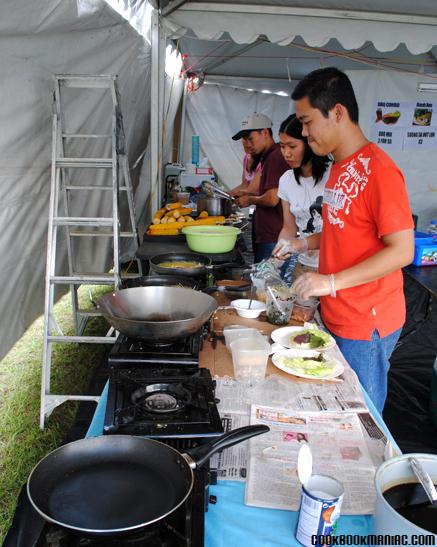 Yes! We come across a tent that I don't recall ever walking past. We flop down on the seats sighing from exhaustion, heat and hunger. They only have 5 items on their menu list. Pizzaboy orders Nem Nuong, having only recently discovered the many virtues of this salty, barbecued, pork stick. I notice that they are in the middle of preparing Banh Xeo for some other customers and I order one of those.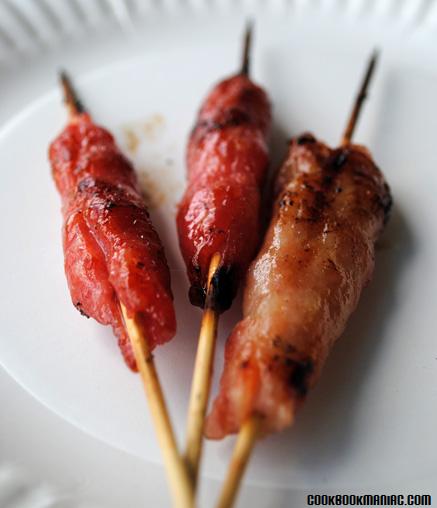 The nem nuong arrives at our table in seconds. There is more stick than meat.
"Is that all? How much were these?" Pizzaboy stares with disgust.
"3 for $5"
"They know how to make their money."
"They had better be good." I growl.
I take the first bite and the moment that my tongue touches the flesh, I instantly know that these are good enough to fight for.
"AAAAMMMMMYYYYYY!!!!!!!" Pizzaboy is wild-looking and waves his hands in the air.
"What!?"
"Photos!?"
"Holy moly! I forgot! Don't give me a heart attack like that."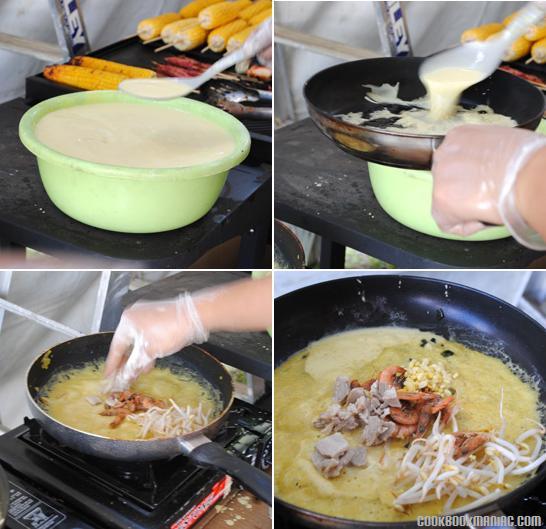 They are taking a while to make my meal. I walk up to them and I ask if I could take photos of the process. The young gentleman charmingly obliges and starts asking me questions.
"Where are you from?"
"Vietnam."
"Born in Australia?"
"No. In Vietnam."
"What else are you?"
"Sorry?"
"You are not just Vietnamese. You are something else. What are you?"
"Chinese born in Vietnam."
"Ahh, I can tell."
The Vietnamese always guess that I am Chinese and vice versa. It is a funny and cute aspect of my ethnicity.
I begin photographing the process of making Banh Xeo. He pours the mixture (that is made up of rice flour, coconut milk and turmeric) into the hot pan to begin the crepe. He then places fresh bean sprouts, slivers of fatty pork, fresh poached prawns and yellow lentils on to the crepe. It is then folded in half when the stuffing is heated through and the crepe is crunchy.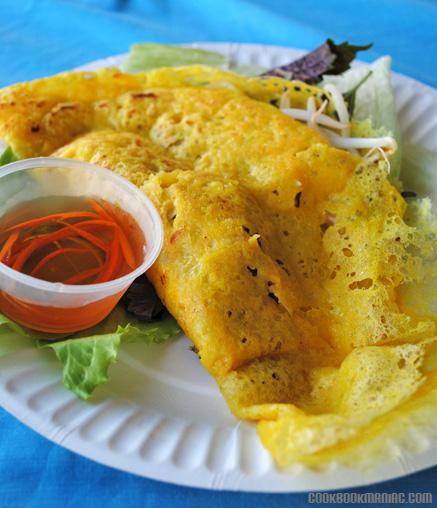 My mother makes a mean version of this dish. She stuffs it like we are anorexic and need to be fattened up. This Banh Xeo looks like the anorexic version of my mothers. It only has a few slices of meat, some small prawns, a pinch of bean sprouts and a teaspoon of peas.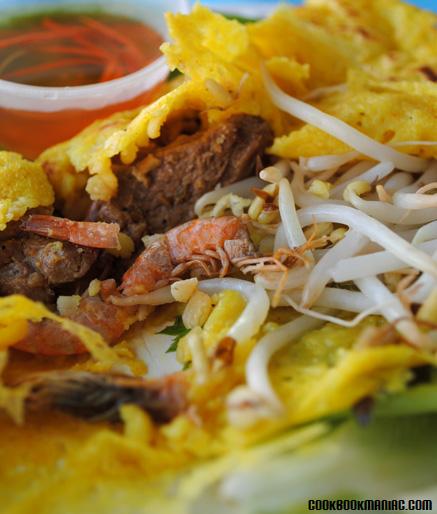 "Aunty Number Five, that doesn't look like much."
"It doesn't taste like much."
"Grandma makes a better one."
"Grandma makes a fatter one."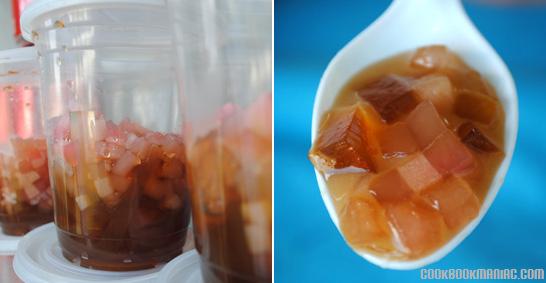 The charming gentleman comes over and offers me dessert. It is a cherry jelly, topped with coconut milk and a sugar syrup. I cannot say no. This free dessert was a refreshing treat on what has become a hot and tiresome day. It was sweet and cool. Pizzaboy, who is not a fan of asian desserts, enjoys this cup of jelly and I have to nudge it out of his grasp to share with Little Miss Chicken Wing and Pork Sausage.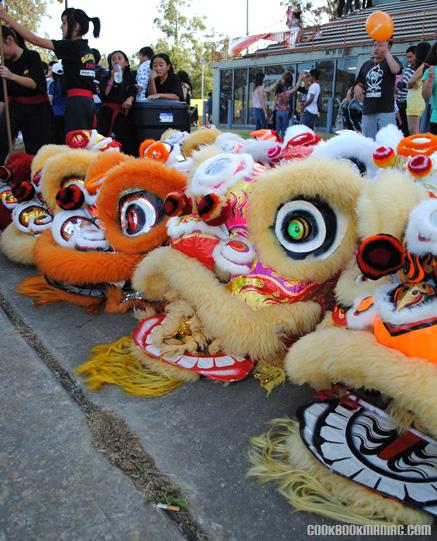 After the meal we decide to leave. We make our way back to the entrance as a flow of people make there way into the grounds. It is 5pm… this should've been the time to come! Oh well, we know for next year. As we make our way back to the car, Pork Sausage lets out a sigh that sounds like a yelp.
"What's wrong?"
"My nose is bleeding."
"Great."
Please share this: