Ju-Rin – Someone give them a trophy!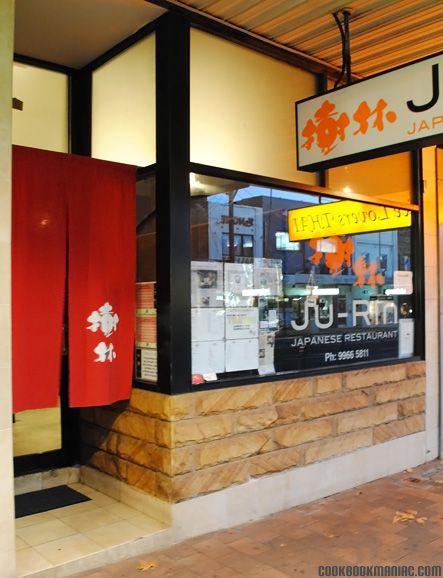 Plan B. This is what Ju-Rin ended up being for me this evening. I woke up in the morning and said to myself, "Today is the day that I will dine at Waqu." I called them at 2pm to leave a reservation on their answering machine only to receive an SMS at the last moment that they are fully booked. Damn! I should've known I was pushing my luck.
Pizzaboy and I were left wondering around Crows Nest without any plans. We almost sat down at MuMu Grill when I confessed to him that I am now desperate to eat something Japanese. I suggest heading to Ju-Rin and trying our luck there. Pizzaboy is already upset by the Waqu situation and warns me about it happening again.
"If we also get turned down by Ju-Rin we're going to McDonalds!"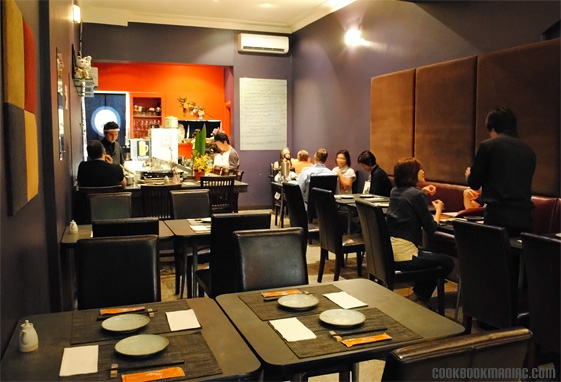 We walk into Ju-Rin without any reservations and the staff welcome us and explain that we must finish by 8pm. That's fine with me!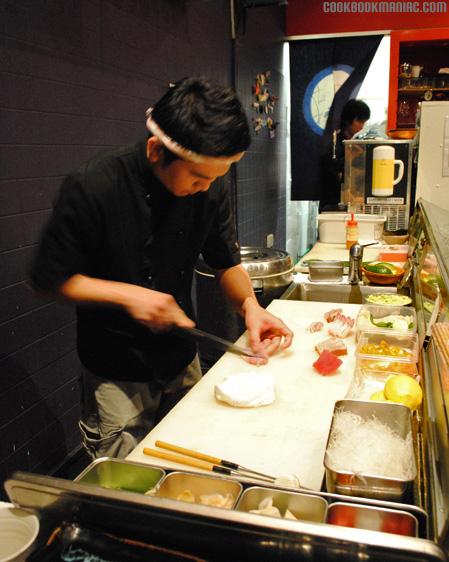 We are shown to the sushi bar and get to choose where we sit. Pizzaboy plonks himself down in front of the Sushi Chef and I gladly follow.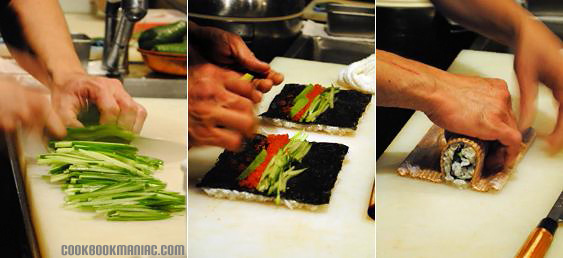 We are handed the menu and I'm completely distracted by the intricate knife skills of the chef. Pizzaboy constantly reminds me to pay attention to the menu, order and then stare at the sushi chef afterwards… I failed.
Throughout the evening the sushi chef also nudges me to take photos of dishes that he makes for other patrons.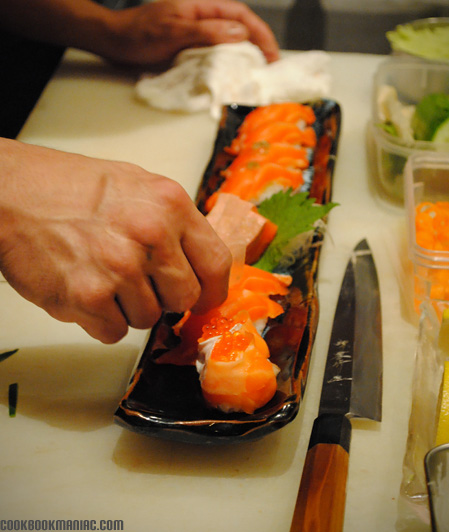 The menu is full of typical items found at a sushi restaurant. I'm more interested in the items listed on the specials board. There are almost 15 items on the blackboard and are most probably full of ingredients that are fresh from the farmers market.
We finally decide on our order, settle down and enjoy the show.
I watch the chef put together a salad and blow-torch some slices of salmon. I secretly hope that the salad belongs to us. It looks so delicious and beautifully plated. Our eyes are secured on the dish as it moves around from the sushi bar and towards us. We both slap each other when it lands in front of us.
It was delish!!
The salmon was melt-in-your-mouth. The salad leaves were crispy fresh and the avocados are creamy. The dressing is tangy and carries the entire dish perfectly.
The Organic Corn Soup arrives at our table in a wine glass rimmed with salt. It is served chilled and is achingly good. The soup is creamy and has a flecks of corn strewn throughout. This was too good to share, so we order another.
I ask the owner (who is also part of the wait staff) what is in the soup. He has a perplexed expression on his face and disappears into the kitchen. He then reappears and quite proudly tells me (in a very strong japanese accent – which I love very much),
"Corn, cream, egg white, potato, salt and a little bit of white pepper."
The deep fried soft shell crab had the most hypnotic fragrance when the waiter places the dish in front of us. We both ignore every other dish and dive into it. It is wonderfully crunchy and the crab is little more fleshier than other soft shell crab's that we have eaten in the past. The batter is light and serving is more than what we expected.
The gyoza dumplings were fantastic. I am going to make a very bold statement and say that it is the best gyoza dumplings in Sydney. The pastry appears to be handmade and are delicate. The dumplings are fried to golden perfection and the filling is moist and tantalisingly good.
The sake marinated black cod is unassuming in its size and presentation. The black cod is incredibly tender and when I bite into it there is a strong aroma of the sake and a sweetness that emanates from it. Pizzaboy and I are completely enamoured by this dish and think it is a shame that it was only on the specials menu.
The wagyu steak comes out on a sizzling plate and we are wet at the mouth for it. We thought that it would be the pièce de résistance but it ended up being a disappointment. The steak was tough and chewy. It does not compare to other wagyu steaks we have had in the past.
Pizzaboy is content and does not want dessert. I decide to order a little something even though I am full. We are given the dessert menu and our appetite for something sweet is suddenly whipped into a frenzy. We get the dessert platter to share.
It takes a while for the dessert to appear from the kitchen. However we are entertained by the sushi chef who puts on a little show for my camera.
The dessert finally arrives and it is romantically decorated the way only the japanese know how to do. The green tea ice cream is ethereal in texture and pairs flawlessly with the azuki bean paste. The fresh fruits are delightfully arranged. Pizzaboy isn't a big fan of fruit so he leaves them to me. The cherry blossom pudding is a strange wet mixture of azuki beans and rice. It was quite claggy in texture and stuck to the roof of my mouth.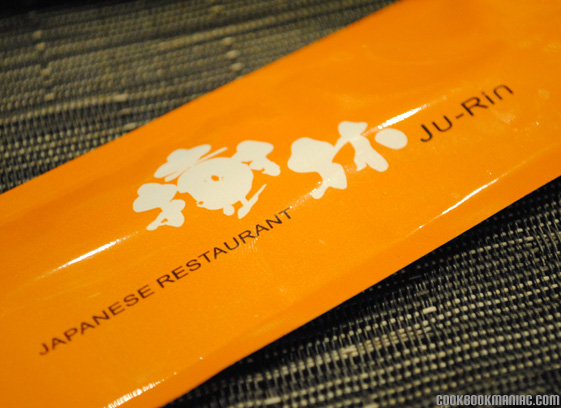 The verdict
This is a lovely little japanese eatery in Crows Nest. Although there was one disappointing dish it did not dampen my exuberant feelings for the restaurant. It is named Best Asian Restaurant by the Sydney Morning herald Good Food Guide 2010 for a good reason!
Ju-Rin Japanese Restaurant
316 Pacific Hwy
Crows Nest NSW 2065
Phone (02) 9966 5811
www.jurin.com.au
Please share this: