Java Indonesian Restaurant in Randwick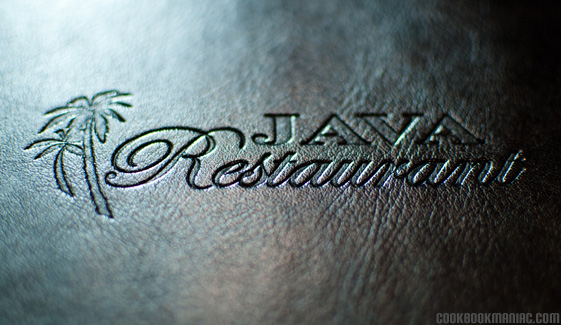 I was introduced to the many wonders of the Indonesian cuisine by a workmate from many years ago. Someone whom I affectionately call WuWu. She is the sweetest and most delightful person. I have to admit that I have not visited an Indonesian restaurant since her return to her motherland. Indonesian food just isn't the same without her.
One day, my sisters unexpectedly asked if I wanted to go along with them to Java. Apparently it is one of the better Indonesian restaurants that is scattered around Kensington, Kingswood and Randwick. I immediately wanted to pick up the phone and call WuWu and ask for her help as to what to order, but she was too far away and an email just won't cut it. So I went along without any idea what to expect and had a wonderful time.
This one's for you Wuwu. I miss you little lady.
We started off with Otak Otak, a grilled fish cake wrapped in banana leaves. The fish flavour is very subtle, in fact, almost non-existant.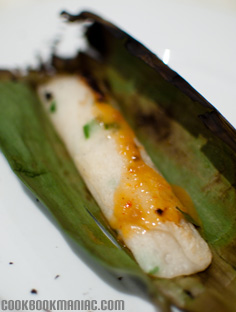 The texture is quite soft, sticky and spongey. The coconut, chili, peanut sauce poured over it gives the fish cakes a necessary punch of flavour.
The Martabak is a crispy fried pastry stuffed with beef mince, egg and shallots. We weren't sure what to expect when we ordered this surprisingly delicious dish. The pastry was thin and crunchy. The stuffing consisted mostly of a fluffy egg mixture and wonderfully crispy shallots.
The Ayam Betutu is a Balinese-style grilled chicken with a spicy coconut sauce. This fragrant dish is cooked in a similar style to the Bali's famous Bebek Betutu where the duck is stuffed with cinnamon and spinach and then rubbed with a refreshing mixture of galangal, lemongrass, garlic and kaffir lime leaf. It is then wrapped in banana leaf and slowly roasted in charcoal for hours.
This particular version was fall-off-the-bone succulent, however the Opar Sauce was far too salty.
Sop Buntut is Indonesia's version of an oxtail soup. I found this dish incredibly nurturing and delicious. It may be because it tasted very similar to the broth for Vietnamese Pho.
I rarely pass up the opportunity for Beef Rendang. It is one of my favourite curries and this one did not dissappoint. It's heady mix of spices and the oh-so-soft beef cubes were pure poetry.
Ok. I'll admit it. I judge an Asian eatery by their fried rice. If they are incapable of throwing together a decent fried rice then it is not worth a grain of salt. Served with a giant prawn cracker and a perfectly fried egg, I think it is safe to say that Java's version is fabulous. It is tossed in a well seasoned wok and the smokiness is perfectly woven through every grain of rice.
My favourite dish of the evening is the Terong Belado, a fried eggplant with chili sauce. The eggplant was buttery soft and is the perfect base for the especially spicy sambal sauce. It was so spicy it could've blown off the head of a non-chili munching human… but I like it!
Whilst waxing lyrical about the eggplant to the waiter, he recommended that I should try Semur Terong next time. It is a fried battered eggplant with butter and and sweet soya sauce. It's his favourite dish.
Our other vegetable dish of the evening was unexpectedly served in a table wok along with a spatula. The vegtables of ong choy (water spinach), onions and giant chilis are quickly wok-fried in garlic and oil. There is also a gentle hum of belacan, an indonesian shrimp paste. This dish was vibrant, brimming with flavour and I think I ate almost all of it without sharing. oops!
We were all ready to waddle out of the restaurant until one of my sisters remarked that we couldn't leave without trying at least one dessert. It didn't take much convincing for the rest of us to agree. We order the Bubur Ketan Hitam, black sticky rice with coconut milk. In true Asian fashion we split one tiny dessert between the four of us and we were happy little vegemites.
The verdict
We started off with some ordinary appetizers but the dishes that followed were incredibly aromatic, tasty and one of the better indonesian eats I've had. The fried eggplant with chili sauce is a must try!
Java Restaurant
151 Avoca St
Randwick NSW 2031
Phone: (02) 9398 6990
Please share this: