Japanese-style Potato Salad – a bit like mash potato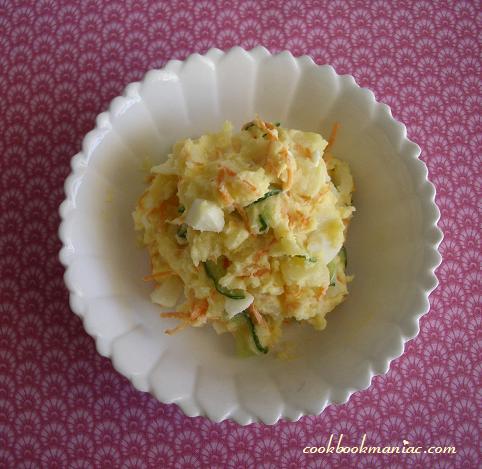 Recipe adapted from Harumi's Japanese Home Cooking by Harumi Kurihara
Potato Salad is one of those great salads that appear across many cultures. Its seems to be one of those dishes where everybody has their own favourite way of making it and always claims to be the best.

Potatoes are not a part of traditional japanese cuisine, however it is now very popular in modern day Japan. They often appear in bento boxes, or sandwiched between two slices of bread.

Japanese potato salad has a mild, creamy flavor, with no acidic undertone; unlike American or German style potato salads, no vinegar is used. It's seasoned only with salt and a little pepper, and lots and lots of mayonnaise. Chopped boiled egg adds to the richness.
1kg desiree potatoes, peeled
3 large hard boiled eggs, roughly diced
1 medium carrot, finely shredded
1 teaspoon granulated chicken stock powder
1 medium lebanese cucumber
1/2 teaspoon salt
1/4 cup of brown onion, finely diced
1 cup kewpie japanese mayonnaise
1/ Wash the potatoes, carrots and cucumber
2/ Bring a pot of water to boil. Place the potatoes in the pot (leave them whole). Turn the heat down to medium-high. Potatoes are done when you can slide a chopstick through the thickest part without too much resistance or cook for approx 20 minutes.
3/ Transfer the potatoes to a bowl and roughly break them up. Mix in the chicken stock powder and leave to cool.
4/ Cut the cucumber in half length-ways and then slice it thinly to make shapes similar to half-moons. In a separate bowl, sprinkle one teaspoon of salt over the cucumbers and leave for 10 minutes to soften, then squeeze to remove excess liquid.
5/ Soak the onion in salted water to remove any bitterness, then drain and pat dry.
6/ When the potato is cool, add the carrots, eggs, cucumber and onions and lightly mix. Stir in the mayonnaise, salt and pepper, and serve.
Tips from the cookbookmaniac:
* Japanese Mayonnaise is less tangy, more creamy and a little sweeter in comparison to western-style mayonnaise. The Kewpie brand is most popular.
* The original recipe from Harumi says to steam the potato and carrot. Firstly, I am too impatient. It takes longer for the potato to cook through the steaming method than simply boiling it. Secondly, I like the added texture of the raw, shredded carrots, although cooking the carrot will make the salad a little more sweeter.
* Do not over cook the potatoes or they will become too soggy and will taste muddy
* I used the Burton Egg-Perfect Egg Timer to cook the eggs to perfection.
* This is great to bring to barbecues and picnics.
* This salad can be made one day ahead.
Recipe Rating
Prep Time: 20 minutes
Cooking Time: 20 minutes
Difficulty: 1/5
Deliciousness: 5/5
Please share this: