Ichi Ban Boshi – Return of the old favourite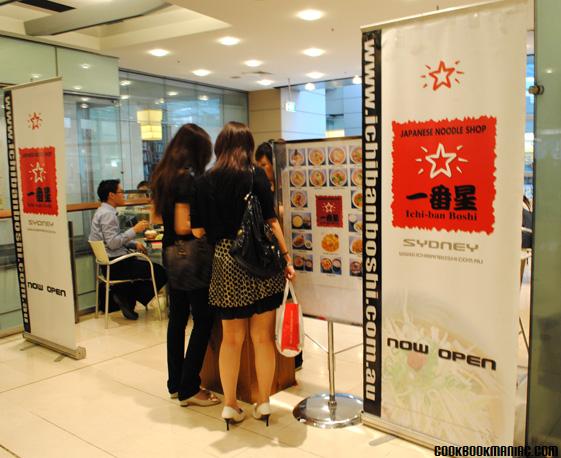 It's a Friday night and two days before Pizzaboy's birthday. We always eat out on Friday evenings, it's our favourite method of winding down from our mundane 9to5 jobs.
"It's my birthday weekend, does that mean I can choose where we eat tonight?"
"Ok, but it has to be somewhere I haven't blogged."
"That's not fair. I guess Menya is out of the question?"
"We've been to Menya 5 times since I blogged about it, choose somewhere different."
"Ichi Ban Boshi?"
"Ok!" Two thumbs up.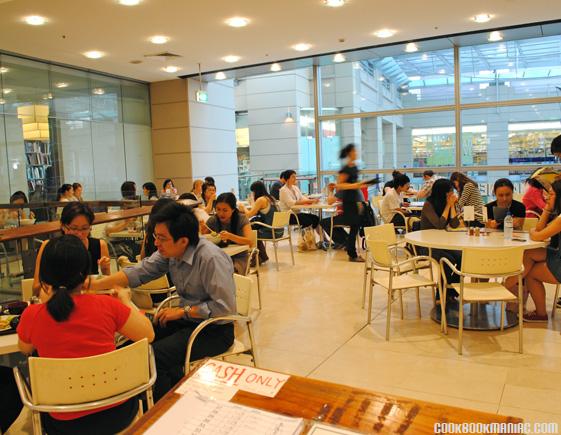 Ichi Ban Boshi was our favourite Friday night haunt before we discovered Menya. It's located next to our favourite book shop, Kinokuniya. Pizzaboy is a comic book geek. I'm a cookbook nerd. Kinokuniya is our home away from home. It's very easy for us to shop for our books and then cross the hall to have our much loved end-of-the-week meal.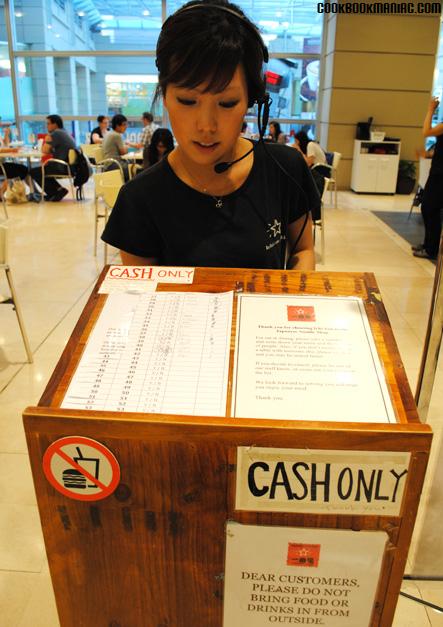 Ichi Ban Boshi has a no reservation policy. You simply turn up and take a number. Thankfully this wait was only 10 minutes.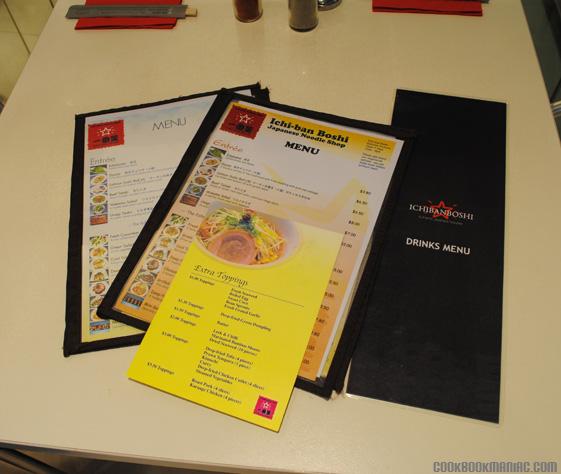 We were seated and handed our menus immediately. There are many items on the menu ranging from the ever popular Tokyo Ramen to the most sort after Tonkotsu Ramen (only 15 bowls are available per day). There is also a selection of curry dishes, salads and various rice combo's.
I don't bother looking at the menu. We flag down a waitress and order. Pizzaboy and I decide to stick to our old faithfuls: Tsukemen, Karaage-don, Gyoza and Grilled Ox Tongue.
They make the best gyoza that I have come across. It is not laden with ginger. The skin is thin and crispy. The pork filling is generous and the dipping sauce is the perfect marriage of soy sauce and rice vinegar. The leek and chilli sauce was a little scant on this visit.
A lot of people may stand back in disgust when faced with a plate of ox tongue. Pizzaboy and I will vouch for its culinary wonders. When grilled correctly and with a sprinkling of sea salt it can become the best cut of the cow.
The moment the plate is placed at our table we are measuring the size of each slice, making sure that neither of us is cheated of our fair share.
We don't bother with the salt and lemon, but we munch at the cucumber. It somehow compliments the charcoal meatiness of the ox tongue.
I glance at my last piece and look up at the soon-to-be birthday boy.
"Pizza? You can have my last one."
"Heh? are you sure?"
"Yeah, your lucky its your birthday."
"Mmmmkay." The ox tongue disappears from the plate before I can blink.
The entire top floor of the building smells of Tsukemen. It is a boiled ramen that is cooled and served with a potent soy-based broth. Its topped with super soft slow-cooked pork slices, corn, leek, pickled bamboo and spring onions. The noodles are dipped into the broth before slurpy consumption.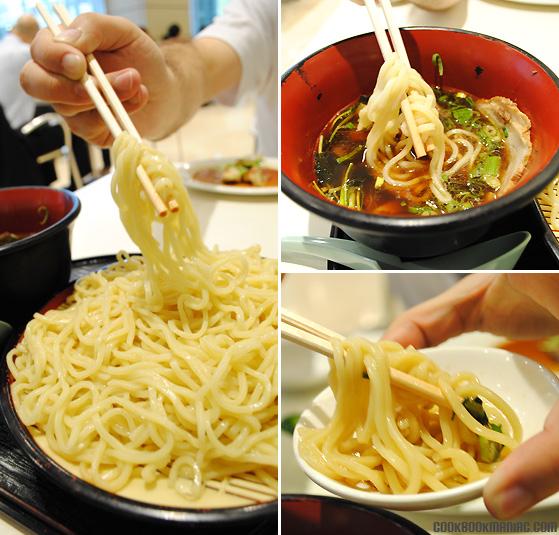 There are only three places that I have eaten this. In Shibuya, Japan, I pulled out my bottomless stomach and whole heartedly swallowed a giant dish of this at a very sterile ramen shop. I also had mixed experiences with Menya's version. However, I have found that I am always enjoying these salty, tangy threads of gold from Ichi Ban Boshi.
Ichi Ban Boshi has been around for a long time – perhaps more than 12 years. It's original shop was housed at The Strand Arcade on Pitt St. It was one of the first places that got Pizzaboy and I hooked onto Japanese food. However, it did not have the typical menu items that the cuisine is notorious for, one word… sushi.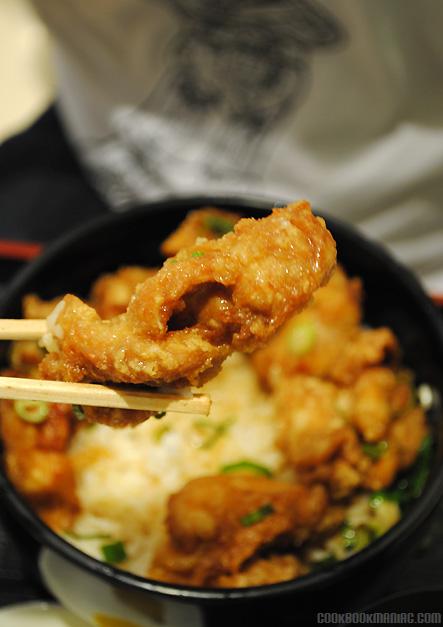 It opened up a whole new world to us. It's solely responsible for our obsession with karaage chicken. Karaage is a deep fried battered chicken. At some places it is sometimes its too dry, sometimes its too oily, here at Ichi Ban Boshi it is tender and doused in rice vinegar. Yeah baby!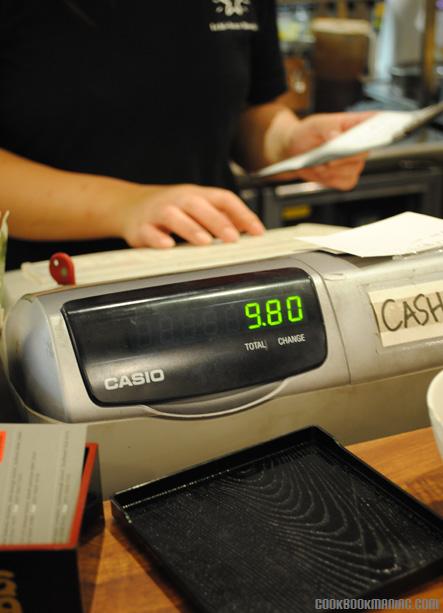 It was lovely to visit our old haunt once again. Its been more than 6 months since our last feast. I promise we won't be apart for so long again.
Ichi-ban Boshi Town Hall
Level 2, The Galeries Victoria Building
500 George Street
Sydney NSW
(02) 9262 7677
Ichi-ban Boshi Bondi Junction
Shop 1, 171-173 Oxford St,
Bondi Junction NSW
(02) 9369 3980
Ichi-ban Boshi Gold Coast
Shop1, Cecil Hotel Complex,
Scarborough St,
Southport QLD
(07) 5528 2112
Opening Hours
Monday to Sunday 11:00 – 21:00
ichibanboshi.com.au
Please share this: