Hot Cross Buns by Nigella Lawson – Happy Easter!
House hunting.
Patience is not a virtue of mine. If things aren't happening fast enough, a little voice inside my head starts panicking. I go into anxiety mode and either drop the whole thing altogether or scramble to try harder to get what I want. Looking for a house to buy has taught me a lot about patience.
Pizzaboy and I have been house hunting for over a year now and it has tested me so me many times. Real estate agents, property prices and home loans have cluttered much of our conversations with friends and family since our venture into lifetime debt.
I knew from the beginning it wouldn't be easy. We don't have all the money in the world to get what we want, and beggars can't be choosers… but we want a beautiful home, a gorgeous kitchen, a cool bathroom, a relaxing lounge room. So many things to compromise and too few places to choose from.
It will happen soon… I have to be hopeful, otherwise I'll just burst into tears. Living apart becomes more and more difficult as everyday passes.
The smell of bread baking in the oven often evokes home for many people. I wished I made these beautiful Hot Cross buns in my own house. Then I could have invited my niece and nephews over for an Easter Egg Hunt and a picnic of Hot Cross Buns and chocolate.
I shouldn't participate in self-pity, it isn't healthy for me.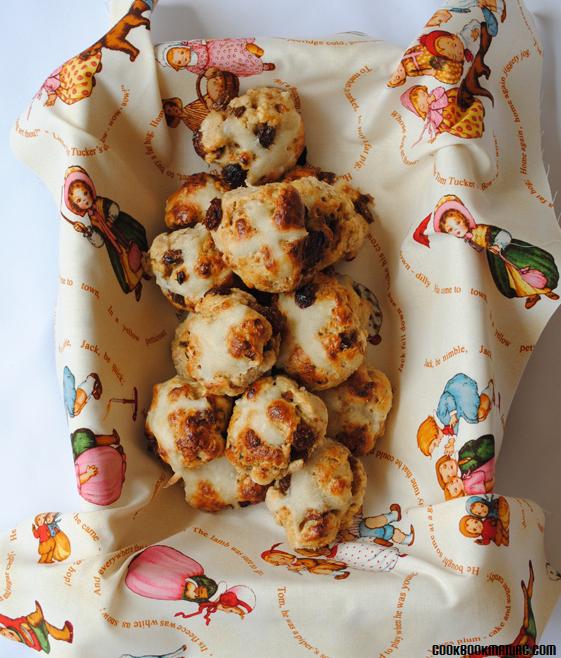 Recipe adapted from Feast by Nigella Lawson
Dough
150ml milk
50g unsalted butter
zest of 1 orange
1 clove
2 cardamom pods
400g bread flour
7g instant dried yeast
125g mixed dried fruit
1 teaspoon ground cinnamon
1/2 teaspoon ground nutmeg
1/4 teaspoon ground ginger
1 egg
For the crosses on the buns
3 tablespoons plain flour
2 tablespoons water
1/2 tablespoons caster sugar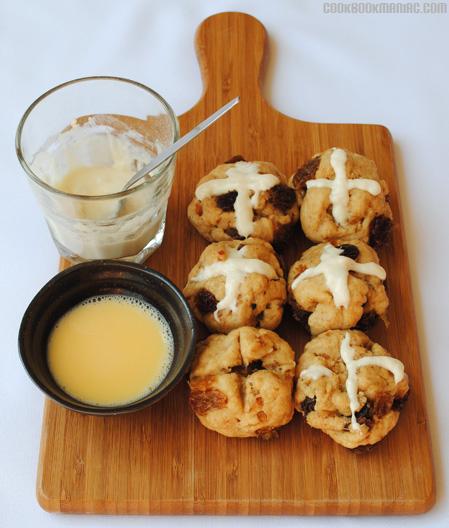 1/ Heat the milk, butter, orange zest, clove and cardamom pods in a saucepan until the butter melts, then leave to infuse. When the milk has come to room temperature remove the clove and cardamom pods, and beat in egg.
2/ Measure the flour, yeast and dried fruit into a bowl and add spices. Pour the milk mixture into the bowl of dry ingredients.
3/ Knead the dough either by hand or with a machine with a dough hook; if it is too dry add a little more warm milk or water. Keep kneading until the dough is silky and elastic, but bear in mind that the dried fruit will stop this from being exactly satin-smooth.
4/ Form into a ball and place in a buttered bowl covered with clingfilm, and leave to prove overnight in the fridge.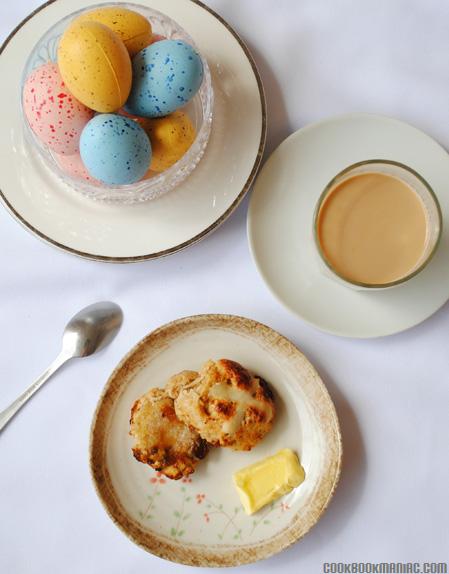 5/ Take the dough out of the fridge and let it come to room temperaturem about 30 minutes. Punch the dough down, and knead it again until it is smooth and elastic. Divide into 16 balls and shape into smooth round buns.
6/ Sit the buns on a baking parchment or silicone mat lined baking sheet. Make sure that they are quite snug together but not touching. Using the back of an ordinary eating knife, score the tops with a cross. Cover with a tea towel, and leave to prove again for about 45 minutes – they should have risen and almost joined up.
7/ Preheat the oven to 220degrees. In a small bowl, beat 1 egg with a little milk. Brush the buns with the egg wash, and then mix the ingredients for the crosses. Using a teaspoon, dribble two lines over the buns in the indent of the cross, and then bake in the oven for 15-20 minutes.
8/ In a small bowl mix 1 tablespoon of caster sugar with 1 tablespoon of boiling water. When the hot cross buns come out of the oven brush each hot bun to make them sweet and shiny.
Tips from the cookbookmaniac
* I didn't like the idea of mixed peel. So I substituted with 125g raisins. It worked out fine.
* Cutting the crosses with an eating knife was quite a task. Mid-way through I changed the knife to a meat cleaver and it worked a dream.
* I forgot to glaze the buns with the sugar mixture. I always forget something!
* The buns were yummy, however, the next time I make these I think I might add half a cup of caster sugar to the dough mixture.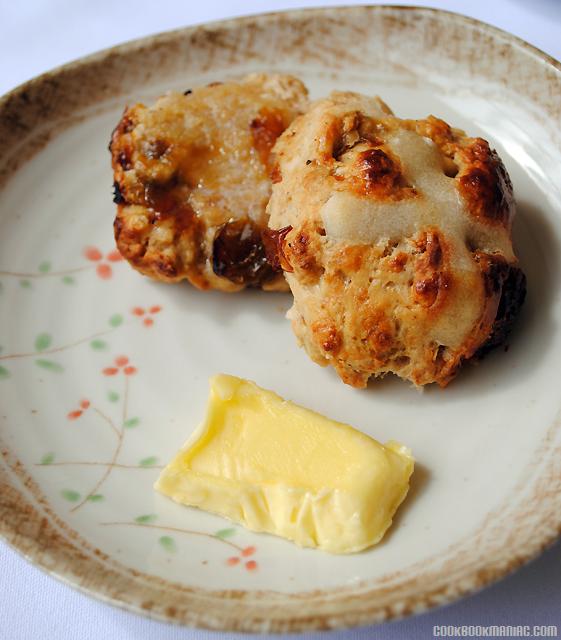 Please share this: