Ham in Coca Cola by Nigella Lawson
I have a quiet obsession with all things retro-kitsch-trashy. You wouldn't know it if you saw me. I mostly keep it to myself as I fear the sideways glance when people realise that I collect some of the stuff they tried to get rid of in their garage sale. I am not hardcore when it comes to going through vintage markets, I simply pick up items whenever I spot them. My obsession with cookbooks takes precedence.
Here are some retro-kitsch-trashy things in my kitchen or on my mind
* I have a timer in the shape of a hen with little chicks as the time guide
* Two chicken-shaped egg holders live next to two owl salt'n'pepper shakers that sit on a celery green soap dish.
* I have an ice cream scoop in the shape of an ice cream
* Most of the items in my kitchen do not match… and that's deliberate.
* I like to make faces out of stuffed olives on hamburgers
* I dream of throwing a dinner party and presenting a 4-tier cold meat fake-cake decorated with proscuitto flowers
* Dial phones are still the fashion in my eyes
* I own and love kitsch cookbooks like Joy of Liberace, Elvis Presleys "Fit for a King" and Amy Sedaris's I Like You.
* Any sort of pie baked in a fancy pie dish sounds marvellous to me
* Pineapple upside down cake appeals to me more than a cupcake *gasp*
* I hate dolls… except if they are missing a body part… or if they are obviously dead. (This is not a food related item but they happily sit by me whilst I enjoy my meals. I occasionally stroke their hair and tell them that they are pretty).
When I watched Nigella making this recipe on her TV Show I knew that I had to give it a go. I am happy to say that it lived up to all its retro-kitsch-trashy expectations and it also made a wonderful leftover ham star-shaped sandwiches and unmeatball spaghetti bolognese. Nice one Ms Lawson!
So tell me what trashy recipes or food items take your fancy?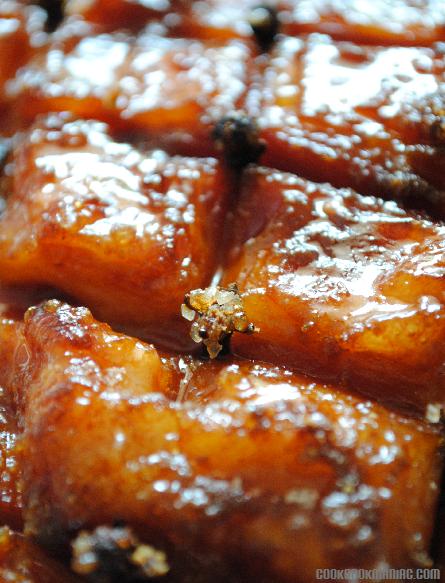 Recipe adapted from Nigella Bites by Nigella Lawson
Ingredients for the Ham
2kg mild-cured gammon or ham
1 onion, peeled and cut in half
1 carrot, chopped into large chunks
2 garlic cloves, skinned but left whole
2 Litre bottle of Coca-Cola
Ingredients for the Glaze
Handful of cloves
1 heaped tablespoon of black treacle
2 teaspoons English mustard powder
2 tablespoons demerara sugar
1/ Mild cured ham usually doesn't need soaking, but if you know that you are dealing with a salty piece, then put it in a pan covered with cold water, bring to boil, then tip into a colander in the sink and start from here.
2/ Put the gammon in the pan skin side down if it fits like that, add the onion, carrots and garlic. Then pour in the coke. Bring to the boil, reduce to a good simmer, put the lid on, though not tightly, and cook for just under 2 1/2 hours.
3/ When the ham is cooked preheat the oven to 240 degrees (450 F). Take the ham out of the pot and allow to cool a little for ease of handling.
4/ Remove the skin, leaving a thin layer of fat. Score the fat with a sharp knife to make fairly large diamond shapes, and stud each diamond with a clove. Then carefully spread the treacle over the bark-budded skin, taking care not to dislodge the cloves. Gently pat the mustard and sugar onto the sticky fat.
5/ Cook in foiled-lined roasting tin for approximately 10 minutes or until the glaze is burnished and bubbly.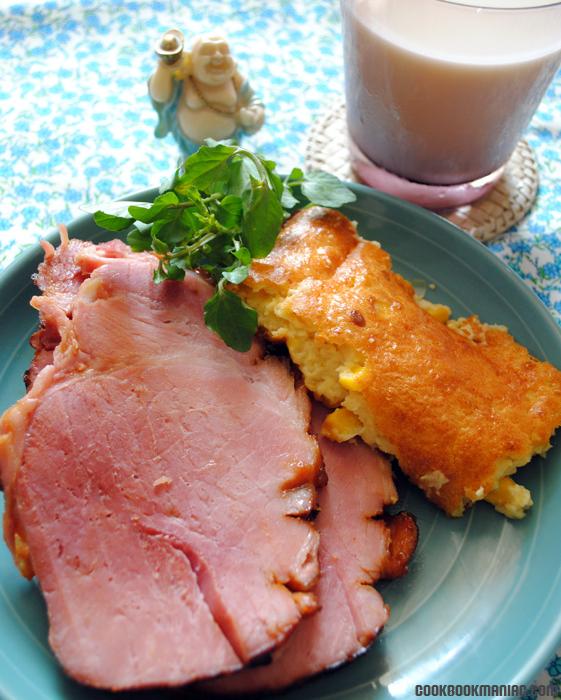 Tips from the cookbookmaniac
* Make sure you line the roasting tin properly with the aluminium foil. If any of the treacle touches the pan whilst in the oven, it'll be a son-of-a-bitch to wash off.
* smaller ham = smaller pot = less coke. I ended up using 4 litres of coke and 1 litre of water because my ham was long-shaped and therefore I had to use one of my mothers jail pots.
* We didn't take particular liking towards the all the cloves. It lent a licorice taste to the ham that wasn't very pleasant. The next time I make this I'm excluding them.
* I made the cornbread pudding as the side dish. It was very filling and delicious. It also upped the retro factor.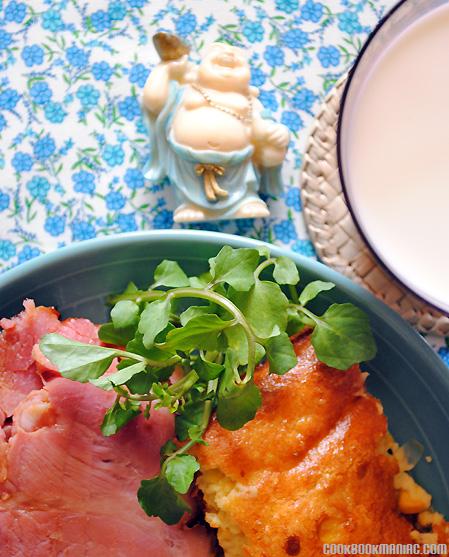 Please share this: