Gumshara – This broth is so hearty, it is going to give me a heart attack!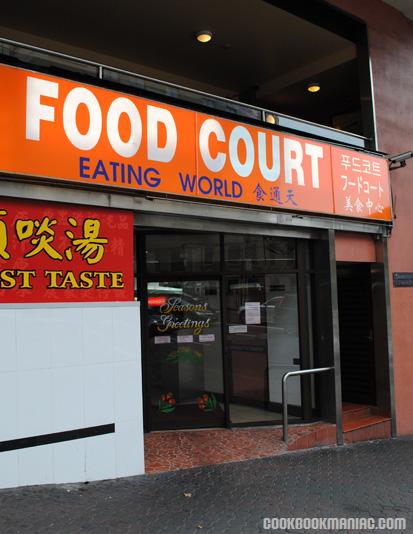 "Hey Pizzaboy, I'm thinking I might do a theme".
"Uh oh… like what?"
"My search for the best ramen in Sydney"
"Ok! I'm in. Where are we going!"
You may have read about how Pizzaboy and I discovered and fell in love with Tonkotsu Ramen in Japan. Ever since our return we have realised that there are many ramen restaurants throughout Sydney. It was just a matter of getting out there and finding the one that calls out my name and says to me "I am the one".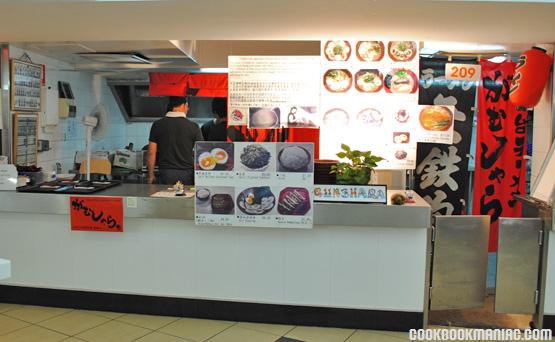 According to Time Out Sydney, Gumshara is one of the top 5 noodle places in Sydney. That is a very bold statement. Sydney is a city that has seen waves of immigration and now has so many authentic places to dine at, whittling the list to just five seems impossible and unfathomable.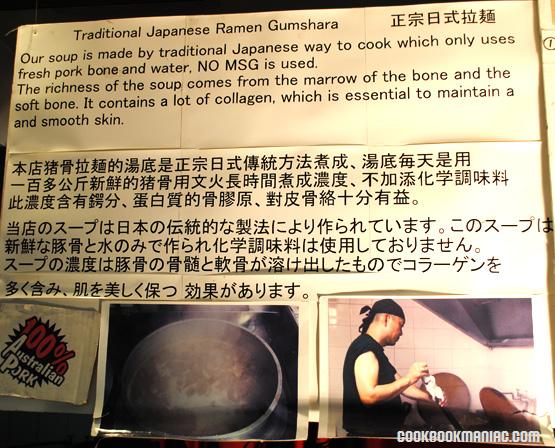 "We're going to Gumshara".
"Whatshara? Gaa Gaa?"
"They boil down 120kg of pork marrow bones and tendons with just water for an entire day and it becomes this thick soup of collagen rich tonkotsu."
"Oooh! Is it nice?"
"Must be. Sydney Morning Herald dedicated an entire page to its review of this place."
"Nah, we're not going."
"Why?"
"All those authentic places are damned when they get popular."
"Well, if it weren't for its popularity we wouldn't know about it. Let's just go and see what its like."
I haven't been to Eating World since high school, over ten years ago. It looks the same, except… more sterile. The moment I walk into the sliding doors, I recognise the shop stall straight away. There is no fancy furniture, no flashy shop fittings, the menu is held together by glue and strings. It reminds me of the stand-up-and-eat-hole-in-the-wall noodle shops in Tokyo. The only thing missing is the vending machine where you place your order.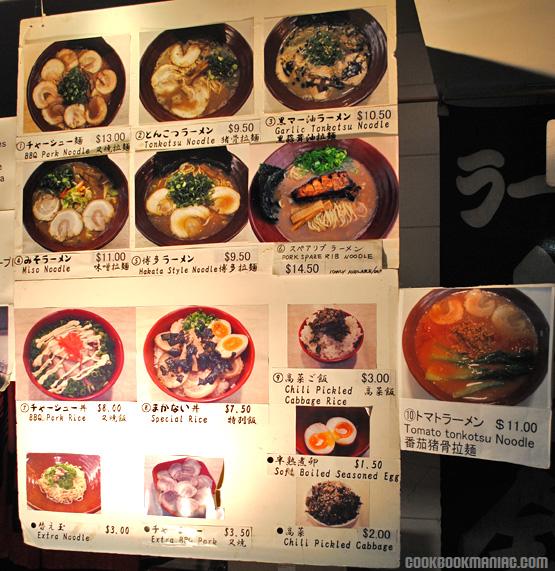 We stand in front of the menu board for ages. Mostly because we are trying not to order the same thing, but we inevitably butt heads by only wanting the tonkotsu ramen.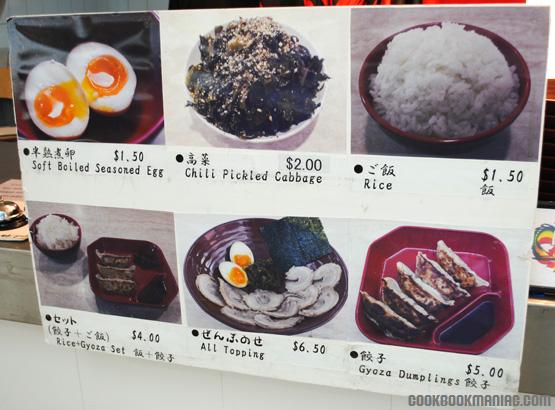 I give in and we both order the same thing, except I want an egg and the pickled cabbage with my ramen. Pizzaboy wants a million more pork slices. We order the "All Topping". Oh, and I have to try the gyoza. Pizzaboy judges a cafe by its chicken schnitzel, I judge a japanese eatery by its gyoza.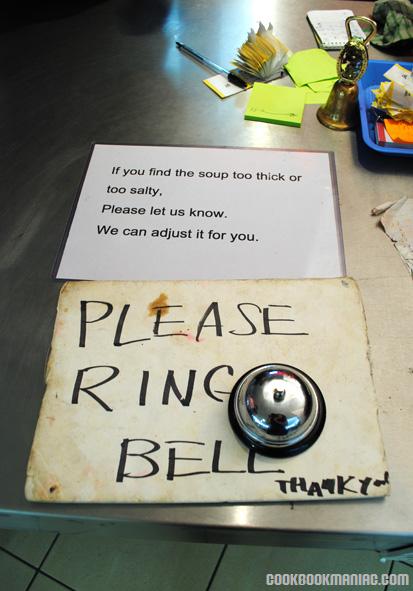 I tap the bell and a lovely, smiley man comes from around the drapes and nods. We place our order and I ask if I can take some photos. He turns into the kitchen and says something in Japanese.
I experience a "Lost in Translation" moment.
He talks to a man behind the curtain. They chatter back and forth a few times and then he turns back to me.
"What are the photos for?" he asks with a toothy smile.
"I have a website. I want to do a story about you on my blog."
He turns back and starts chattering to the man behind the curtain again. They exchange dialogue for a little while and then he turns back to me.
"Please, just one moment."
"Oh. Ok. No worries."
I patiently wait, Pizzaboy has disappeared into the seating area and I stand at the counter with my camera wondering what the heck is going on. Then a tall, sturdy looking man appears from the kitchen and walks towards me at the front of the counter.
He introduces himself as Mori, he is the owner and chef. He asks for the name of my blog and appears startled.
"You like cookbooks?"
"Yes, they are like novels to me. I especially like the one's about travel and food."
"I like cookbooks too. Take as many photos as you like. Thank you."
I have the biggest grin on my face and inside my heart, it is so exciting to meet other cookbookmaniac's.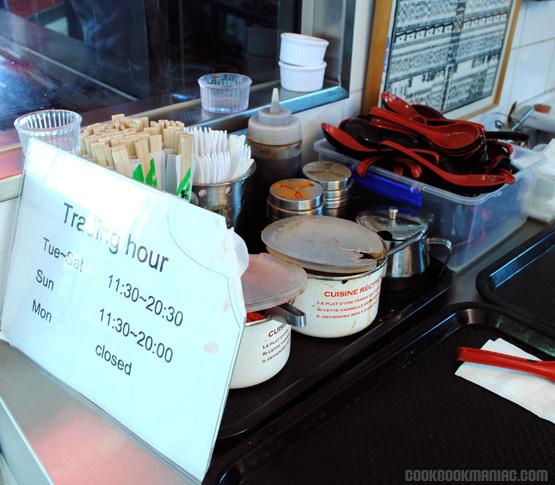 Whilst I am snapping away at the displays and so forth, I make sure I take notice of what they are doing in the kitchen. Chef Mori is holding a giant steel ladle and takes the wooden lid off a humungous pot (much like my mothers Jail Pot) and stirs the stock. Steam rises and the pork bones whirl around and bob back down again. He reaches into another pot and pulls out a couple of baskets with noodles in them, he takes a close gaze at them and then shakes them vigorously to drain all the water out. He then slides them into each noodle bowl and pours the tonkotsu stock through a sieve into the bowls over the ramen. Chef Mori takes a spoon and scoops a teaspoon of the stock from each bowl and tastes them. He pauses and then nods with approval. The kitchenhand carefully adds the garnishes, and passes it onto the gentleman at the counter.
The entire process is mesmerising, looks tiresome, and if I hadn't paid for the noodles already I would've thought they were preparing the bowl of noodles for a king.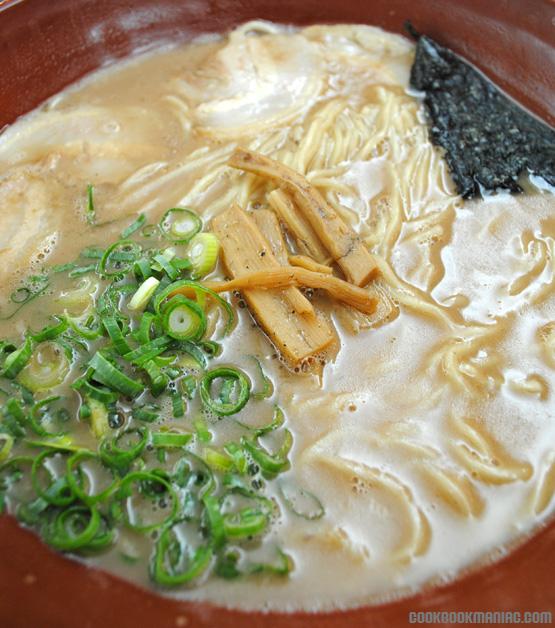 I find Pizzaboy sitting next to the air conditioner that is on full blast, he mentions that he was watching me watching the chef. I tell him the whole story and he chuckles.
Pizzaboy then points to the counter, I turn around and the kitchenhand is waving at us. I walk over to pick up the first bowl of noodles. I drool upon first sight of the ramen. The broth is so thick it is opaque. It barely jiggles when I walk it to the table. Pizzaboy's eyes light up and he gets up to go get the other dishes as I start taking photos of the ramen.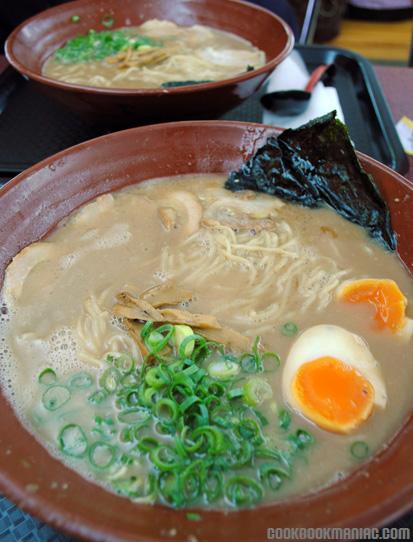 It doesn't have a noticeably strong aroma, the garnish of spring onions is generous. My tummy tugs at my hunger and tells me that its time to chow down.
I finally finish snapping away and pick up the first slithers of the noodle. A slight film has developed over the broth, I push it down to the bottom and take my first slurp. The soup is as thick as gravy. The soup is so thick it clings onto the noodles as it is lifted from the bowl. The air-con blows onto the noodles and cools it instantly. Damn! I slurp away as fast and I can. The broth is strong in pork flavour, the pork slices aren't as tasty and soft as at Menya. The most defining feature of it has to be how gelatinous the whole thing is. There is a gluey feeling forming around my lips. I look up at Pizzaboy who is slurping away and drinking the the soup a tablespoon at a time.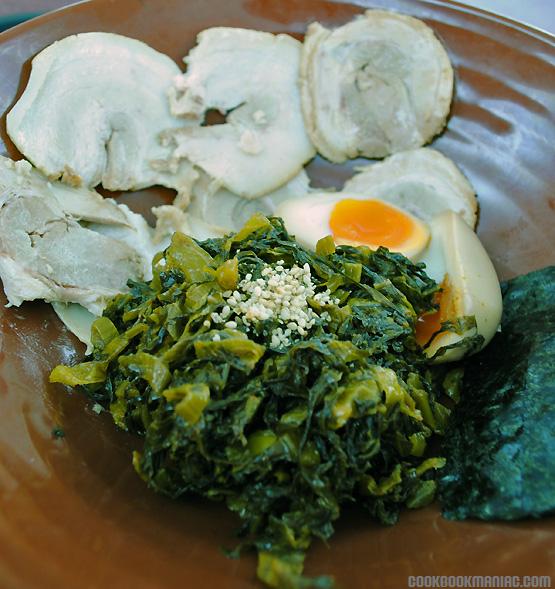 We should not have sat right in front of the air-con! My bowl of noodles are cool in no time and the soup becomes even more thick. I start munching at the pickled cabbage. Ooh, they are good, slightly spicy, nice and crunchy, just the right relief from the carnivorous bowl of goop. I take a scoop and dump it into my bowl.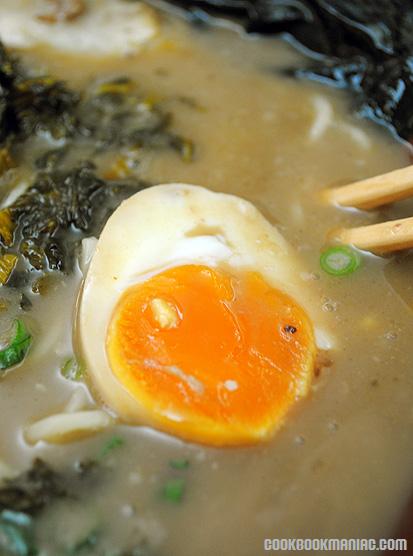 I always enjoy a boiled egg in my noodle soups. This egg is different from the others though. The whites appear to be hard-boiled, but the yolk is semi-set and gooey. I savour every bite of this perfectly cooked morsel.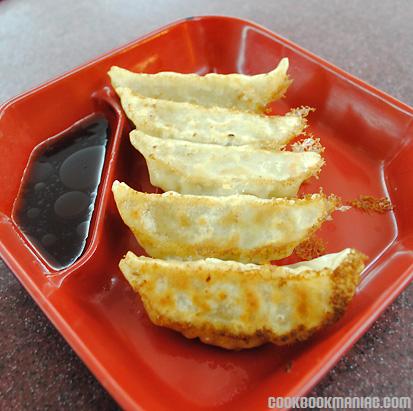 The gyoza doesn't look very exciting, but I harbour no animosity towards it for this reason. I dip the dumpling in the dark soy sauce and take generous bite out of it. The skin is thin and the pan-fried bottom is irresistibly crispy. The pork mince is soft and is slightly garlicky. I detect no hint of ginger. cool. I am not a big fan of ginger (except if it is used in soup stocks).
Pizzaboy picks up the bowl and pours the remaining soup down his throat. He smacks his lips together.
"Not too bad."
"This soup is so hearty its going to give me a heart attack! I can't finish it. Do you want my share?"
"I might go into a coma if I eat more."
Gumshara
Eating World Harbour Plaza
Shop 209, 25-29 Dixon Street
Chinatown, Haymarket, Sydney
Monday Closed
Tuesday to Saturday 11.30am-10.30pm
Sunday 11.30am-10.00pm
Please share this: