Fattouch with a twist
In an attempt at being a little more healthy I converted one of my all-time favourite salads to include a wholegrain and less fat. I went on an accidental healthfood shopping spree with a friend and I picked up a packet of the ancient grain, quinoa, which seems to have suddenly taken the health-conscience western world by storm. It was simple to prepare and its addition did not seem to interfere with the true essence of the recipe.
Instead of deep-fried flatbread, I used toasted, leftover sourdough bread. I must confess, the inclusion of these croutons was more out of frugality than mere health concerns. We had a remaining half a loaf from the previous nights delicious beef bourguignon. I couldn't bear to see it go to waste. It toasted up a treat and I added it in at the very moment I was ready to consume this superfood salad. These bite-size cubes can get very soggy when sitting in the dressing.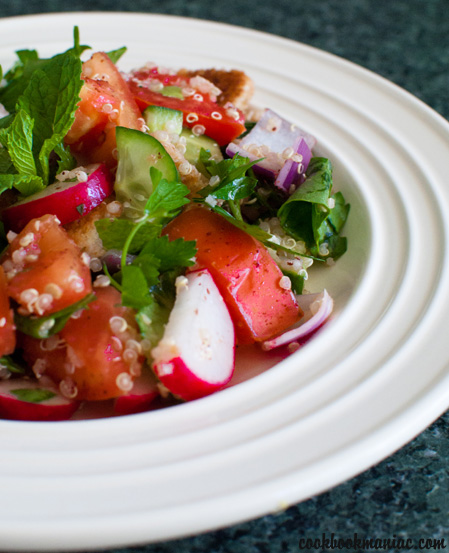 Ingredients
Recipe adapted from New Flavours of the Lebanese Table by Nada Saleh
2 tablespoons organic white quinoa
2 roma tomatoes
1 cucumber
4 radishes
1/2 red onion
4 leaves of cos lettuce
handful of flat parsley leaves
half-handful of fresh mint
juice of half a lemon
1 teaspoon of pomegranate molasses
1 garlic clove, crushed
1/4 cup extra virgin olive oil
approx 2 large slices of sourdough bread
1/2 teaspoon sumac
1/ Rinse the quinoa in a bowl of water and drain. Fill a small pot with water and add the freshly washed quinoa. Allow it to simmer for 15 minutes and drain. Allow to cool.
2/ Chop the tomatoes, cucumber, radishes, red onion and cos lettuce into similar sized chunks and place them in a mixing bowl.
3/ Roughly slice the parsley and mint and add it to the mixing bowl.
4/ In a small bowl add the lemon juice, pomegranate molasses, garlic and slowly beat in the olive oil with a whisk.
5/ Add the quinoa and slowly pour in the dressing to the salad and toss gently.
6/ Toast the sourdough slices under a grill (rub it with a garlic clove if you love the flavour). Remove the crust and chop into the same size as the vegetables.
7/ Add the croutons to the salad and sprinkle with sumac.
Please share this: