Curried Butternut Squash Soup by Ellie Krieger
It was not long ago when I first made this soup. If you follow me on facebook you would recall a status update that read something like "ARGH!!!" I had the hardest time peeling the skin off the butternut squash. I used almost every sharp utensil in the kitchen to skin the bastard and I barely scratched the surface. I even beckoned Pizzaboy for help. We stood at the kitchen bench for almost an hour trying to cut away the tough outer layer and chop the flesh. Although the soup tasted very nice – albeit thin because i had cut quite a bit of flesh away with the skin and ended up with less than what the recipe called for – I declared I would never do it again.
I told my mother about our ordeal and she let out a chuckle.
"You are silly. You did not boil the squash for 10 minutes first to soften it?"
"No."
"Next time boil it. Let it cool and then cut it."
Now that the weather has dropped considerably and I've been kept captive in the house due to excessive rain in Sydney. I caved in and decided to give this another go. I followed mum's instructions and it worked a dream. The skin peeled away with a normal peeler and I didn't need to summon the boy for help.
Lesson to be learned – Mother knows best.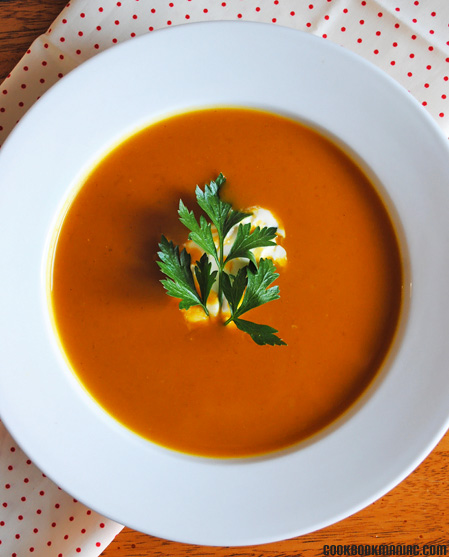 Recipe adapted from The Food You Crave by Ellie Krieger
Ingredients
1 tablespoon canola oil
1 medium onion, chopped
2 cloves garlic, minced
1kg butternut squash, peeled, seeded and cut into 1-inch cubes
6 cups low-salt chicken stock or vegetable stock
1 tablespoon curry powder
1/2 teaspoon salt, plus more to taste
2 tablespoons honey
yogurt or sour cream for garnish
Method
1/ Heat oil over medium heat in a large pot
2/ Add onions and garlic. Saute until soft but not brown, about 6 to 7 minutes
3/ Add the butternut squash, broth, curry powder and salt and bring to a boil
4/ Reduce heat and simmer until squash is tender, about 12 to 15 minutes
5/ Remove from heat stir in honey and puree with an immersion blender or in batches in a blender until smooth.
6/ Season with salt, to taste.
7/ Ladle into serving bowls and add a dollop of yogurt or sour cream.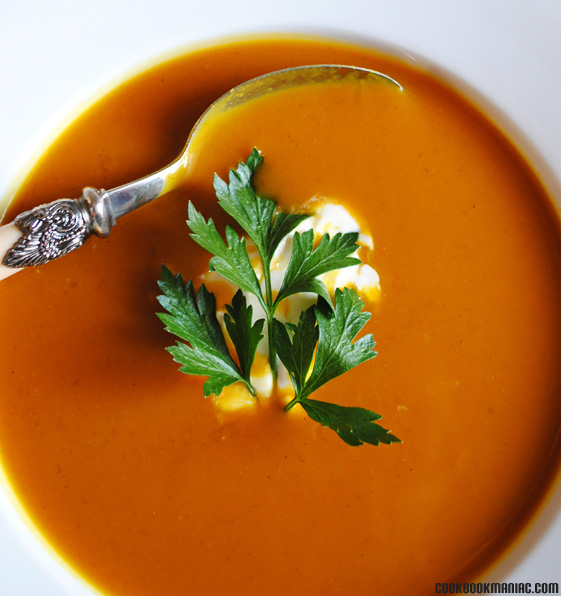 Tips from the cookbookmaniac
* Boil the butternut squash for about 10 minutes to soften the skin before peeling. I found some really helpful instructions on how to cut it here.
* The original recipe called for 1 tablespoon and 2 teaspoons of curry powder. I used Keens Curry Powder and found that 1 tablespoon was more than enough.
Please share this: