Crisp Duck Breast with Orange and Daikon Salad
"Yoshoku – Japanese food western style"
Crisp Duck Breast with Orange and Daikon Salad
Recipe taken from Yoshoku by Jane Lawson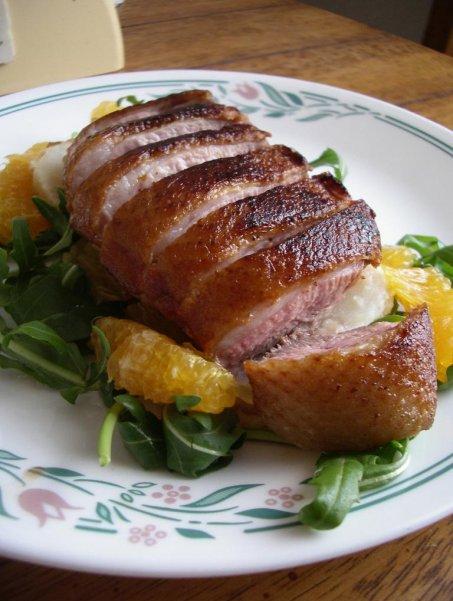 2 orange
300g daikon
80g baby rocket
4 x 175-200g duck breast fillets
oil, for brushing
1 1/2 tablespoons vegetable oil
1 teaspoon sesame oil
1 tablespoon drinking sake
Ponzu Dressing
1 teaspoon lemon juice
1 teaspoon lime juice
1 teaspoon Japanese rice vinegar
1 teaspoon Japanese soy sauce
1 teaspoon mirin
1 teaspoon sake
1/4 teaspoon sugar
5 x 1cm piece of kombu, wiped with a damp cloth
1 teaspoon bonito flakes
To make the ponzu dressing, put all the ingredients in a non-metallic bowl and stir until the sugar has dissolved. Cover with plastic wrap and refrigerate for 24 hours.
Remove the skin from the orange and carefully remove all the pith. Segment the oranges into a bowl, then squeeze the juice from the membranes over the top. Chill.
Peel the daikon, cut in half lengthways and slice very thinly into half moons using a Japanese mandolin or a very steady hand and a sharp knife. Rinse and drain the rocket leaves well, then put it, along with the daikon, in the refrigerator to chill.
Lightly score through the skinand fat of the duck breasts using a sharp knife, being careful not to cut into the flesh. Season with salt, rubbing into the skin. Put a large heavy-based frying pan over medium heat and brush with a little oil. PLace the seasoned duck breasts skin-side down and cook for 6 minutes to render the fat, then remove the duck from the pan.
Discard the fat, return the frying pan to the heat and increase the temperature to high. When hot, put the duck, skin-side up, in the pan and cook for 2 minutes to seal, then turn over and cook, skin-side down, for 4-5 minutes, or until crisp and golden. The flesh should still be pink inside. Remove to a plate, lightly cover and rest for a few minutes.
Strain the ponzu through a fine sieve into a bowl and add the vegetable oil, sesame oil and sake, along with 1 tablespoon orange juice from the bowl of oranges.
Drain the orange segments, toss together with the daikon, rocket and dressing and divide between four plates. Arrange the duck breasts over the top and serve immediately.
Tips from cookbookmaniac.com
– i cooked the entire thing on medium heat. Cooking the duck on high for the last half of the cooking time would burn it.
– Its ok to consume duck that is not cooked through (i.e. pink on the inside)
– Always cook any meat at room temperature, this promotes even cooking throughout the meat.
– It is important to rest the meat for a few minutes after you have cooked it. You will notice that it is juicier than when you dive in straight away.
Please share this: