Chinese Five Spice Duck with Bitter Salad by Karen Martini
This recipe was the easiest thing to put together and photograph. I didn't prep, nor expect it to turn out quite like it did. It's funny how the harder I try, the less successful the outcome. No matter how often this happens I still love that little surprise at the end when I am astonished by my own cooking.
This is my first attempt at five-spice anything. It must seem silly that I've started off by using a Chinese recipe from an Italian chef – even when I have quite a few Asian cookbooks in my collection. This particular recipe jumped out at me and I decided to give it a try.
I am glad I did. I made some slight alterations (because I was lazy), this turned out to be super easy, delicious and pleased my toughest critic… Mum.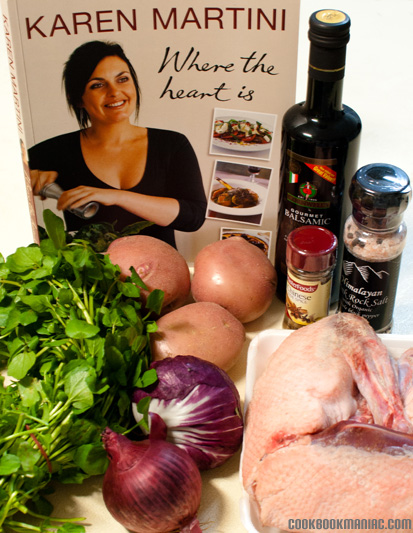 Recipe adapted from Where the Heart Is by Karen Martini
Ingredients
3 duck breasts on the bone
1 tablespoon salt flakes
1 teaspoon freshly ground black pepper
1/2 teaspoon Chinese five-spice powder
1 head radicchio, trimmed
handful of watercress leaves
1/2 red onion, finely sliced
2 tablespoons balsamic vinegar
2 tablespoons extra virgin olive oil
your favourite mash potatoes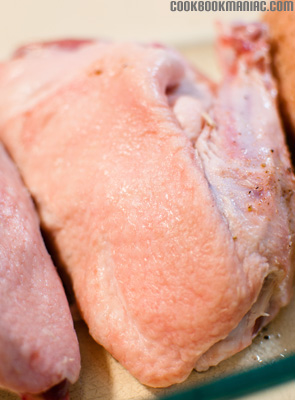 [1] Wash the duck breast, pluck away any stray hairs and pat dry with a paper towel
[2] Place ducks on a tray, uncovered, in the fridge for 12-24 hours before cooking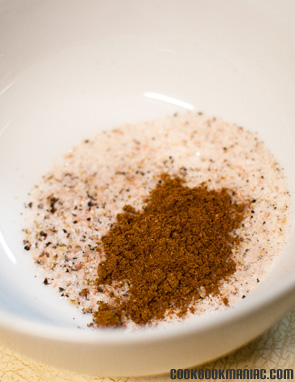 [3] Preheat oven to 225 degrees
[4] Combine salt, pepper and Chinese five-spice powder in a mortar and pestle and grind until smooth
[5] Rub the salt mixture into the ducks, inside and out
[6] Place on a roasting rack in a baking dish
[7] Roast on middle shelf of oven for 1 hour
[8] While the duck breasts are cooking prepare the salad. shred radicchio finely and place in a bowl
[9] Add onion, balsamic vinegar, watercress, olive oil and season. Toss gently to combine.
[10] Serve duck with radicchio salad and mash potatoes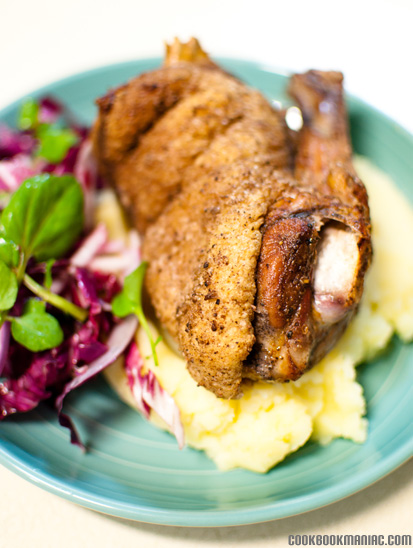 Tips from the cookbookmaniac
* The original recipe asked for two whole ducks, de-boning and two bakes. I scaled the recipe back, only put it in the oven once and I cannot de-bone anything to save my life. The skin was crispy, although not earth shattering.
* I used the masterchef recipe for the mash potatoes and loved it. It was buttery and scrumptious.
* Pizzaboy enjoyed the duck but he didn't appreciate having to gnaw the meat off the bone. Although he doesn't mind tucking into a huge leg of a chicken.
Please share this: