Ca Ri Ga – Vietnamese Chicken Curry
Hello Everyone. I hope your Christmas and New Years were as heartwarming and fun as mine. I've been very quiet on this blog and on various social networking sites lately. However, I've been making a lot of noise and mess in the kitchen. This is the first time I've moved out of home and therefore I've been cooking up a storm trying to discover my favourite recipes for spaggy bol, lasagne and stir fries. Nothing too interesting to blog, but very important recipes for easy, tasty weeknight meals.
What are your favourite weeknight recipes?
I was overcome with a funny feeling a few nights ago. My dearest younger sister asked if she could stay with us for a few weeks while she worked nearby for a work project. I became very excited and realised that I really miss my sisters and parents. I miss their crazy, quirky, outrageous personalities. I also missed mum's homecooking. Ca Ri Ga is one of my favourite things to eat and I love my mum's version of it. She would sometimes use sweet potatoes or taro in place of the potatoes, just for something different. This recipe is very good, but it doesn't have the nurturing feeling of a warm hug like my mother's version. Perhaps nothing will ever measure up to the memories.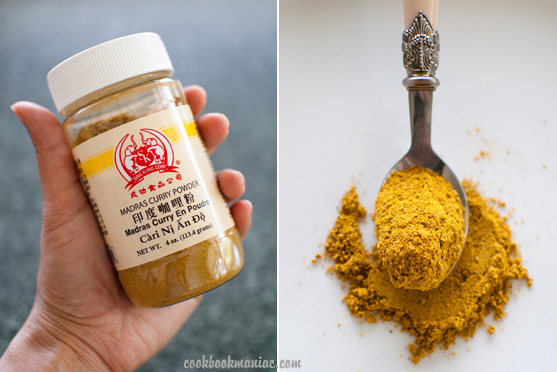 "This recipe is milder and lighter than Indian or Thai curries. Depending on your mood you can serve this with a warm crusty baguette (a french influence), steamed rice, or rice noodles." – Mai Pham
Recipe adapted from New Flavours of the Vietnamese Table by Mai Pham
Ingredients
3 tablespoons curry powder
1/2 teaspoon salt, or to taste
700g chicken wings, cut into wingettes and drumettes
2 tablespoons vegetable oil
1 tablespoon chopped brown onion
2 teaspoons minced garlic
3 tablespoons fish sauce
1 tablespoon rock sugar
2 lemongrass stalks, cut into 3-inch pieces and bruised with the flat side of a knife
3cm piece ginger, peeled, cut into 3 slices and bruised with the flat side of a knife
1 cup chicken stock
1 cup warm water
1 large carrot, peeled, cut on the diagonal pieces
400ml unsweetened coconut milk
1 brown onion, cut into wedges
2 medium desiree potatoes, peeled and cut into 2cm cubes
4-5 Vietnamese baguette rolls
a few sprigs of coriander or basil leaves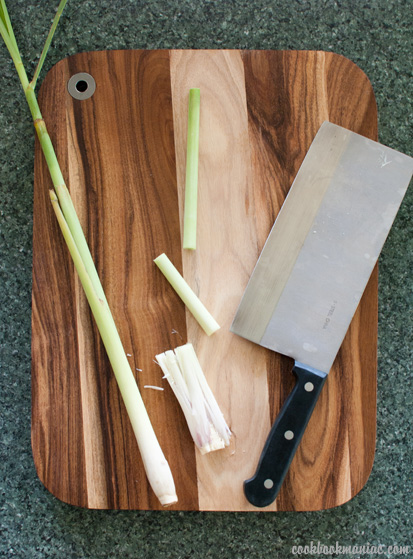 1. Combine 2 tablespoons of the curry powder and the salt in a large bowl. Add the chicken and turn to coat the meat evenly. Set aside for 30 minutes.
2. Heat the oil in a medium pot over moderate heat. Add the shallot, garlic and the remaining 1 tablespoon curry powder, and stir until fragrant, about 10 seconds.
3. Add the chicken and cook until the edges of the pieces are golden, 3 to 4 minutes.
4. Add the fish sauce, rock sugar, lemongrass, ginger, chicken stock and water. Bring to a boil, then reduce the heat.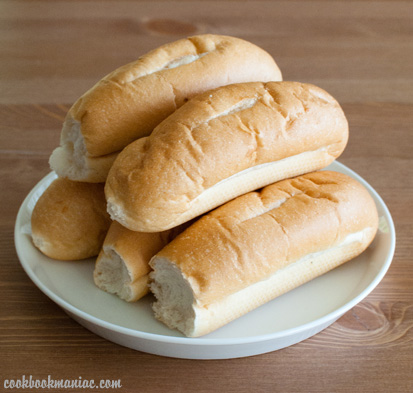 5. Add the carrot and potatoes, cook for 10 minutes
6. Add the coconut milk and onion, cook until the vegetables are tender, about 15 minutes
7. Transfer to a serving bowl and garnish.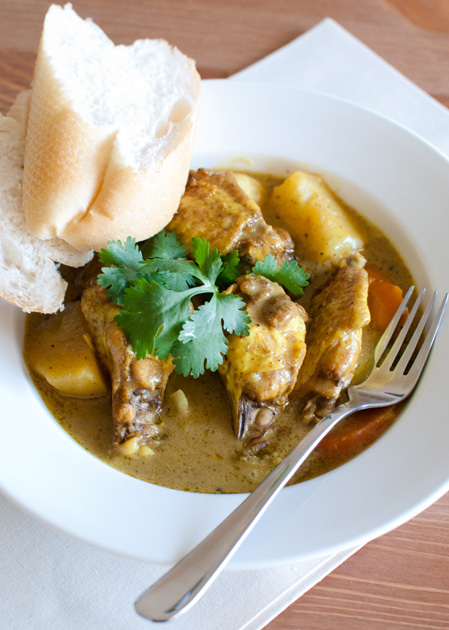 This is an entry to Delicious Vietnam #10 hosted by
Hosted by: Flavor Boulevard
Please share this: