One personality flaw that I admit to without any hint of shame is that my eyes are bigger than my tummy (I think I am safe admitting it here). I almost always order more food than I can stomach and therefore doggy-bags are a common occurrence when dining out. I cannot be trusted without a measuring spoon as eye-balling ingredients will always lead to too much salt, spice and all things nice. I am also guilty of going to the supermarket for milk and bread and coming back with an entire trolley full of goodies.
I almost eat an entire meal whilst "taste-testing" whatever is on the stove-top and always get caught red-handed because I am constantly hovering over the pot with a spoon. This is what happened when I was making this delicious Beef Bourguignon. I instantly blamed the recipe for smelling so good that I couldn't resist the urge. I wasn't going to blog about this stew because it has been blogged a million times before, but this recipe was out-of-this-world delicious. I also appreciated the fact that it is a short-cut version to the real thing but it is still big in terms flavour.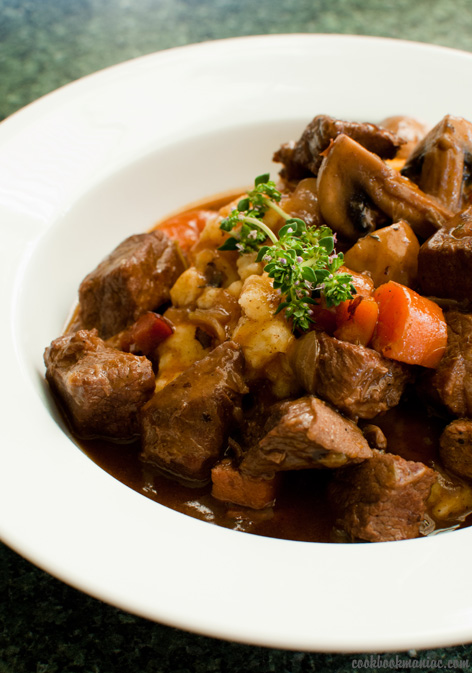 Beef Bourguignon
Recipe adapted from Meat by Adrian Richardson
1kg beef blade, cut into 2cm cubes
salt and pepper
olive oil
150g smoky bacon, cut into 2cm cubes
100g unsalted butter
10 shallots, chopped
1 medium onion, finely diced
1 medium carrot, finely diced
200g button mushrooms, halved if they're large
1 tablespoon smoked paprika
1 cup dry red wine
1 litre beef stock
5 sprigs fresh thyme, or to taste
2 tablespoons potato starch mixed with 2 tablespoons of water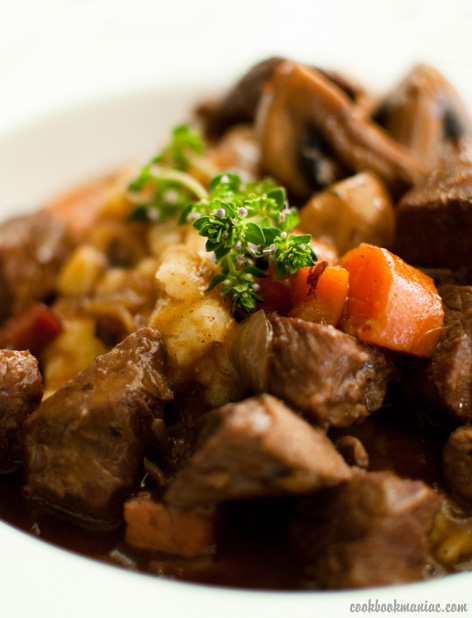 1/ Dry the beef cubes with a paper towels. Season them with salt and pepper
2/ Heat a large saucepan with olive oil over medium heat. When the oil is sizzling, brown the beef in batches. Transfer the browned beef to a plate
3/ Add the bacon to the saucepan and fry until it is golden. Transfer to a plate with the beef
4/ Add the butter and when it begins to sizzle, add the shallots. Fry over medium heat until the shallots have softened and begin to colour
5/ Lower the heat, add the onions and carrots. Saute for approx 4 minutes
6/ Add the paprika, wine and stock. Return the beef and bacon back to the pan, increase the heat until the liquid boils, then lower the heat and simmer gently, uncovered, for approximately 90 minutes
7/ Thicken the sauce by slowly stirring in the potato starch paste. Simmer for another 5 minutes until the sauce thickens
8/ Serve with mashed potatoes and some crusty bread
Tips from cookbookmaniac.com
* Making this recipe was a last minute decision. I rarely ever make my own stocks. For this recipe I used Campbell's Beef Real Stock – Reduced Salt
* I was really surprised that I could cook something as delicious as this. If I ate this dish at a restaurant I would walk out the happiest customer.
Please share this: