Banh Mi Thit – Vietnamese Pork Rolls – Miniature version
I grew up in a small suburb in Sydney called Cabramatta. It is a thriving, family-oriented Vietnamese metropolis. Taking a stroll through the shopping centre can be best described as, "a cleaned up version of Saigon." The streets are lined with bakeries, sweet shops, tiny restaurants, grocery shops and many other places touting to make the best vietnamese products outside of the motherland.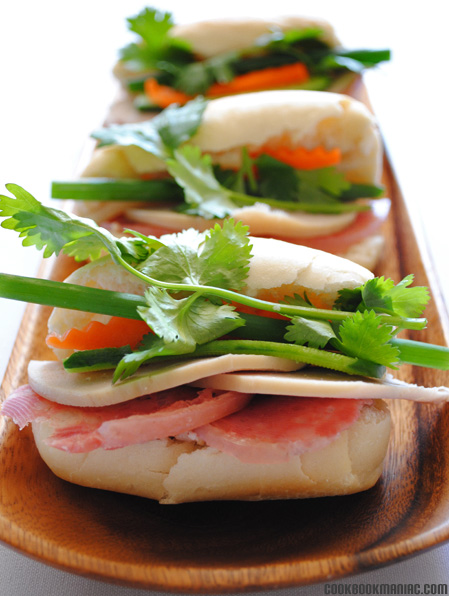 When I was in primary school mum use to walk my sisters and I home almost everyday. There were two different routes that we could take. One was a quick walk through suburban streets and the other was a longer walk through the shopping centre.
I always secretly hoped that we would walk through the shopping centre. It gave me ample opportunity to put on the desperately-hungry-act so that I could weasel a few dollars out of mama's wallet to buy whatever sweetie that took my fancy. I would almost always buy the vietnamese baguette roll called Banh Mi – pronounced bun-mee.
Banh Mi is a sandwich that is a product of french colonialism in Indochina. It has a combination of french ingredients (baguette, pate, mayonnaise) and vietnamese elements (fresh coriander, pickled vegetables, chili). The meat portion consists of slices of cha lua (also known as vietnamese devon) and thit nguoi (best described as vietnamese ham). However these fillings vary according to personal taste and can even include barbecued meats.
To this day I still crave a roll of banh mi as an after-work snack. It is also a very affordable at just under $5.00 (price depending on the vendor and perhaps how many hats the chef has).
Pizzaboy and I had a lot of fun making these. I realised that these would be fantastic at large gatherings. You can prepare the ingredients and assemble the baguettes an hour or two in advance.
Ingredients
500g Vietnamese Cha Lua (Vietnamese devon usually found wrapped in banana leaves)
500g Vietnamese Thit Nguoi (Vietnamese ham usually found wrapped in a layer of fat)
250g pickled carrots and white radish (you can buy these at your local Vietnamese grocer)
100g Vietnamese Pork Pate or French Pork Pate
2 medium cucumbers, sliced thinly
1 bunch fresh coriander
3 stalks spring onions
a dozen dinner rolls
Maggi Seasoning
Salt and pepper
chopped chili (optional)
1/ Prepare ingredients as pictured above
2/ Turn the grill on and heat the dinner rolls until they are golden and crunchy.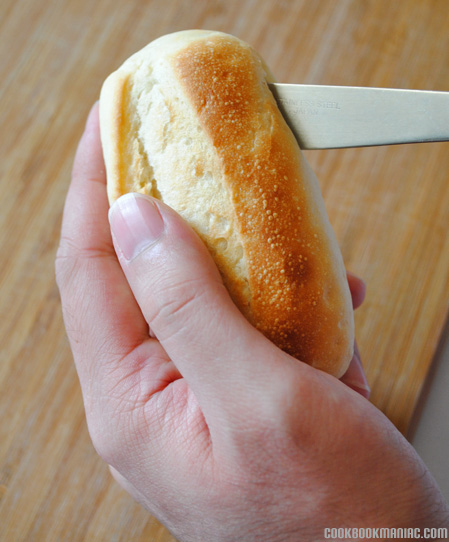 3/ Wait until the dinner rolls have cooled down and slice them in half, still leaving the length of it intact.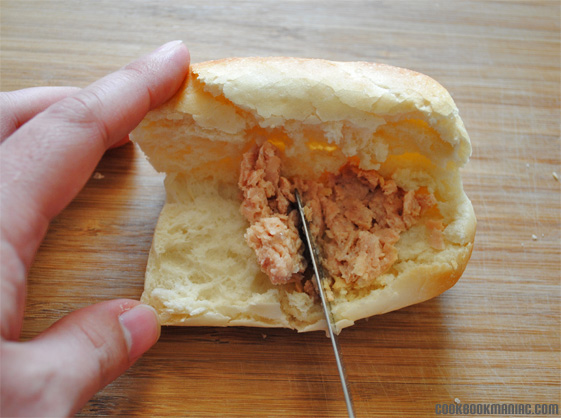 4/ Coat the bottom layer with the pate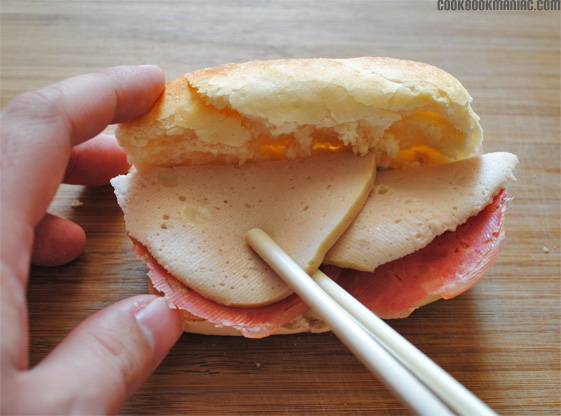 5/ Layer the meat
6/ Add the pickled vegetables, coriander, spring onion and chili. Sprinkle on Maggi seasoning and salt and pepper.
Tips from the cookbookmaniac
* This is a very basic and lazy recipe. I live near a Vietnamese grocer that stocked everything that I needed. If you want to make the baguette from scratch you can get the recipe from Secrets of the Red Lantern by Pauline and Luke Nguyen . It is one of my favourite cookbooks and has a wonderful stories about Cabramatta.
* There are many ingredients that I am missing. Vietnamese mayonnaise, head cheese etc. But the beauty of a sandwich is that you can add and subtract things according to your personal taste. I have never really been a fan of the vietnamese mayo and therefore excluded it.
* Pizzaboy ate 6 of these in a row which is the equivalent of 3 normal sized baguettes. He is a piggy. oink oink.
Please share this: