AB Lebanese Restaurant – Broadway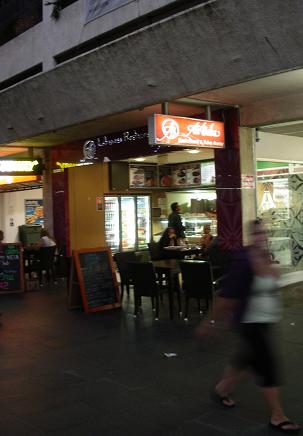 From the outside this restaurant looks like any other kebab shop. In fact, it is a kebab shop… at the front. However, if you look a little further in, you will find a lovely little restaurant. We came upon AB one day when Pizzaboy and I were craving lebanese food and we were stuck in the city. The only lebanese eateries that we knew of – that weren't overly expensive – were kebab shops. So I went on the trusty www.eatability.com.au and found this place with 7+ ratings. I haven't regretted a visit, never.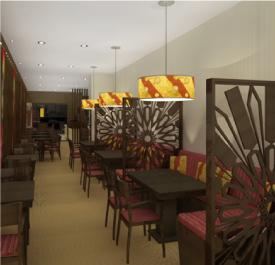 Lorraine is always there to greet us, she is the most lovely and hospitable host. She is one of many reasons for why we visit AB. The food is always great and Pizzaboy and I always walk out with our tummy's full and our mind's at ease. AB has most of the traditional dishes that you would find in another lebanese restaurants, plus more. We order our favourites but we keep an eye on the specials board for something different.
I usually do not like baba ghannouge, but I am obsessed about AB's version. Lorraine explains that it may be because they do not include tahini, therefore it is lighter in flavour and less creamy. I could eat this everyday and never tire of it! The basket of lebanese bread that comes with the dip is so fresh and soft.
I judge a lebanese restaurant on their tabouli. The tomatoes must be plump, the parsley must pack a punch of flavour and the dressing not too tangy. AB's version is wonderful. Pizzaboy tucks into this dish like a deprived person. He is a self-proclaimed meat-eater, therefore it says a lot when he really enjoys a salad with unashamed greed.
Next up is our beloved kafta skewers. This is the dish that is a permanent order. We must eat this on every visit and it is always excellent. The meat is served hot off the grill and is so soft and luscious. We wrap it in bread with a slathering of the smooth homos, and some tabouli. YUMMO! Even the onions are yummy on there own!
Every restaurant that I visit, I always look at the specials board. A lot of people fear that restaurants use their specials board as a way to get rid of the old food by re-designing its intended use. However, with most restaurant owners that I have spoken to, they use the specials board as a way of being creative with their menus and allowing for seasonal ingredients.
Pizzaboy and I settle for the Sultan's Lamb with chips. Although it was very nice, we found that it was a little chewy and was cooked past the requested medium. The star of the dish was the chips. They were perfectly crispy and sprinkled with just the right amount of salt.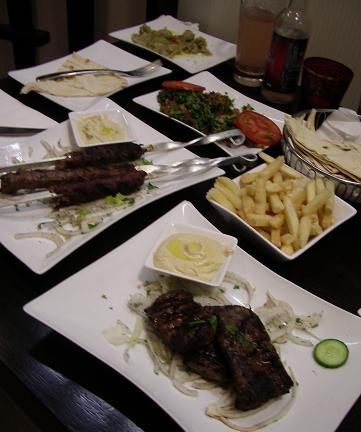 We happily devour every dish. Lorraine walks past and asks us how we are going. I tell her that we are going to polish off everything quite easily. She beams with happiness and says good, that'll make cleaning the dishes easier!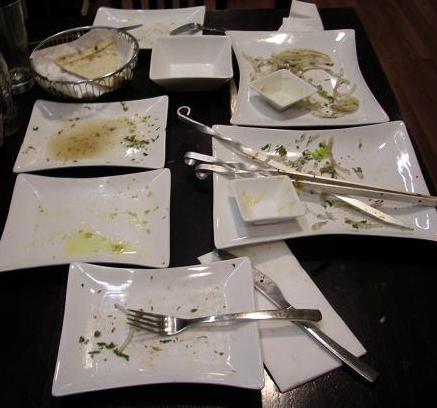 AB Restaurant
Located opposite Central Station
815 George St
Sydney NSW 2000
Phone (02) 9211 1969
Live Entertainment every Friday Night from 8:00pm including a live Lebanese band and belly dancers
Free Parking Available around the back of Restaurant in the Wilson Car Park – Phone Ahead on 02 9211 1969
Alcohol & BYO Licensed
Hubbly Bubbly Shisha
Bookings Essential – Book Online abrestaurant.com.au
Please share this: