Very few people who have ever looked for a good cookbook will be unfamiliar with Mark Bittman, the famed author of the book, How to Cook Everything, which celebrated its 10th anniversary recently. In many ways, it presented a great starting point to many home cooks, with over 2,000 recipes and techniques and tips for substitutions and presentation, marvelously illustrated and easy to understand.
As the book celebrated its 10th anniversary, it also celebrated a new milestone when it was adapted, in all its glory, into a great mobile app for easier access. The moves comes as no surprise, as smartphones have become our most preferred source of information. Switching to mobile platforms has proven to be beneficial for many companies, with the company that launched Free Bingo Hunter seeing 3x more people accessing their services via mobile than any other platform, resulting in major gains for the company. Of course, the debate over e-books and paper books has been long-fought, and many might argue that the book version of How to Cook Everything would still be best.
However, Mark Bittman has found a way to, once again, set the standard for cookbooks and recipe books. Rather than simply publishing a cookbook in e-book format, what he has done is released an app version of the book, making navigation between topics and techniques much more easier. Photos are also much more vibrant on mobile displays, with the iPad-optimized app sporting high-resolution images that take full advantage of the technology of the tablet. How to Cook Everything has also, in a sense, transformed from simply being a cookbook, with new content added occasionally. There are various tools such as timers integrated into the app as well, turning it into a veritable one-stop-shop for beginners.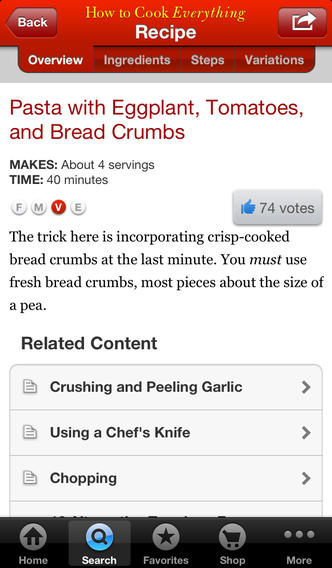 The app is available on iTunes for $9.99.