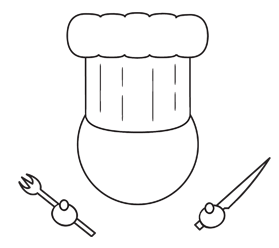 Amy is the cookbookmaniac and a cooking neophyte. She owns far too many cookbooks and doesn't cook from them enough. Thus, starting this blog to encourage herself to make all these incredibly yummy recipes. She also loves to travel and can sing every Fiona Apple song, word-for-word. You will often find her perusing the aisles of grocery stores with a trolley of goodies, cooing over kitsch kitchen gadgets, stuffing her face full of food in a restaurant, dissecting the anatomy of a dish, or chit-chatting to shop clerks and random strangers. She also has a bad habit of putting a fist into her failed food creations.
Pizzaboy is a full-time comic book fan, part-time taste-tester and occasional food stylist/hand model. He quite happily follows Amy on her crazy food expeditions through beautiful Sydney and beyond. He is an incredibly talented artist, and is the creator and designer of the cute-as-a-button logos for this blog.
Tomatogal taught Amy everything she knows about button smashing and many other website-building-things.
Enjoy, bon appetit.
Amy